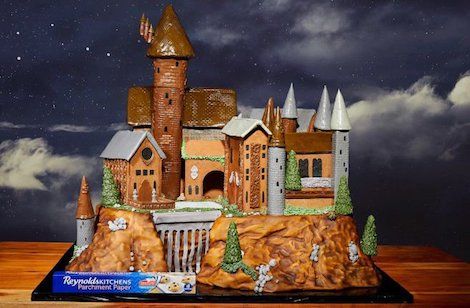 This 60-Pound Gingerbread Version of Hogwarts Is Impressive: Critical Linking, December 20, 2018
Sponsored by MIRA Books and Hunting Annabelle by Wendy Heard.

---
Many people will make gingerbread houses in the next few weeks — you know, basic, candy-topped structures. Those people are Muggles. For my fellow witches and wizards, Reynolds Kitchens created a gingerbread masterpiece fit for a "Harry Potter" Christmas celebration in the Great Hall. The Magical Gingerbread Castle you see below is an enormous gingerbread version of everyone's favorite school — Hogwarts, obviously.
____________________
Last week, we published a list of 
the biggest fiction bestsellers of the past 100 years
—and gently compared them to the books we still read and talk about from those very same years. Sometimes the difference was striking, and sometimes, readers of the past, you kind of nailed it. A few of our own, present-day readers wrote in to request that we give nonfiction books the same treatment, and since 
Publishers Weekly 
also kept lists of the bestselling nonfiction of the past 100 years, those readers are in luck. The data below comes almost entirely from those lists, which count sales of nonfiction books in the United States, and are of course subject to all of the flaws, faults, and inaccuracies of any similar best-seller lists.
As with the fiction list, for each year I also added a few of what I'd consider to be some of the most famous, best, and/or most influential books published in each year—that is, the books we still read and talk about in 2018. Again, these picks are subject to the flaws, faults, and inaccuracies of any list of books made by a human with her own tastes and interests and awarenesses.
Historical bestsellers fascinate me and I love lists like this. 
____________________
Netflix has landed Let It Snow, a film adaptation of the YA Christmas rom-com novel. The streaming service has enjoyed unexpectedly huge success with its rom-com offerings this year, with The Kissing Booth and To All the Boys I've Loved Before ranking among Netflix's most rewatched original movies in 2018. Naturally, the company intends to build on their success by developing even more original romantic comedies, in addition to sequels to To All the Boys and (potentially) other hit Netflix rom-coms like Set It Up.
This has been on every "to be released" list since rights sold a long time ago, and Netflix as its home makes perfect sense.