Children's
30 Books of Poetry for Young Readers for National Poetry Month
This content contains affiliate links. When you buy through these links, we may earn an affiliate commission.
This month is the 20th anniversary of National Poetry Month, a celebration of language and literary achievement from around the world. In honor of that, I've compiled a list of children's books out in 2016; picture books, middle grade, and young adult. I think you'll agree that this year is going to be an explosive one in children's poetry.
I had the pleasure of previewing a few titles coming out in 2016, including Free Verse by Sarah Dooley, The Last Fifth Grade of Emerson Elementary by Laura Shovan, and Ask Me How I Got Here by Christine Hepperman – all excellent books in verse.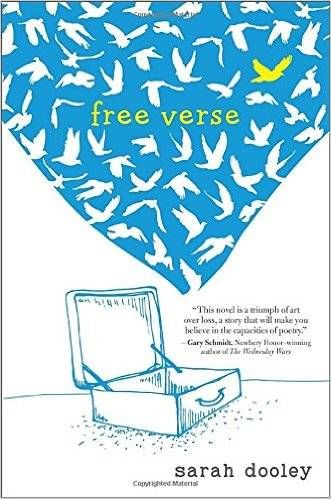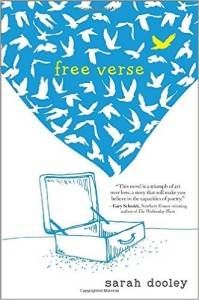 In Free Verse, Sarah Dooley weaves a story about a West Virginia community built around the mining industry. Sasha Harless finds herself without a family when her mother runs off, her father dies during a mining accident, and her older brother dies in the line of duty as a firefighter. Sasha takes to poetry, finding freedom in putting her feelings onto the page. A gorgeous book, bound to captivate middle grade readers and beyond.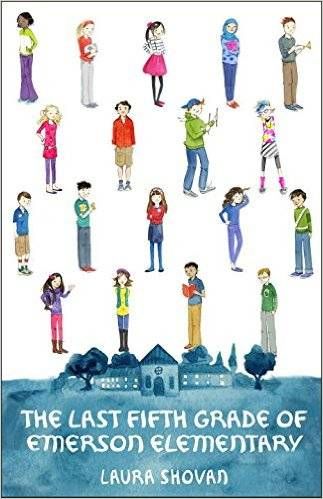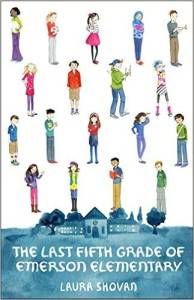 Laura Shovan takes on a formidable task in The Last Fifth Grade of Emerson Elementary (April 12, 2016, Wendy Lamb Books) by charting a year of poetry from all of the eighteen students in Ms. Hill's class. When the fifth graders discover their school will be closed, each student writes poems to include in a time capsule of their last year at Emerson Elementary. A terrific book for younger middle grade readers about finding your voice and fighting to make it heard.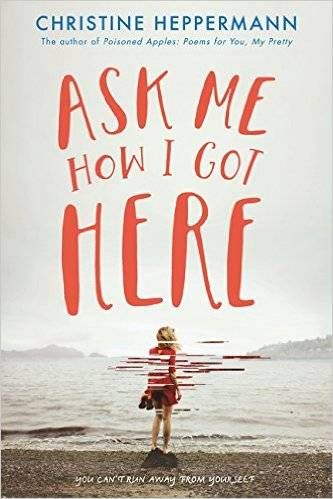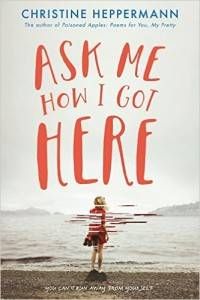 For young adults, Christine Hepperman's Ask Me How I Got Here (May 3, 2016, Greenwillow Books) is a heartbreaking story of the choices we make as teenagers, and the dark places we journey through as we discover who we are. The poetry is powerful and speaks to the soul; her words are relatable and resonant.
The list of poetry books for young people coming out in 2016 is rich, diverse, and bound to capture the hearts of readers everywhere. I want a copy of each one, plus extras to give out to everyone I love.
Picture Books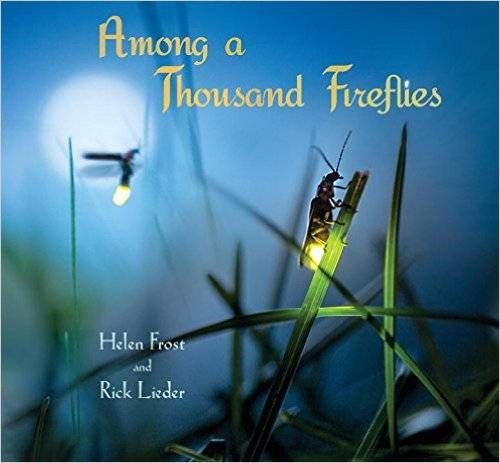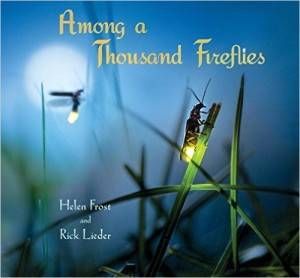 Among a Thousand Fireflies by Helen Frost, illustrated by Rick Lieder
On a summer evening, just as the stars blink on, a firefly lands on a flower. Lights start to flash all around her — first one, then three, seven. Hundreds. Thousands. How will she find just one flash among them? And will he see her flash in return?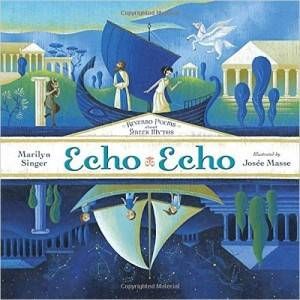 Echo Echo: Reverso Poems about Greek Myths by Marilyn Singer, illustrated by Josee Masse
What happens when you hold up a mirror to poems about Greek myths? You get a brand-new perspective on the classics! And that is just what happens in Echo Echo, the newest collection of reverso poems from Marilyn Singer. Read one way, each poem tells the story of a familiar myth; but when read in reverse, the poems reveal a new point of view! Readers will delight in uncovering the dual points of view in well-known legends, including the stories of Pandora's box, King Midas and his golden touch, Perseus and Medusa, Pygmalion, Icarus and Daedalus, Demeter and Persephone, and Echo and Narcissus.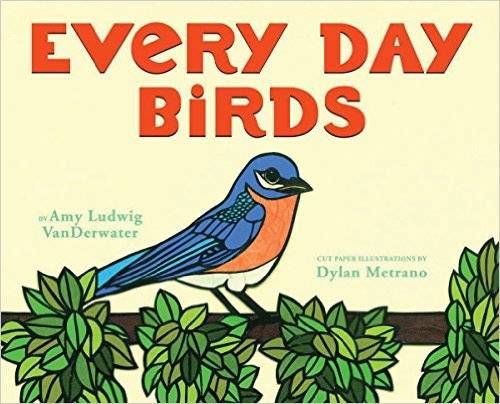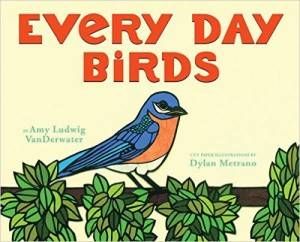 Every Day Birds by Amy Ludwig VanDerwater, illustrated by Dylan Metrano
Young readers are fascinated with birds in their world. Every Day Birds helps children identify and learn about common birds. After reading Every Day Birds, families can look out their windows with curiosity–recognizing birds and nests and celebrating the beauty of these creatures!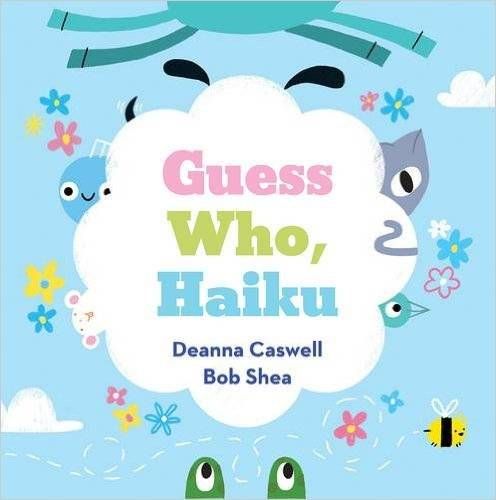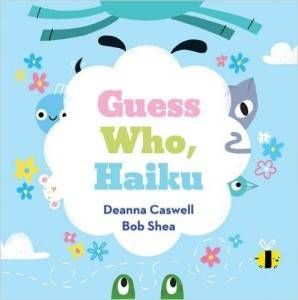 Guess Who, Haiku by Deanna Caswell
Guess Who, Haiku is a unique poetic guessing game illustrated by bestselling and beloved artist Bob Shea. Author Deanna Caswell's playful take on the inventive Japaense form of poetry offers clues about the creatures hiding on every page in this creative and clever picture book of charmingly illustrated poems for the very young.
As readers meet a cow, a bee, a horse, a bird, a frog, a fish, a mouse, a cat, and a dog, they will be delighted to learn that they are the subject of the final poem. Parents will appreciate the simple guide to understanding the haiku.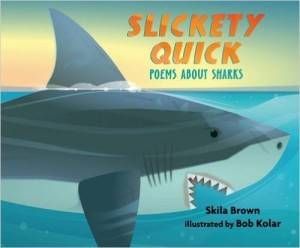 Slickety Quick: Poems About Sharks by Skila Brown, illustrated by Bob Kolar
From the enormous whale shark to the legendary great white to the enigmatic goblin shark to the small cookie-cutter shark, Slickety Quick is a delightful frenzy of shark mayhem. Mysterious species such as the camouflaged wobbegong and the elusive frilled shark share the waters with better-known blue and nurse sharks, each commemorated in a poem by Skila Brown and illustrated by Bob Kolar. Sneaky shark facts ripple through each spread to further inform the brave and curious young reader intrigued by the power — and danger — of these amazing creatures.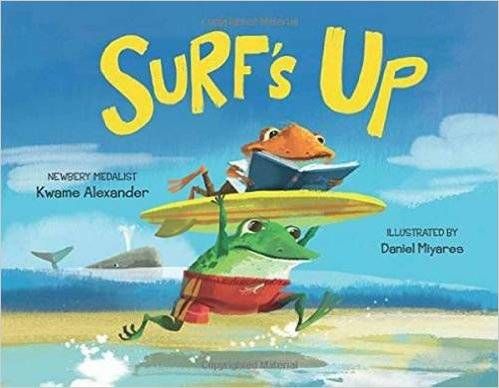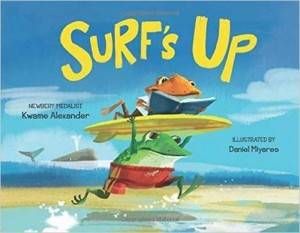 Surf's Up by Kwame Alexander illustrated by Daniel Miyares
Surf's up! Not yet, Dude! Books are boring! Not this one! Bro and Dude have very different ideas about how to spend the day at the beach. But as Bro continues to gasp and cheer as he reads his book (Moby Dick), Dude can't help but get curious. Before you can shout 'Surf's up!' both frogs are sharing the same adventure, that is, until they get to the beach.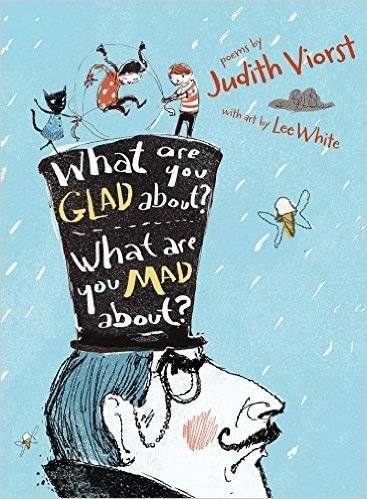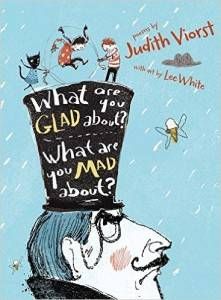 What Are You Glad About? What Are You Mad About? Poems for When a Person Needs a Poem by Judith Viorst, illustrated by Lee White
From the beloved and internationally bestselling author of Alexander and the Terrible, Horrible, No Good, Very Bad Day, Judith Viorst comes a brand-new collection of clever, hilarious, and poignant poems that touch on every aspect of the roller-coaster ride that is childhood.
Did you wake up this morning all smiley inside?
Does life taste like ice cream and cake?
Or does it seem more like your goldfish just died
And your insides are one great big ache?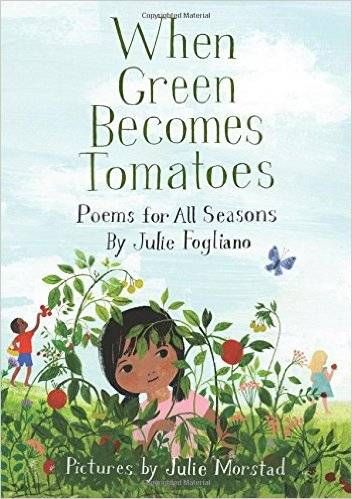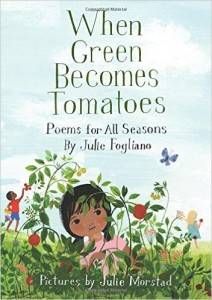 When Green Becomes Tomatoes: Poems for All Seasons by Julie Fogliano, illustrated by Julie Morstad
and i woke to a morning
that was quiet and white
the first snow
(just like magic) came on tip toes
overnight
Flowers blooming in sheets of snow make way for happy frogs dancing in the rain. Summer swims move over for autumn sweaters until the snow comes back again. In Julie Fogliano's skilled hand and illustrated by Julie Morstad's charming pictures, the seasons come to life in this gorgeous and comprehensive book of poetry.
Coming Up in Picture Books: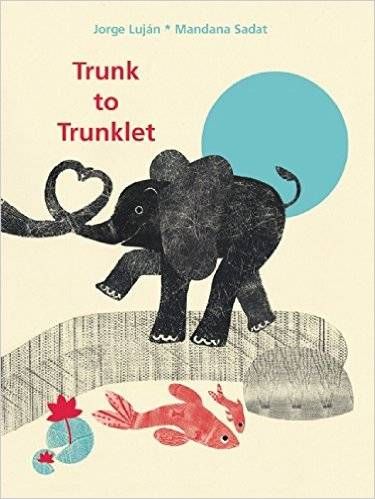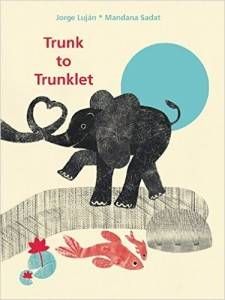 Trunk to Trunklet by Jorge Lujan, illustrated by Mandana Sadat (May 10, 2016)
This is a book about animal mommies and babies that is funny, lively, poetic, and deeply intriguing. The art was made using frottage, hand drawing, and computer techniques. The textures produced are deep and immersive yet immediate, drawing the reader into the rich visual world of the book.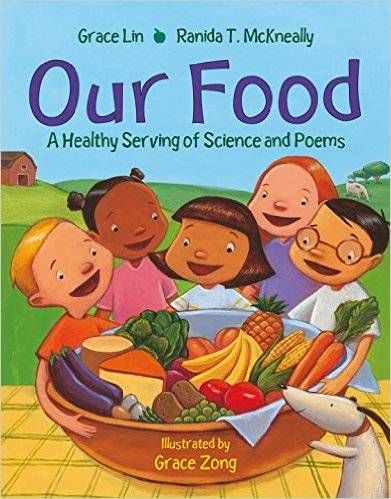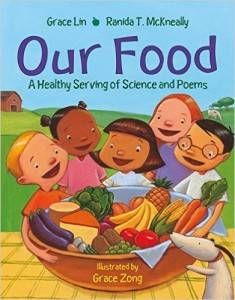 Our Food: A Healthy Serving of Science and Poems by Grace Lin and Ranida T. McKneally, illustrated by Grace Zong (June 14, 2016, Charlesbridge)
Award-winning author Grace Lin joins science writer Ranida T. McKneally to get kids talking about the science of food, the five food groups, and what a healthy meal looks like. Answering questions like "why are so many vegetables green?", "What's the difference between brown bread and white bread?", and "Why do beans make you gassy?", cheerful haiku poems and a simple Q&A format make this book a nutritious treat.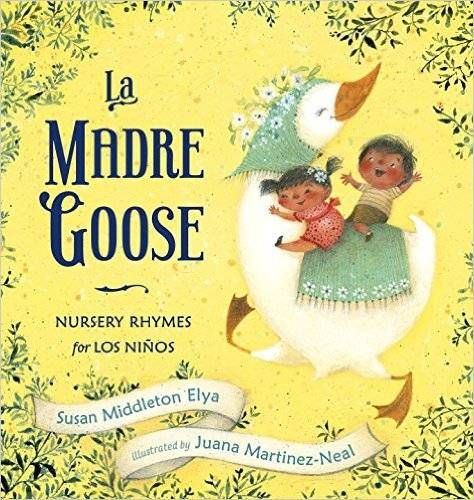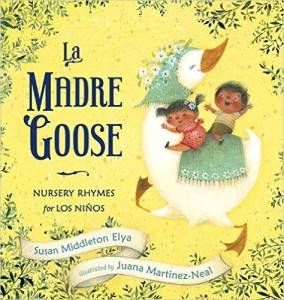 La Madre Goose: Nursery Rhymes for los Niños by Susan Middleton Elya, illustrated by Juana Martinez-Neal (July 19, 2016, G.P. Putnam's Sons Books for Young Readers)
The itsy arañita
climbed up the water spout.
Down came la lluvia
and washed la araña out.
From young Juan Ramón sitting in el rincón to three little gatitos who lost their mitoncitos, readers will be delighted to see familiar characters in vibrant, luminous scenes brimming with fanciful details.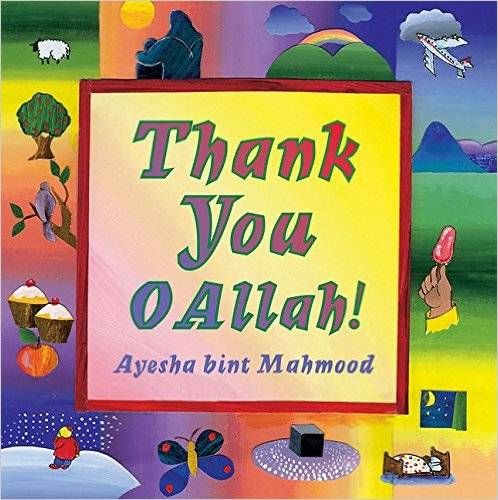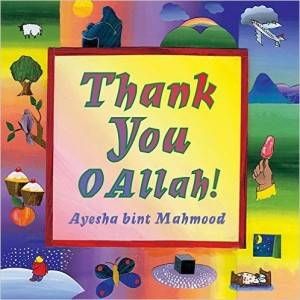 Thank You O Allah by Ayesha Bin Mahmood (September 13, 2016)
A glorious array of Allah's never-ending bounties that will evoke a child's feeling of gratitude for everything God, Allah in Arabic, has given – from faith and knowledge to family and health, from animals and nature to food and life itself.
Fittingly illustrated with busy, colorful collage illustrations.
"Allah is Most Kind!

Have you looked around?

His blessings you'll find!

Up in the sky

Or on the Earth's floor

Let's find out the things

To Thank Allah for . . . "
Younger Middle Grade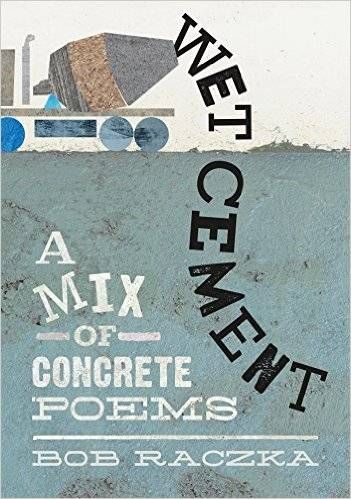 Wet Cement: A Mix of Concrete Poems by Bob Raczka
Concrete poetry is a perennially popular poetic form because they are fun to look at. But by using the arrangement of the words on the page to convey the meaning of the poem, concrete or shape poems are also easy to write! From the author of the incredibly inventive Lemonade: And Other Poems Squeezed from a Single Word comes another clever collection that shows kids how to look at words and poetry in a whole new way.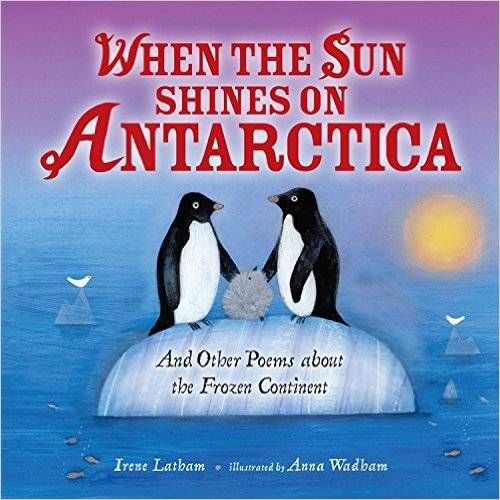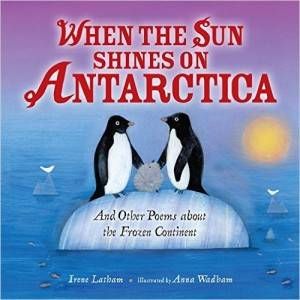 When the Sun Shines on Antarctica: And Other Poems About the Frozen Continent by Irene Latham, illustrated by Anna Wadham
Experience summer like you've never experienced it before by traveling to Antarctica with evocative poetry. The sun rises, ice melts, grass grows, seals squabble, whales sing, and young penguins slide, glide, and belly flop. Whimsical illustrations and additional facts accompany each poem to provide further details about the animals and the environment at the bottom of the world.
Coming Up in Younger Middle Grade: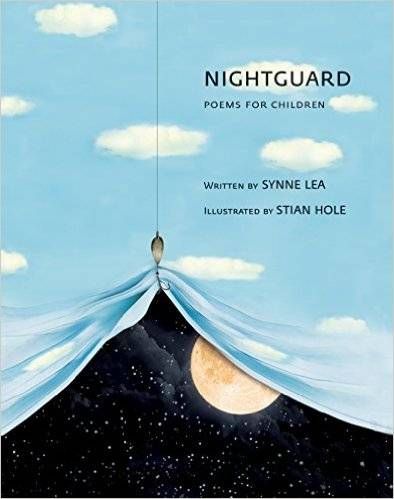 Night Guard by Synne Lea, illustrated by Stian Hole (April 22, 2016, Eerdmans Books for Young Readers)
Friendship, fear, loneliness — these are things that are universally experienced but difficult to describe. In this arresting poetry collection, Synne Lea explores these concepts and more through the thoughts and experiences of a family. As the family members examine their connections with each other and the world around them, they gain a deeper appreciation of love and friendship and learn how to reach beyond the confines of their own isolation.
Older Middle Grade
Booked by Kwame Alexander (April 5, 2016, Houghton Mifflin Harcourt)
Like lightning/you strike/fast and free/legs zoom/down field/eyes fixed/on the checkered ball/on the goal/ten yards to go/can't nobody stop you/can't nobody cop you…
In this follow-up to the Newbery-winning novel THE CROSSOVER, soccer, family, love, and friendship, take center stage as twelve-year-old Nick learns the power of words as he wrestles with problems at home, stands up to a bully, and tries to impress the girl of his dreams. Helping him along are his best friend and sometimes teammate Coby, and The Mac, a rapping librarian who gives Nick inspiring books to read.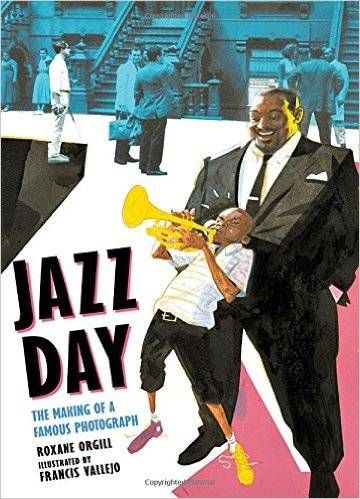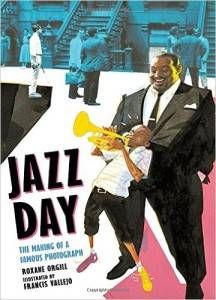 Jazz Day: The Making of a Famous Photograph by Roxane Orgill, illustrated by Francis Vallejo
When Esquire magazine planned an issue to salute the American jazz scene in 1958, graphic designer Art Kane pitched a crazy idea: how about gathering a group of beloved jazz musicians and photographing them? He didn't own a good camera, didn't know if any musicians would show up, and insisted on setting up the shoot in front of a Harlem brownstone. Could he pull it off? In a captivating collection of poems, Roxane Orgill steps into the frame of Harlem 1958, bringing to life the musicians' mischief and quirks, their memorable style, and the vivacious atmosphere of a Harlem block full of kids on a hot summer's day. Francis Vallejo's vibrant, detailed, and wonderfully expressive paintings do loving justice to the larger-than-life quality of jazz musicians of the era. Includes bios of several of the fifty-seven musicians, an author's note, sources, a bibliography, and a foldout of Art Kane's famous photograph.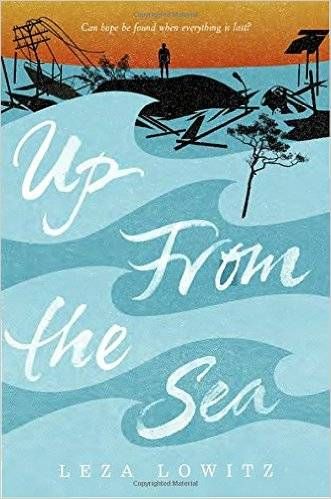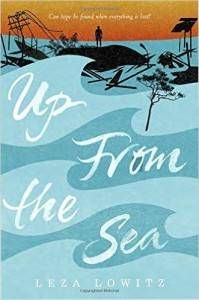 Up From the Sea by Leza Lowitz
A powerful novel-in-verse about how one teen boy survives the March 2011 tsunami that devastates his coastal Japanese village.
On that fateful day, Kai loses nearly everyone and everything he cares about. When he's offered a trip to New York to meet kids whose lives were changed by 9/11, Kai realizes he also has a chance to look for his estranged American father. Visiting Ground Zero on its tenth anniversary, Kai learns that the only way to make something good come out of the disaster back home is to return there and help rebuild his town.
Coming Up in Older Middle Grade: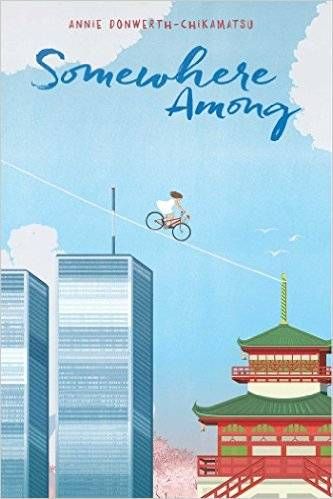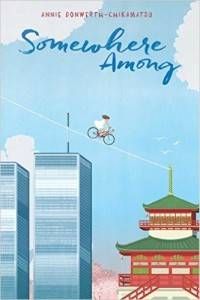 Somewhere Among by Annie Donwerth-Chikamatsu (April 26, 2016, Atheneum/Caitlyn Dlouhy Books)
A beautiful and haunting debut novel in verse about an American-Japanese girl struggling with the loneliness of being caught between two worlds when the tragedy of 9/11 strikes an ocean away.
Eleven-year-old Ema has always been of two worlds—her father's Japanese heritage and her mother's life in America. She's spent summers in California for as long as she can remember, but this year she and her mother are staying with her grandparents in Japan as they await the arrival of Ema's baby sibling. Her mother's pregnancy has been tricky, putting everyone on edge, but Ema's heart is singing—finally, there will be someone else who will understand what it's like to belong and not belong at the same time.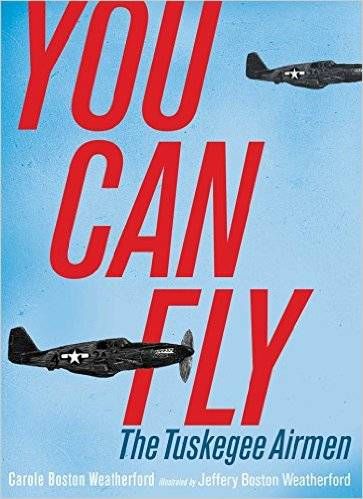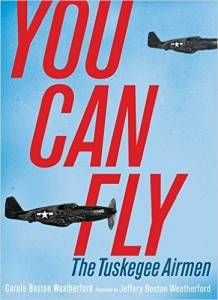 You Can Fly: The Tuskegee Airmen by Carole Boston Weatherford (May 3, 2016, Atheneum Books for Young Readers)
I WANT YOU! says the poster of Uncle Sam. But if you're a young black man in 1940, he doesn't want you in the cockpit of a war plane. Yet you are determined not to let that stop your dream of flying.
So when you hear of a civilian pilot training program at Tuskegee Institute, you leap at the chance. Soon you are learning engineering and mechanics, how to communicate in code, how to read a map. At last the day you've longed for is here: you are flying!
From training days in Alabama to combat on the front lines in Europe, this is the story of the Tuskegee Airmen, the groundbreaking African-American pilots of World War II. In vibrant second-person poems, Carole Boston Weatherford teams up for the first time with her son, artist Jeffery Weatherford, in a powerful and inspiring book that allows readers to fly, too.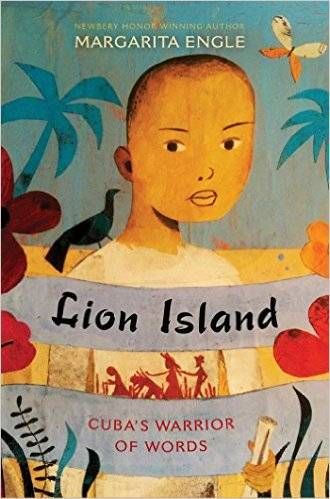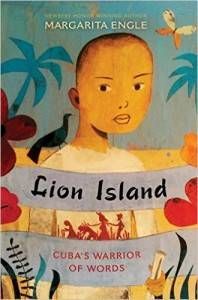 Lion Island: Cuba's Warrior of Words by Margarita Engle (August 30, 2016, Atheneum Books for Young Readers)
In a haunting yet hopeful novel in verse, award-winning author Margarita Engle tells the story of Antonio Chuffat, a young man of African, Chinese, and Cuban descent who became a champion of civil rights.
Asia, Africa, Europe—Antonio Chuffat's ancestors clashed and blended on the beautiful island of Cuba. Yet for most Cubans in the nineteenth century, life is anything but beautiful. The country is fighting for freedom from Spain. Enslaved Africans and nearly-enslaved Chinese indentured servants are forced to work long, backbreaking hours in the fields.
So Antonio feels lucky to have found a good job as a messenger, where his richly blended cultural background is an asset. Through his work he meets Wing, a young Chinese fruit seller who barely escaped the anti-Asian riots in San Francisco, and his sister Fan, a talented singer. With injustice all around them, the three friends are determined that violence will not be the only way to gain liberty.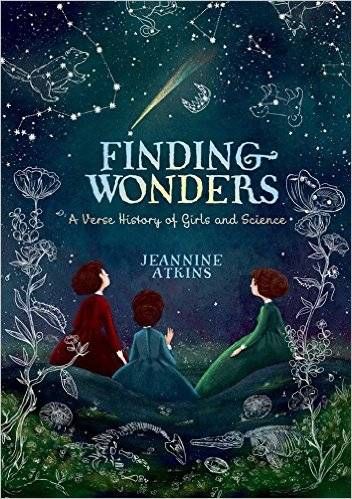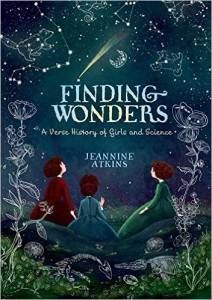 Finding Wonders: Three Girls Who Changed Science by Jeannine Atkins (September 20, 2016, Atheneum Books for Young Readers)
Maria Merian was sure that caterpillars were not wicked things born from mud, as most people of her time believed. Through careful observation she discovered the truth about metamorphosis and documented her findings in gorgeous paintings of the life cycles of insects.
More than a century later, Mary Anning helped her father collect stone sea creatures from the cliffs in southwest England. To him they were merely a source of income, but to Mary they held a stronger fascination. Intrepid and patient, she eventually discovered fossils that would change people's vision of the past.
Across the ocean, Maria Mitchell helped her mapmaker father in the whaling village of Nantucket. At night they explored the starry sky through his telescope. Maria longed to discover a new comet—and after years of studying the night sky, she finally did.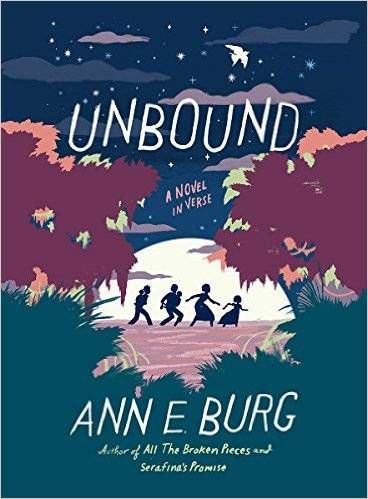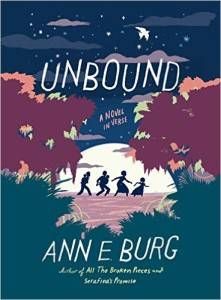 Unbound by Ann E. Burg (September 27, 2016, Scholastic Press)
The day Grace is called from the slave cabins to work in the Big House, Mama makes her promise to keep her eyes down. Uncle Jim warns her to keep her thoughts tucked private in her mind or they could bring a whole lot of trouble and pain.
But the more Grace sees of the heartless Master and hateful Missus, the more a rightiness voice clamors in her head-asking how come white folks can own other people, sell them on the auction block, and separate families forever. When that voice escapes without warning, it sets off a terrible chain of events that prove Uncle Jim's words true. Suddenly, Grace and her family must flee deep into the woods, where they brave deadly animals, slave patrollers, and the uncertainty of ever finding freedom.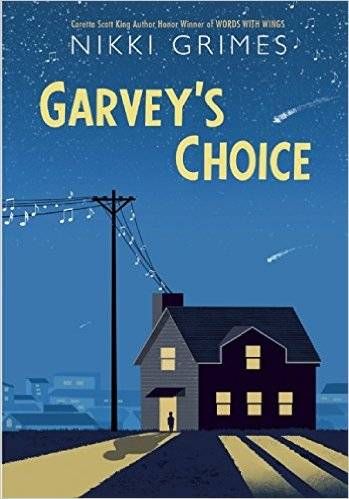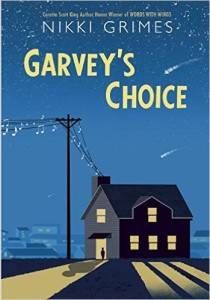 Garvey's Choice by Nikki Grimes (October 4, 2016, WordSong)
Garvey's father has always wanted Garvey to be athletic, but Garvey is interested in astronomy, science fiction, reading—anything but sports. Feeling like a failure, he comforts himself with food. Garvey is kind, funny, smart, a loyal friend, and he is also obese, teased by bullies, and lonely. When his only friend encourages him to join the school chorus, Garvey's life changes. The chorus finds a new soloist in Garvey, and through chorus, Garvey finds a way to accept himself, and a way to finally reach his distant father—by speaking the language of music instead of the language of sports. This emotionally resonant novel in verse by award-winning author Nikki Grimes celebrates choosing to be true to yourself.
Young Adult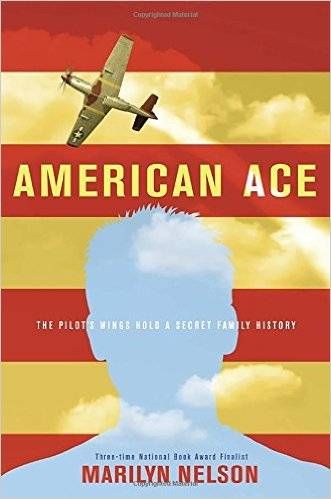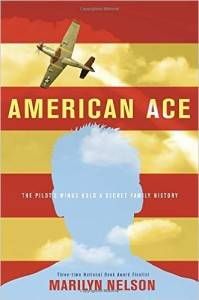 American Ace by Marilyn Nelson
Connor's grandmother leaves his dad a letter when she dies, and the letter's confession shakes their tight-knit Italian-American family: The man who raised Dad is not his birth father.
But the only clues to this birth father's identity are a class ring and a pair of pilot's wings. And so Connor takes it upon himself to investigate—a pursuit that becomes even more pressing when Dad is hospitalized after a stroke. What Connor discovers will lead him and his father to a new, richer understanding of race, identity, and each other.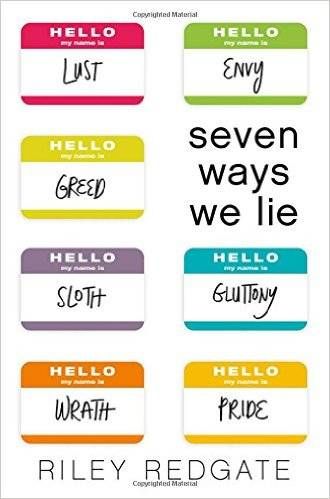 Seven Ways We Lie by Riley Redgate
The juniors at Paloma High School all have their secrets, whether it's the thespian who hides her trust issues onstage, the closeted pansexual who only cares about his drug-dealing profits, or the neurotic genius who's planted the seed of a school scandal. But it's Juniper Kipling who has the furthest to fall. No one would argue that Juniper—obedient daughter, salutatorian, natural beauty, and loyal friend—is anything but perfect. Everyone knows she's a saint, not a sinner; but when love is involved, who is Juniper to resist temptation? When she begins to crave more and more of the one person she can't have, her charmed life starts to unravel.
Then rumors of a student–teacher affair hit the fan. After Juniper accidentally exposes her secret at a party, her fate falls into the hands of the other six sinners, bringing them into one another's orbits. All seven are guilty of something. Together, they could save one another from their temptations—or be ruined by them.
Coming Up in Young Adult: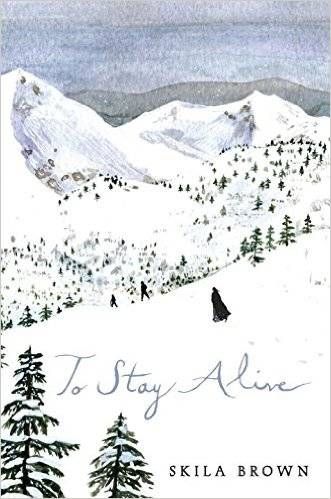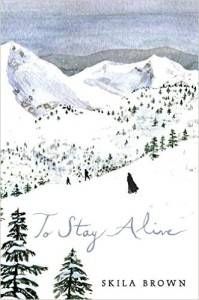 To Stay Alive: Mary Ann Graves and the Tragic Journey of the Donner Party by Skila Brown (October 11, 2016)
The journey west by wagon train promises to be long and arduous for nineteen-year-old Mary Ann Graves and her parents and eight siblings. Yet she is hopeful about their new life in California: freedom from the demands of family, maybe some romance, better opportunities for all. But when winter comes early to the Sierra Nevada and their group gets a late start, the Graves family, traveling alongside the Donner and Reed parties, must endure one of the most harrowing and storied journeys in American history. Amid the pain of loss and the constant threat of death from starvation or cold, Mary Ann's is a narrative, told beautifully in verse, of a girl learning what it means to be part of a family, to make sacrifices for those we love, and above all to persevere.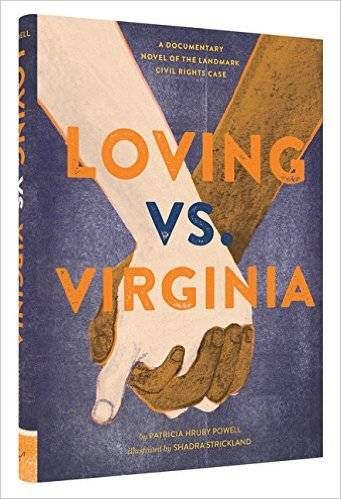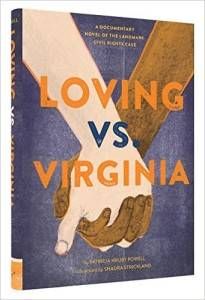 Loving vs. Virginia: A Documentary Novel of the Landmark Civil Rights Case by Patricia Hruby, illustrated by Shadra Strickland (November 1, 2016, Chronicle Books)
Written in blank verse, the story of Mildred Loving, an African American girl, and Richard Loving, a Caucasian boy, who challenge the Viriginia law forbidding interracial marriages in the 1950s.