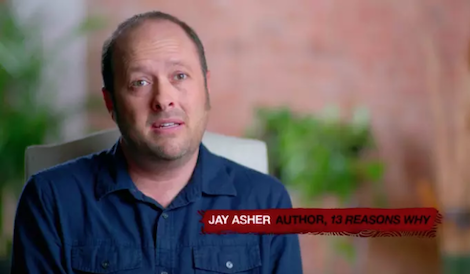 Thirteen Reason Why Author Says He's the Real Victim of Harassment: Critical Linking, February 15
Sponsored by Penguin Random House Audio

---
Oliver said Asher won't appear at any of the group's conferences or events in the future. The author confirmed this to BuzzFeed News, also saying it was a decision he made for himself.
"The truth is that I had been harassed by these people for close to 10 years," Asher said of the anonymous people who reported him to the SCBWI. "And I just could not deal with it anymore."
---
As Jerkins writes, "It doesn't matter the species the male is in — homo sapiens, felis silvestris — he's always gonna try to center himself for five seconds."
Oh, Spike. You couldn't cede the floor for one hour? Is it always all about you??
(Maybe don't answer that. Male or not, Spike is a cat.)
A palate cleanser: Spike the bookstore cat interrupts a feminist reading.
---
Now that your Netflix queue has become unmanageable, the streaming company knows you need some help getting back on track, so it's enlisted world-famous minimalist Marie Kondo to help tidy up your life with a new unscripted series. The untitled project will be eight episodes long, and will feature the organizing guru bringing her KonMarie Method to people who are "at a crossroads" in life, and in need of some sparks of joy.
I will watch it with the same passion with which I watch all other HGTV shows with advice I don't use.