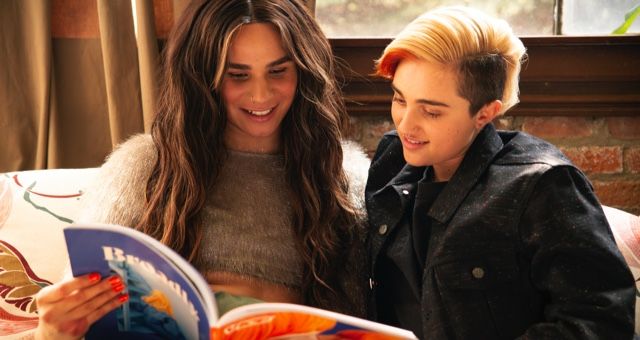 Lists
25 Third Person Omniscient Books To Expand Your POV
This content contains affiliate links. When you buy through these links, we may earn an affiliate commission.
I don't pay too much attention to point-of-view when I'm reading. If a book is good, a book is good! But third-person omniscient POV—when a story's narrator is detached from the action and able to hop into different character's perspectives—can add a lot to the narration. It's great for books of a wider scope that need a lot of world building. Here are 25 must-read examples of third person omniscient books.
Kids' Books with Third Person POV
Did you even have a childhood if you didn't read at least one book about Frog and Toad?
"To live will be an awfully big adventure."
This modern classic is narrated by Death. It tells the story of Leisal Meminger, a girl living in Holocaust-era Munich who discovers the power of books.
A Newbury Award-winning novel about Claudia and Jamie, siblings who run away from their suburban home to live at the Metropolitan Museum of Art.
Third Person Omniscient Books For Young Adults
Yes, you read this book in high school. But this tale of school-age boys stranded on a deserted island is worth a revisit, or to pass on to a young adult in your life. It's a classic for a reason, and full of dark suspense and brilliant tension.
Gossip Girl by Cecily von Ziegesar
XOXO Gossip Girl! Von Ziegesar's famous YA series follows a group of wealthy teens living in Manhattan's Upper East Side neighborhood, wearing designer clothing, and getting in a lot of trouble.
By turns a period drama, murder mystery, and fantasy novel, The Diviners will have you on edge of your seat the entire time you're reading.
The first book in Stiefvater's Raven Cycle series follows Blue as she encounters The Raven Boys for the first time.
Alcott's classic tells the very much omniscient story of the March sisters as they navigate life and love.
Lazlo Strange is convinced the lost city of Weep is real, and he's determined to find it.
Third Person Omniscient Books For Adults
Bennett cleverly deploys the third person omniscient perspective. The story is narrated by "the mothers" who observe high school senior Nadia Turner as, grieving her own mother's suicide, she begins a troubled romance with the local pastor's son, Luke.
Good Omens by Neil Gaiman and Terry Pratchett
Read the book before you watch the television series now streaming on Amazon Prime! Good Omens is a hilarious story about angels, demons, and the apocalypse.
First published in 1937, Their Eyes Were Watching God tells the life story of Janie Crawford, an African American woman growing up in Florida in the early 20th Century.
Beartown by Fredrik Backman
Beartown is a hockey town and, like most towns, it's full of dark secrets. This is a serious, beautifully written, and timely novel.
Ripper by Isabel Allende
Lovers of crime fiction will adore Allende's story of a teenage girl's hunt for a violent killer on the streets of San Francisco.
Book one in Martin's A Song of Ice and Fire series (you know, the one that inspired Game of Thrones) needs no introduction. It's a great example of the third person omniscient narrative because it follows a ton of characters.
When Rachel Chu agrees to visit her boyfriend Nick Young's family in Singapore, she has no idea how rich his family really is. Yeah, like, crazy rich.
Nine people, one getaway at a luxury health resort. What could go wrong? In Liane Moriarty's hands, an awful lot.
This beautiful story of grief reveals the things we don't know about the ones closest to us. It follows the Lees, a Chinese American family in 1970s Ohio, whose "favorite daughter," Lydia, turns up dead in a lake.
Six 15-year-olds meet at a summer camp for artistic types in the 1960s. The Interestings is about how their lives continue to separate and intersect over the next several decades.
Subhash and Udayan Mitra are brothers growing up in Calcutta when their lives deviate drastically.
This is the most touching, lyrical post-apocalyptic novel I've personally ever read. It's about an acting troupe called The Traveling Symphony moving through Canada after a pandemic wipes out most of the world's population.
Ursula K. Le Guin is a master of fantasy, and Earthsea is one of her most well-known novels. The first book in her six-volume Earthsea Cycle follows a powerful sorcerer named Ged.
Interested in trying an old-school British classic? Middlemarch is described as "penetrating analysis of the life of an English provincial town during the time of social unrest prior to the Reform Bill of 1832, "told through the lenses of multiple characters.
Beloved by Toni Morrison
Morrison's masterpiece tells the story of Margaret Garner, a woman who escaped slavery in Kentucky and fled to Ohio.
---
Want to get closer to the characters than third person omniscient books? Check out our list of books written in the second person.