Featured
THEY REVIEWED… Ayana Mathis and Jared Diamond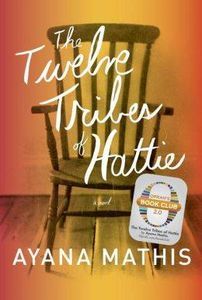 Isabelle Wilkerson reviews The Twelve Tribes of Hattie by Ayana Mathis for the NY Times.
The stories make up a quilt of sorrow, the collard greens and "dear Lord"s mixing with the smell of "pie crust and soil," while coal furnaces burn with spent hope in a place where misfortune is a character unto itself.
So… good sad or bad sad?
The story is gracefully told, though the grief and pathos are unremitting, with Hattie having had too many losses, too many children, too little money and too little love left to give.
This is JUST the kind of fence-sitting reviewing that "They Reviewed" was specifically invented for! Wilkerson is trying to have her cake and eat it too by giving kudos to the "grace" (whatever that means) of the novel's sad-sad-sadness but dinging the pathos being "unremitting" (we ALL know what that means).
The typecasting bleeds into moments of melodrama as each tragedy is compounded by another: a child burned, another molested, another tormented over his lust for men, another who hears voices and jumps from a moving car, a husband and wife fighting over who's responsible for the latest baby, a daughter having sex with her mother's old lover.
I think I'm starting to get Wilkerson's stance on the "grief and pathos" of this novel. She's like "I respect how sad you are as a book, but I'm not really sure I actually LIKE how sad you are as a book. It's the reader equivalent of "You're a GREAT guy, I just don't REALLY want your tongue in my mouth."
Mathis tempers the more operatic elements with tenderness and knowing glimpses into the human heart struggling to love.
I don't think Wilkerson is lying here, I think she really does appreciate the book for these reasons. I also think girl is SO ready for a Monty Python Flying Circus marathon right about now. Or just a couple minutes watching puppy dogs be cute and stupid on YouTube.
Was Isabelle Wilkerson THAT into The Twelve Tribes of Hattie? I think she's like that teenage girl who's like "I'm in love with a boy who yells at teachers and reads Vonnegut and wears all black!" And you're like "Maybe you just LIKE him and LOVE the idea of having a really deep teenage boyfriend and don't understand yet that's not a real thing."
(PS. I haven't read Twelve Tribes of Hattie (or the Diamond book below, for that matter), but I've got it on my iPad and this mixed review did not deter me at all from reading. I believe in the seal of Oprah! I'm still excited! What about you guys?)
David L. Ulin reviews The World Until Yesterday by Jared Diamond for the Los Angeles Times
A number of years ago, I found myself at a dinner party with Jared Diamond, the UCLA geography professor and author of the Pulitzer Prize-winning "Guns, Germs, and Steel: The Fates of Human Societies."
Dinner parties with Jared Diamond, fanciest of pants!
During dinner, however, Diamond didn't talk about [the subjects of his books] . Rather, he discussed birds (he's a serious and committed ornithologist) and his love of Bach (at one point, he considered a musical career before deciding he wasn't good enough). By the end of the evening, I felt as if I'd attended a brilliant if not entirely cohesive seminar.
Jared Diamond's reading this LA Times review of his book going "I think he likes me… because he said I was brilliant… but then he said that thing about me not being cohesive… I thought pulling out my Bach and bird factoids would show I had breadth… need to go for depth at my next dinner party."
And yet, as "The World Until Yesterday" progresses, it begins to suffer from this double vision, losing focus, or at least clarity of purpose. Part of the problem is its polymathy, his apparent wish to cite everything he's ever thought about, at times indiscriminately. "This book's subject," he admits, "is, potentially, all aspects of human culture, of all peoples around the world for the last 11,000 years."
And now Jared Diamond is NEVER going to another dinner party with you again, David L. Ulin. I don't think any writer who reads this review will. They're all going to be too scared you'll use whatever stupid small talk things they chat about to pan their next book!
…In "The World Until Yesterday," the broadness of the argument ultimately undermines its conclusions — not unlike that dinner party long ago.
Wait, David L. Ulin and Jared Diamond went to a dinner party together?
Was David L. Ulin THAT into The World Until Yesterday?
No, it's like he's that person who's go-to story is that one TERRIBLE DATE HE WENT ON ONCE and you're like "That's such a funny story! You're so good at telling stories! Maybe it's time to get a new story!"