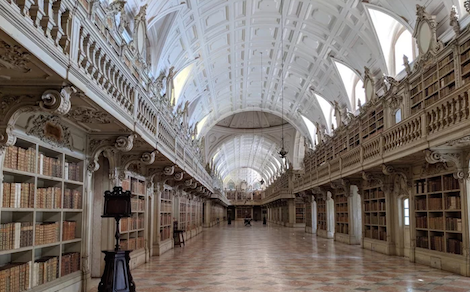 These Portuguese Libraries Are Infested With Bats—and They Like It That Way: Critical Linking, June 15, 2018
We're giving away $500 to spend at the bookstore of your choice! Click here, or on the image below to enter:

---
At the University of Coimbra in central Portugal, there are bats in the biblioteca. They swoop through the stacks, winging over a first-edition of Dionysius of Halicarnassus's "Roman Antiquities" and past a 15th-century book of hours and Homer's "Opera Omnia" — snapping up bugs as they go.
It's one of two 18th-century Portuguese libraries where bats are welcome guests, allowed to stay for the bug-eating — and, by extension, manuscript-preserving — services they provide. And visitors to Portugal can see them for themselves.
Bats! In the library! Because they're good for the books.
____________________
Joanna Gaines wrote on Instagram, "I like big books and I cannot lie."
So, over the weekend, in preparation for baby number five, the "Fixer Upper" host celebrated the seventh addition to her family with a booked themed baby shower— and fans have already started to ask, "how can I re-create?"
Get inspired by the Gaineses in a totally different way.
____________________
Ladies, bring on the sweat and the sunscreen, because summer is finally here! While you're perched on your favorite park bench, lounging poolside, sticking your toes in the sand, or maybe just hiding out from the heat in your favorite chair basking in the air conditioning, you need some page-turners to keep you company. I've put together a list of some of the best new (and a couple slightly older) titles from the first half of this year featuring lesbian and bi women. So go soak up the sun and the storytelling with these books. AfterEllen approved! We'll update the list mid-summer, so don't worry if you're favorite title isn't mentioned – let us know about it!
Gay girl summer reading list? Check and check.
____________________
The decision to end overdue fees came after the library administration and Board of Library Trustees realized that the 11,000 people blocked from taking out books because of unpaid overdue fees came from Berkeley's lowest-income zip codes — 94702, 94703 and 94710 — according to a press release put out by the library.