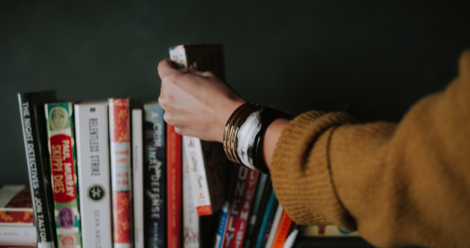 There's An Annual Competitive Book Sorting Contest! Critical Linking, November 26
Sponsored by Libby, the one-tap reading app from your library and OverDrive

---
With minutes to go until game time, the 12 elite sorters have emerged, wearing matching BookOps T-shirts. They march toward the machine as if boarding Apollo 11. The offices upstairs have emptied into the basement, and a wide variety of library personnel fill every available space in the room to cheer the sorters on. "We're gonna take 'em down, it's not gonna be an issue," says Michael Genao, a 22-year-old sophomore sorter with a linebacker's build. "I guarantee it," he adds, as he paces between his teammates, the last few bites of a chocolate donut in his hand.
Let's make this competitive book sorting annual contest a sport!
---
And yet here it is, all these unfathomable years later, a reality — a collection of original letters to the children of today and tomorrow about why we read and what books do for the human spirit, composed by 121 of the most interesting and inspiring humans in our world: Jane Goodall, Yo-Yo Ma, Jacqueline Woodson, Ursula K. Le Guin, Mary Oliver, Neil Gaiman, Amanda Palmer, Rebecca Solnit, Elizabeth Gilbert, Shonda Rhimes, Alain de Botton, James Gleick, Anne Lamott, Diane Ackerman, Judy Blume, Eve Ensler, David Byrne, Sylvia Earle, Richard Branson, Daniel Handler, Marina Abramović, Regina Spektor, Elizabeth Alexander, Adam Gopnik, Debbie Millman, Dani Shapiro, Tim Ferriss, Ann Patchett, a 98-year-old Holocaust survivor, Italy's first woman in space, and many more immensely accomplished and largehearted artists, writers, scientists, philosophers, entrepreneurs, musicians, and adventurers whose character has been shaped by a life of reading.
So beautiful—click on over for some gorgeous illustrations!
---
Shout Your Abortion is an antidote to that culture of secrecy. Its message is abortion is normal; abortion is freedom; abortion is pro-life. Since its inception, the movement has manifested as a means to help others feel comfortable sharing their own abortion stories, from banners over highways and public events to unapologetic slogans on buttons and a column in O Magazine. Shout Your Abortion's most recent project is a book of the same name, which will be published this month.
The aesthetic of Shout Your Abortion, which features work from over a hundred contributors, is almost candy-coated; perhaps a nod to the joy and normalcy the movement infuses into dialogues about abortion. Bright colors adorn tarot card–inspired place markers, and photos of SYA parties, merch, and other emblems are featured throughout. The book also includes interviews with abortion advocacy heavyweights such as Dr. Willie Parker and a foreword by Lindy West. The star of the show is, to no surprise, the abortion storytelling itself.