This content contains affiliate links. When you buy through these links, we may earn an affiliate commission.
We have previously talked on Book Riot about putting on music while you read, but I personally read in silence or listen to the actual audiobooks. However, I've found that my feelings towards books sometimes bleeds into other works of art, particularly with music. For example, I forever associate Patrick DeWitt's western The Sisters Brothers with the song by M. Ward called "Right in the Head." It doesn't even make logical sense sometimes, but I guess because I read at a relatively slower rate than many other bookish people I know, I end up living with them for a while.
Here are some books and albums that have been paired together in my head, even though I did not necessarily come upon them at the same. It's fascinating to contemplate how certain themes are treated through different mediums of art, and I would love to know if this phenomenon has happened to anyone else.
Jennifer Egan: A Visit from the Goon Squad paired with Fiona Apple: The Idler Wheel Is Wiser Than the Driver of the Screw and Whipping Cords Will Serve You More Than Ropes Will Ever Do
I would actually say that Fiona Apple's entire discography is an apt companion to Jennifer Egan's Pulitzer Prize-winning book. However, her latest record from 2012 perfectly conveys what I admire about her music–the ability to evoke complicated, offputting, and messy emotions within the confines of a melodic pop song. Similarly, Goon Squad is a patchwork of interrelated yet contained short stories peopled by characters who are bursting with an ache to connect with each other and experience some kind of transcendence. And oh, many of the stories talk about music.
One song that I'd like to highlight is "Werewolf," which starts of with a metaphor-laden verse accompanied by the piano. "I could liken you to a werewolf the way you left me for dead. / But I admit that I provided a full moon." I just thought it echoes nicely with the way relationships in Goon Squad are also processed.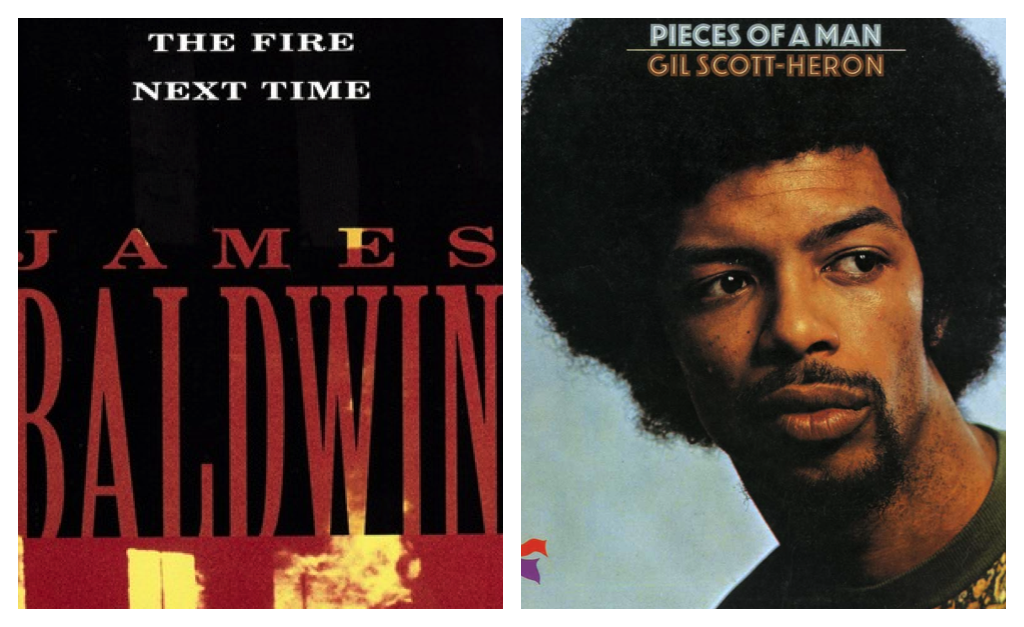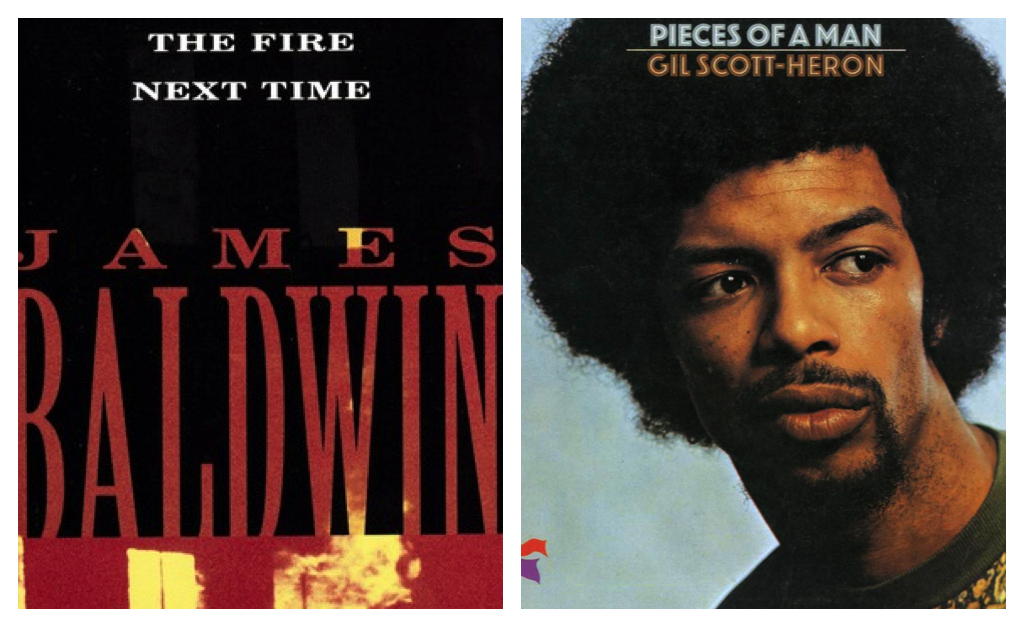 James Baldwin: The Fire Next Time paired with Gil Scott-Heron: I'm New Here
The interiority that James Baldwin evokes in writing often verges towards claustrophobia, a feeling that is mirrored by Gil Scott-Heron's 2010 album, the last one he released before he died. He is a much lauded literary figure in his own right, with his spoken word poetry figuring prominently in the rise of hip hop music. Though they lived almost a generation apart and have experienced differing facets of anti-black sentiment in the US, Baldwin's prose and Scott-Heron's lyrics document how an individual can chafe against the restrictions of one's circumstance while still feeling a deep connection with it. "The Fire Next Time," one of the two essays in the James Baldwin collection, is particularly blistering in its expression of love and anger.
"New York Is Killing Me" is a particularly interesting song, since both of them have lived in New York and has grappled with the city through their art.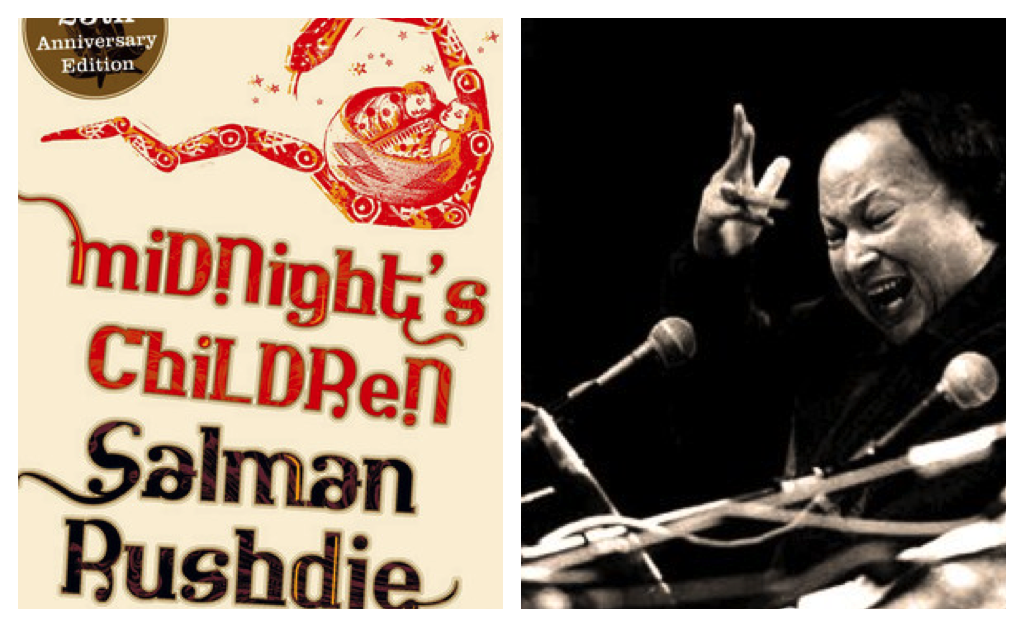 Salman Rushdie: Midnight's Children paired with Nusrat Fateh Ali Khan: Mustt Mustt
It might seem incongruous to pair these two together, since Rushdie is an avowed secularist who digs into the farcical aspects of religion and Khan (as far as I can tell) was earnest in his exploration of Qawwali music and the spiritual aspects of it. But I do have an argument here, so go with me.
Mustt Mustt the album was created in close collaboration with English producer Michael Brook in 1990, and its success made Khan into one of the tentpole figures in the emerging genre called "World Music." On the other hand, Rushdie's Man Booker win in 1985 for Midnight's Children forced the rest of the literary establishment to widen their scope of the canon and contend with the challenging literature that is emerging outside of the West. It was eventually proclaimed the Booker of Bookers. Both of their outputs are a rejection of the idea that art from non-Western countries will be necessarily quaint or parochial or suspended in time, and both of them has influenced and challenged artists that came after.
I confess to not knowing Urdu at all, but I dare you to listen to "Mustt Mustt" and not feel transported the way I do.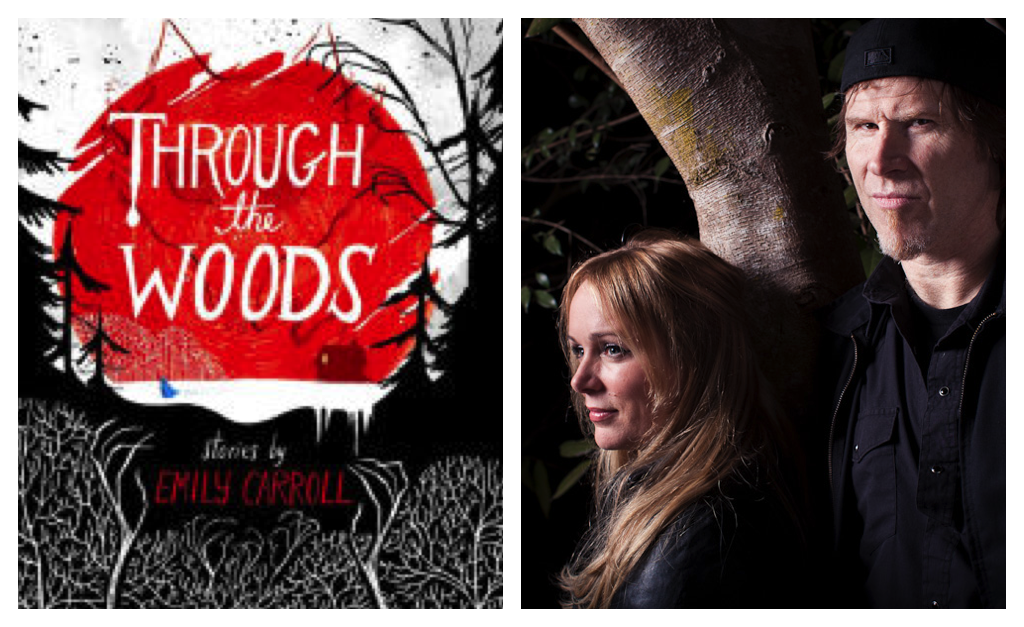 Emily Carroll: Through the Woods paired with Mark Lanegan and Isobel Campbell: Ballad Of The Broken Seas
Lanegan's ragged, world-weary voice adds to the the Grimm's fairy tale atmosphere while still sounding contemporary, adding a great counterpoint to Isobel Campbell's breathy voice. Sound Opinions characterizes their pairing as a "beauty-and-the beast" dynamic, in the tradition of Serge Gainsbourg and Brigitte Bardot duets.
I recommend starting out "The False Husband," a song that would gain more significance after reading a particularly disturbing story. I get the heebie-jeebies whenever I hear the chorus, but you know, subtle chills.