A Cutthroat Writing Retreat
by Julia Bartz
"Question: How do we all feel about the publishing industry?" Roza asked.
"It sucks!" Taylor called through cupped palms.
"It does suck." Roza took the joint from Wren, who I was almost certain had taken a faux puff like me. "I got lucky, I published in the seventies. They were open to radical stuff from nobodies back then. You could push the boundaries and they'd take a chance on you. Now you basically have to be running your own brand before they give you the time of day."
The weed really was strong; even with the small amount I'd accidentally inhaled, I could feel it.
"You have to be so slick these days," Roza mused. "Not just with all that social media nonsense. But also a highly sellable manuscript that will appeal to the masses." She rolled her eyes. "It's absolutely disgusting. Right, Ian, darling?"
He shrugged, watching her with amusement.
"So. Because I was lucky, I want to pass some of that luck along to you." She gazed solemnly at each of us in turn. "I believe that you are the most talented young female writers in America. And because of that, this isn't going to be a normal retreat. You're not going to fool around with the first chapter of something that you've been working on for three years. No, we're going to start fresh."
"What does that mean?" Poppy asked.
"What it means, darling, is that during this month of February, over twenty-eight days, you are going to write a completely new novel."
"What?" Taylor snorted. "That's not possible."
"Oh, no?" Roza's voice sharpened. "Are you that lazy, dear? In a month when you have absolutely nothing to do but write?"
I'd stiffened, hunching over my plate. Terror tornadoed in my chest.
I'd already been nervous about writing, period. Now I was going to have to write an entire fucking novel?
"So." Roza smiled. "I'm sure you have questions. Ask away."
"How long?" Keira asked. Her face was perfectly neutral. "I mean, what's the word length you're expecting?"
"Good question, dear. This new work will have to be at least eighty one thousand words. So that means you will need to write at least three thousand new words every day. Twelve double-spaced pages. You can do that in a day, easy. And you even get today off to settle in."
"How will you know?" Taylor was now leaning forward, her arms on the table. "I mean, that we make it to three thousand"
"This is how." Roza used her fingers to mimic legs walking downward. "Every day, you will take your laptop, and you will go down to the study, and you will print out your work from that day. Then you will walk back up"—here the fingers rose—"and you will slip the pages underneath my door. No later than midnight, please." The hand dropped and she cleared her throat. "Every morning by eight a.m. there will be copies of the excerpts in the dining room. You will read your colleagues' works by two p.m., when we will meet in the library to discuss during a two hour seminar. Please have notes on the others' works to share."
The new realization was settling in: not only would we have to write a book.
We'd have to help edit four others.
"Every day at four p.m., I will meet with one of you to go more in depth; I'll share the order tomorrow at our first group meeting. Let's see . . ." She held a finger to her chin. "Oh, yes. We will meet for cocktails in the parlor every evening at six thirty, with dinner to follow at seven thirty. Please be prompt; lateness will not be toler ated. She considered. "Breakfast and lunch will be a buffet laid out for you in the dining room; you can eat when you please. And you are also welcome to visit the kitchen at any time, day or night. More questions?"
"What if we want to—or need to—edit what we've already written?" Keira asked.
"You'll have to just keep going." Roza shrugged. "So unless you're a gambler, you'll probably want to have some kind of outline. You'll be able to go back and edit at your leisure after the retreat. Well, except for the winner. That person will just have a month or two, if we want to get it out by fall."
" 'Winner'?" Poppy repeated as Keira echoed: " 'Get it out'?"
"Oh, yes." Roza's eyes danced. "Did I forget that? Whichever novel is the best, Ian here will publish it. I'll write a nice introduction. And you'll also get an advance. I believe it was"—Roza glanced at Ian—"one million, wasn't it?"
Taylor whistled.
Ian nodded, smug. "And the book tour."
"Right. And we'll go on tour together." Roza sighed. "I'm finishing up my own blasted book, so I'll be working right along with you."
Wren, silent up until now, let out a sudden laugh.
"Yes, dear," Roza said patiently, as if she'd raised her hand.
"I'm sorry, I just . . ." Wren's eyes flashed. "I'm just processing this. And wondering . . ."
"Yes, dear," Roza said again.
"Well, okay." Wren straightened. "I'm wondering why. It feels like we're being forced to compete against each other, like a reality show or something."
"Oh!" Roza turned to Ian, eyebrows raised. "What an interesting way to see it. Here I thought we were being so generous."
"I don't want to seem ungrateful." Wren shook her head. "I guess . . . I don't know. I just wish we could all work together. Instead of having winners and losers. It's just what we've been dealing with forever."
Wow. Wren didn't take shit from anyone—that was a core personality trait, one I'd envied since the first day I'd met her and overheard her talking back to her supervisor. But I still wouldn't have expected her to question Roza.
Even though . . . she definitely had a point.
Roza was gazing at her with a frown. We held our collective breath.
But then Roza smiled. "Here's the reason I'm not giving all of you a personal grant, darling. It's because I'm not in the business of dispensing handouts."
Wren watched her, giving a slow nod.
"And there's another reason too," Roza went on. "I've found that the best work comes when the stakes are raised. When there's an element of stress. That's when the survival instinct kicks in. And that makes for the most raw and vivid work."
"Okay." Wren said it woodenly.
"After all"—Roza fiddled with her lighter—"I'm not running a spa, darling. You didn't think a retreat with me was going to be a nice, relaxing time, did you?"
Wren blinked. "Well, no, but—"
"You knew this was a writing retreat," Roza pointed out. "That writing would be involved. Just think of this as an added bonus. A one-in-five chance to win a million dollars." She raised her hands. "And even if you don't win, you'll have a novel! One that a group of brilliant writers will have helped you create. It will be your best work yet. And, of course, you'll have me as your champion." Roza tapped the lighter twice. "I don't plan on leaving anyone out in the cold. Unless you leave first. I can't support someone who gives up so easily. Understood?"
Wren bobbed her head, chastened. "I do."
"What if we fall behind?" Taylor asked suddenly.
Roza widened her eyes. "Don't fall behind. If you fail to make your daily word count"—she shrugged—"then you'll be asked to leave the next day."
The table was silent. We stared at Roza, waiting for her to burst out laughing. You're all so serious!
"Anything else?" she asked instead.
"Any restrictions regarding the content?" Keira's tone verged on casual.
"Up to you." Roza pushed back her chair. "Of course, you know what I like, based on what got you here. But if you want to try sci-fi or whatever, that's up to you. I lied about the day off; please come up with a one-paragraph proposal by our first meeting tomorrow. No need to share beyond the midpoint unless you'd like to. Print out copies for everyone; we'll discuss them at two."
"Oh god." Poppy looked stricken. "That's fast."
"That's the game, darling." Roza stood, picking up her glass.
"What if you don't like it?" I asked. "The story idea."
Roza studied me. "Then you'll have to come up with something else."
Being the focus of her gaze was like nothing else I'd ever experienced: like being pinned down as she cracked open my skull, staring impassively, considering the slimy things inside.
Then she grinned and it was friendly, almost jaunty. The switch jarred me.
"So, my dear." Her voice was light. "Make it something I like."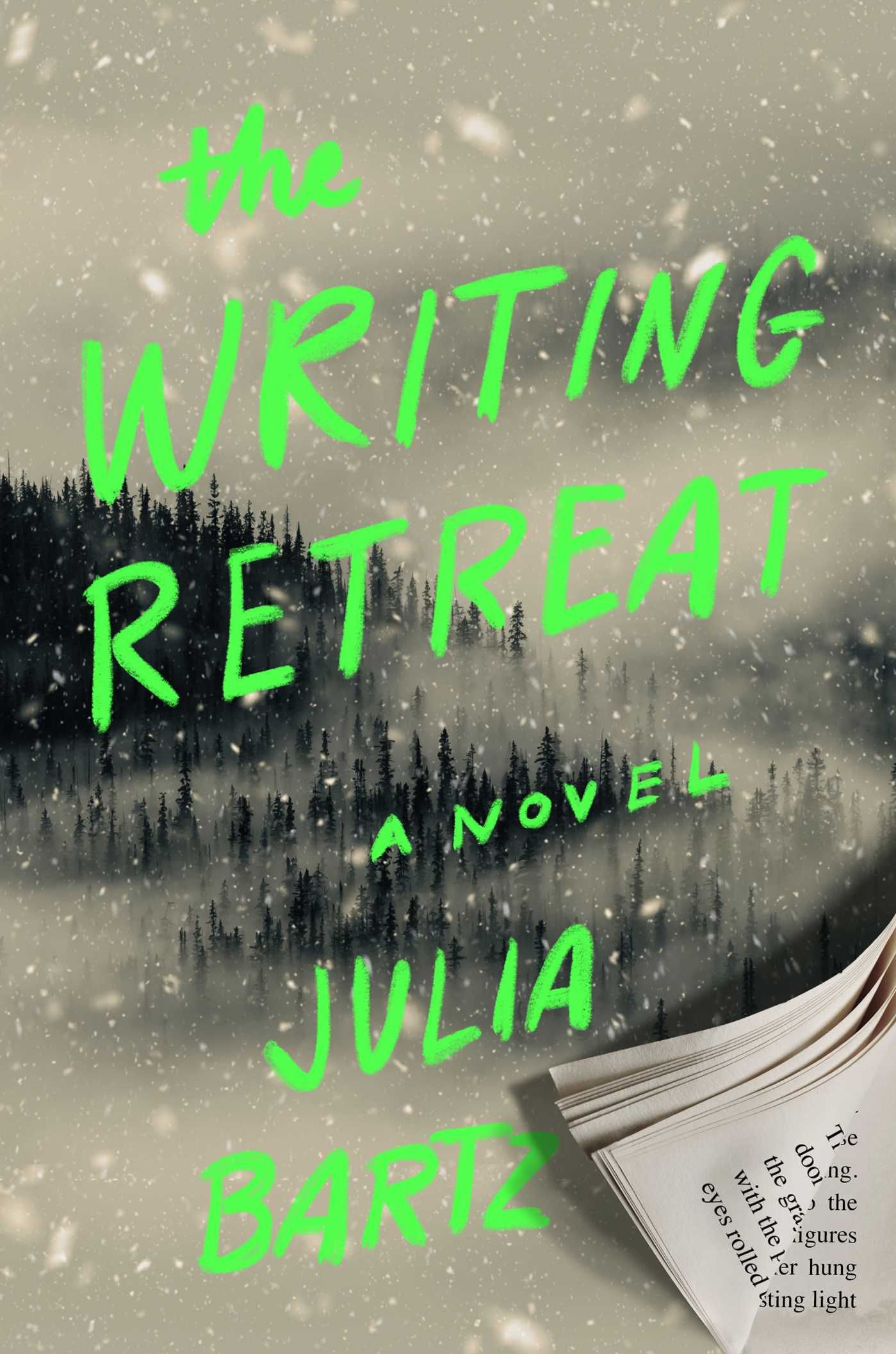 Copyright © 2023 by Julia Bartz Inc. from THE WRITING RETREAT published by Atria Books, a division of Simon & Schuster, Inc.