The World's Most Futuristic Libraries: The List List #329
The List List is sponsored by Writer's Digest.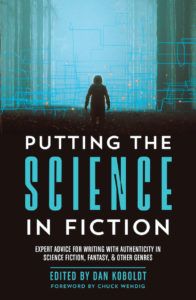 Putting the Science in Fiction collects articles from "Science in Sci-fi, Fact in Fantasy," Dan Koboldt's popular blog series, Science in Sci-Fi, for authors and fans of speculative fiction. Each article discusses an element of sci-fi or fantasy with an expert in that field. Scientists, engineers, medical professionals, and others share their insights in order to debunk the myths, correct the misconceptions, and offer advice on getting the details right.
---
At AD, The World's Most Futuristic Libraries
At Tablet, The Best Jewish Children's Books of 2018
At NonFics, 12 Movies Based On Nonfiction Comic Books
At Library Journal, The Best Books of 2018
At Autostraddle, 8 Fiction Books With Nonbinary Characters
At Yoga Journal, The 10 Best Yoga and Meditation Books, According to Top Yoga Teachers
At Paste, 10 Audiobooks That Are Perfect For The Whole Family
At O Magazine, Oprah Magazine's Top 15 Books of 2018
At The Guardian, Top Books About Japan
At BuzzFeed, 35 Books Librarians Have Recently Loved
At Reddit, 100 free Christmas eBooks from Project Gutenberg
At The Milwaukee Journal Sentinel, 88 Great Books for Holiday Gift-Giving
At Bustle, The 30 Best Fiction Books of 2018
Also at Bustle, 10 Books With Wintry Covers That'll Look Beautiful On Your Nightstand This Season