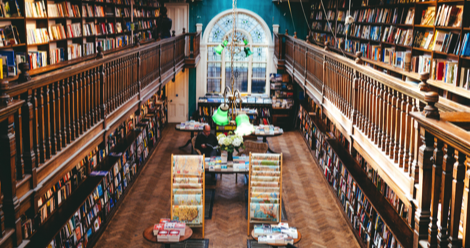 The World's Most Beautiful Bookstores: Critical Linking, June 17
We're giving away $500 to spend at the bookstore of your choice! Click here, or on the image below to enter:

---
Making all the heart eyes over this roundup of beautiful bookstores.
---
Greg Grandin's Pultizer prize-nominated book Fordlandia is set to be adapted into a television series directed by Werner Herzog, Deadline reported. Set in the 1920s, the non-fiction work details industrialist Henry Ford's attempt to recreate small-town America in the Amazon rainforest in Brazil. Ford, who was the richest man in the world at the time, envisioned the city as a Utopia and a source of cultivated rubber for the automobile manufacturing operations of the Ford Motor Company, but his project failed and the city was abandoned in 1934.
Another adaptation in the works!
---
Back in May, the romance writing community was rocked by a scandal after author Faleena Hopkins started enforcing a trademark over the common word "COCKY" in the titles of romance novels; I predicted then that there would be some sociopaths who would observe the controversy and decide that it was an inspiration, rather than a warning, and start trying to use trademark to steal other words from writers and their titles.
IT HAS BEGUN.
A writer is trying to trademark "dragon slayer" for fantasy book. :headdesk: