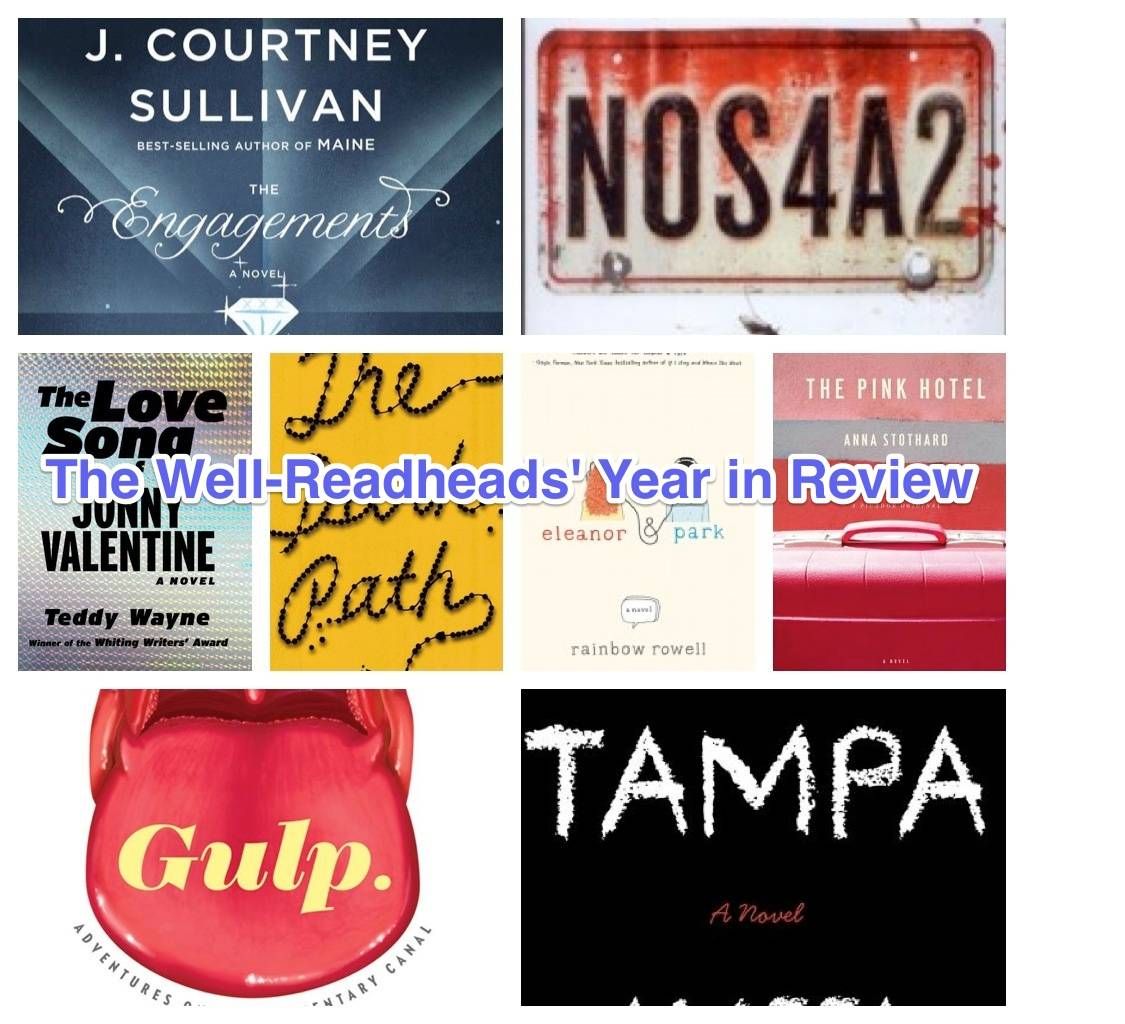 LH: Kittenpants, another year has gone by, and we have managed once again to put a ton of amazing books in our brains. And the best thing after reading books is talking about books, so I say we share a bunch of those titles that we loved with our readers!
RJS: There's nothing I'd rather do, my little cabbage. And I'd like to start with the very first book I read this year, which remains one of my favorites: The Interestings by Meg Wolitzer. It's about a group of friends who meet at an artsy summer camp and what happens to them as they grow up and face the discrepancy between what they dreamed their lives would be and what they actually are. And it's about talent, and the challenges of lifelong friendship, and how it's hard to stay close to old friends as we grow and change. Wolitzer is so smart, and her characters are so real. I just adored it. What kicked off your veloci-reading year?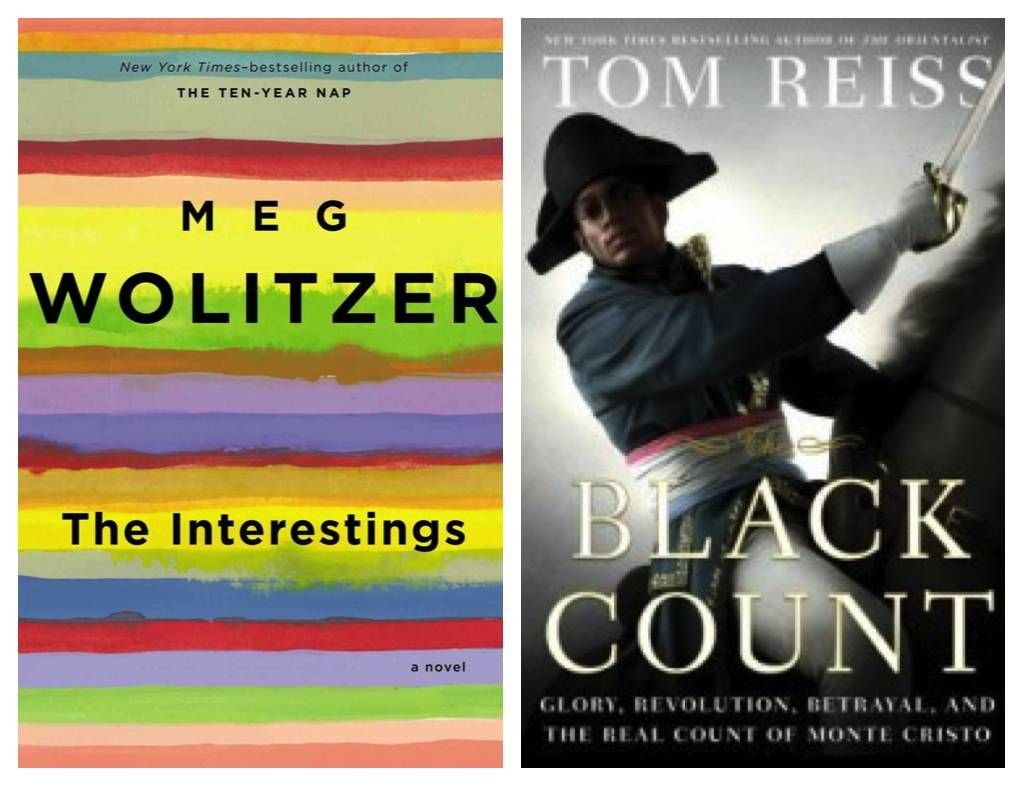 LH: The very first book I read in 2013 was a spectacular one: The Black Count by Tom Reiss. It's the biography of Thomas-Alexandre Dumas, a general in Napoleon's army and father of the novelist Alexandre Dumas. He was dashing and heroic, the real deal. In fact, T-A's adventures heavily inspired his son's work. This book is so fantastic! And it won a little thing called the Pulitzer. Another Pulitzer winner I picked up this year was The Killer Angels by Michael Shaara – what an amazing novel. It's about the Battle of Gettysburg, and it's near-perfect. I am going to use one of my least-favorite review adjectives to describe it, because it's fitting: haunting. It really is. Back to you, button.
RJS: I don't think I read any Pulitzer winners this year, but speaking of war novels, I revisited The Things They Carried by Tim O'Brien, this time as an audiobook read by Bryan Cranston (of Breaking Bad fame). Talk about the perfect book-narrator pairing! It was a really incredible experience, and Cranston conveyed the pain and hauntedness (you're right, it's a fitting word) of O'Brien's stories beautifully. Also, it made me cry a whole bunch. Another book that brought on the water works was Tiny Beautiful Things by Cheryl Strayed, who I'm pretty sure is my spirit animal. Such wisdom and heart fill her pages. Did you encounter any tearjerkers this year?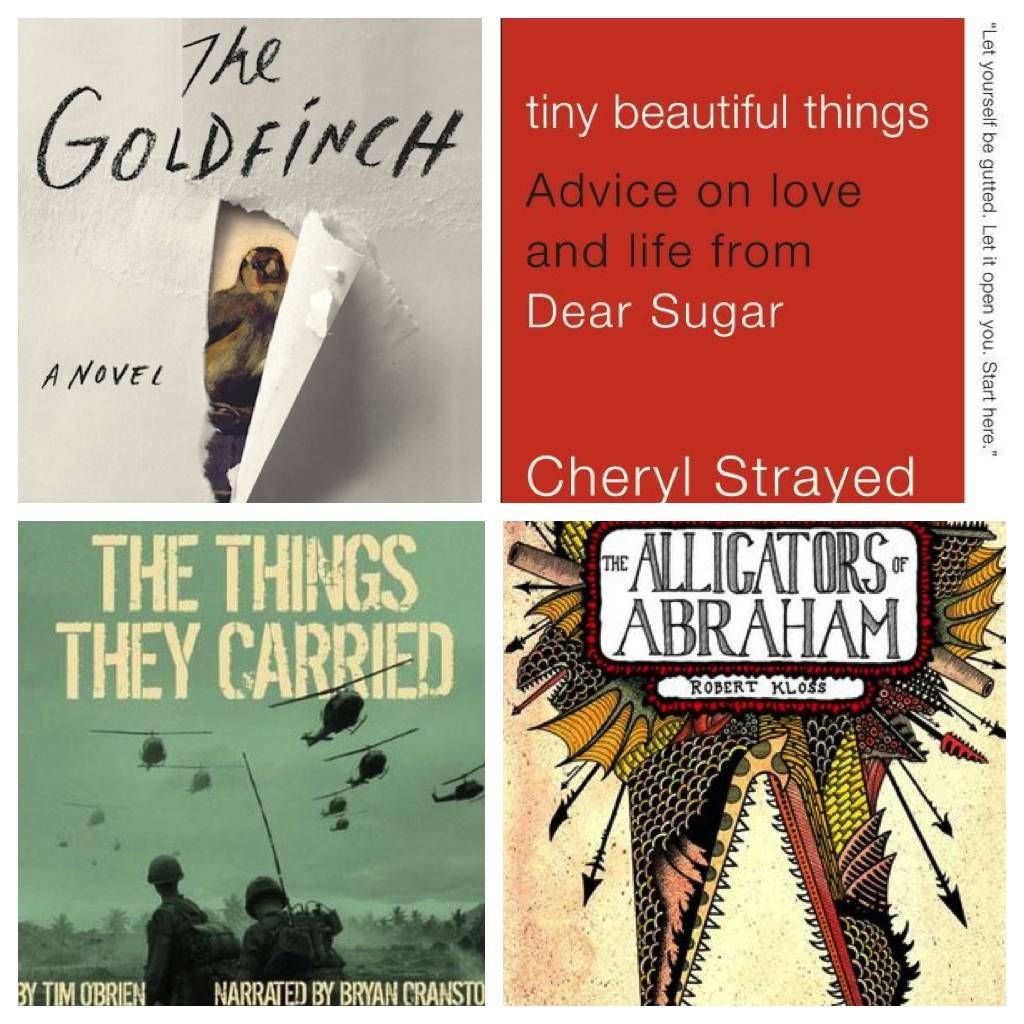 LH: Hmmm, not really. I cried when I finished The Goldfinch, because I didn't want it to end. Does that count? We have both discussed our two most favorite books of the year, in the Riot Round-Up, but there are so many other great books to talk about! My brain got a one-two punch from Kelly Braffet: First I read Save Yourself, then Josie and Jack. Pardon my French, but she is a fucking fantastic writer. Both books blew me away. Another book I cannot talk enough about – and you already know what I'm going to say – is The Alligators of Abraham by Robert Kloss. If I had been allowed to pick the Pulitzer winner this year, I would have given it to this book. Unusual, unsettling, amazing – the list of adjectives I have for this book would reach the moon. Now, back to you, buttercup!
RJS: I'm having a one-two punch of the Better Late Than Nevers! Two of the best books I've read this year are books I almost didn't read at all, and they're both novels that carry strong social critiques but do it without being preachy. Want Not by Jonathan Miles is a big, ballsy novel about three people whose lives are defined by greed and waste–and how all of our lives are in some ways defined by greed and waste–and what happens when their stories intersect. It's a difficult one to pitch, and if not for the impassioned handselling of one of my favorite booksellers (Kelly Justice at Richmond's Fountain Bookstore), I might have missed it. The other near miss is The Woman Upstairs by Claire Messud, which I'm in the middle of but can already tell is going to be one of my favorites of the year. It's also incredibly gutsy, about a woman who is nearing middle age and is righteously, ragingly angry about her situation in life and about how women are treated in contemporary society. HOT DAMN, Claire Messud. It's like the pages are on fire.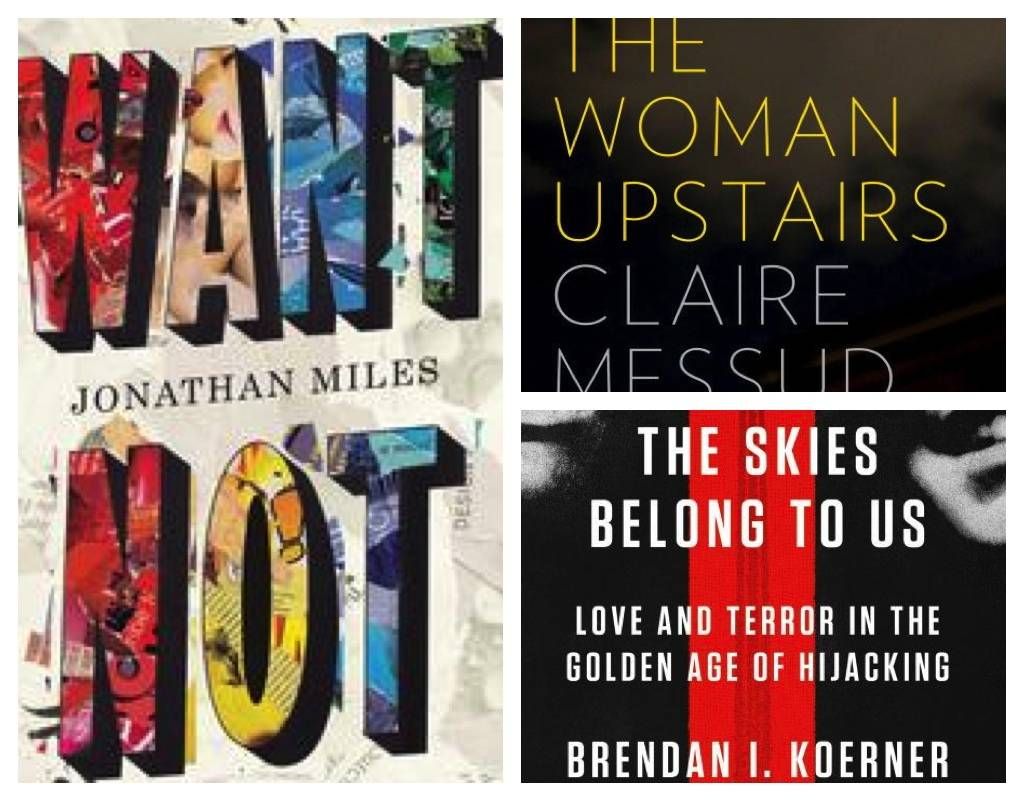 LH: I am a little horrified that I still haven't read that book yet. Everyone loves it! But let me back you up on Want Not – loved that one. My favorite non-fiction read of the year, and a new favorite in general, is The Skies Belong to Us by Brendan I. Koerner, about the history of skyjacking. You and I aren't old enough to have experienced this, but there was a time when you were able to board a plane without your bags or your person being searched. This book is about the height of skyjacking in the early 1970s and how the rules about boarding planes changed, and about one couple in particular who pulled off the largest hijacking in history. I couldn't shut up about this book. There are so many crazy facts and stories! It looks like we're getting a little wordy, nerdy – wanna go for speed round?
RJS: Of course I am! The Love Song of Jonny Valentine made me giggle uncontrollably, feel really sorry for Justin Bieber, and be really glad I've never been an adolescent boy trying to figure out how to masturbate. Mary Roach's Gulp filled me up with disgusting scienc-y facts about how we eat–it literally covers the system that runs from your mouth to your butthole–and made me the life of oh so many dinner parties. J. Courtney Sullivan's The Engagements and Maggie O'Farrell's Instructions for a Heatwave scratched my multiple-narratives-about-women's-complicated-lives itch. David Schickler's memoir, The Dark Path, was the most perfect contemplation of the intersection of sex and religion. And of course, the reading experience that defined my year was When Women Were Birds by Terry Tempest Williams. There are so many more! How are we supposed to do this?
LH: With speed! Canticle for Leibowitz was the best old sci-fi I picked up, and it proved to be the source material for a billion other things. TransAtlantic was another wonderful release from Colum McCann – it has my new favorite last line. The Pink Hotel was my new favorite coming-of-age book. Turtle Diary was more beautiful than a book should be allowed to be. Rainbow Rowell killed it with her two 2013 releases: both Eleanor & Park and Fangirl are splendid. The Testing by Joelle Charbonneau will fill the Hunger Games-sized hole in your heart. The Other Typist is my new favorite twisty myst'ry. Joe Hill put out NOS4A2, a big, fat bloody romp with lots of heart and guts. Treasure Island!!! was so damn funny, and stars one of the world's most despicable protagonists. Chuck Wendig released eleventeen books a month this year and they were all great. And Tampa – oh, Tampa. So horrifying and yet, so, so good.
Brains full yet, kittens? Well, be sure to make a little space for our next column, when we'll tease you with the best books we read that haven't yet been released! TTFN!
_________________________
Sign up for our newsletter to have the best of Book Riot delivered straight to your inbox every two weeks. No spam. We promise.
To keep up with Book Riot on a daily basis, follow us on Twitter, like us on Facebook, , and subscribe to the Book Riot podcast in iTunes or via RSS. So much bookish goodness–all day, every day.