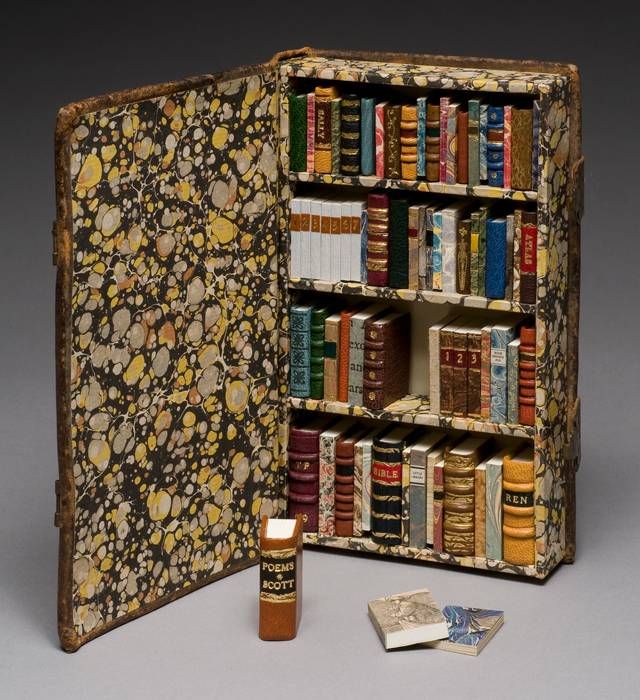 News
The Smallest Book in the World (and Other Really Little Books)
It's been quite a few weeks for little books. First, a collection of thousands of wee readable books got a writeup in the New York Times. And then, more recently, a team at Simon Fraser University entered a creation into the Guinness Book of World Records: the world's smallest reproduction of a book. Teeny Ted from Turnip Town (ISBN-978-1-894897-17-4—yes, really) measures 0.7×0.10 millimeters and is printed on silicon. Oh, and you need an electron microscope to read it. Talk about an e-reader.
This is undeniably cool, of course. But there are no pages (the whole thing is printed on a single sheet of silicon), and it's way too small to handle, so you certainly miss out on some of the tactile pleasures of a tiny book.
If we abandon the need for world-record-setting smallness, though, there are some other pretty great little books out there. Here, for example, is a brilliant, disorienting, and very sweet work by artist Todd Pattison:
It's a book. Filled with books. Beyond the unsettling, entrancing charms of infinite regress (Oh god, what if you opened one of the little books and it, too, was filled with books?), this piece is just plain lovely. The variety of books and bindings in the 1-1.5″ book signals the thought and care that went into making this wee little library.
Pattison's piece is a one-of-a-kind art object, and so not exactly something you can likely own for yourself. If you're looking for some little books of your own, check out this fantastic necklace, from the Peg and Awl Etsy shop:
I've seen this one in real life, and it's even more gorgeous that it looks here. The little books hang like leaves on a branch, held in place by delicate, crisscrossing chains. The pages don't have words on them, alas, but they bring to mind the wild piles of books the wearer probably has at home. And it looks pretty amazing–both similar to and very different from Pattison's orderly little library.
If you'd rather not spend almost $400 on a book necklace, there are cheaper (if not quite as glorious) options for owning your very own tiny book. No electron microscope required. Check out the Little Literature shop's Dr Seuss bracelet:
Alternately, of course, we could all pitch in to buy a focused ion beam system and a scanning electron microscope then go to town on some silicon. Yes. Let's do that.