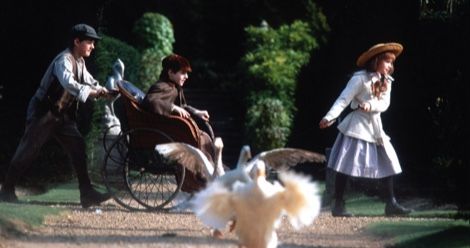 Children's
A Reading List Inspired By THE SECRET GARDEN
This content contains affiliate links. When you buy through these links, we may earn an affiliate commission.
Happy belated birthday, Frances Hodgson Burnett! She's one of my favourite authors and The Secret Garden is one of my favourite books. Not only is it a classic piece of children's literature, it's also a beautiful tribute to a landscape that I've spent most of my life in. I wrote about The Secret Garden for my thesis, and I'll write about it all my life if I can. It's that sort of a book.
Here's a reading list inspired by The Secret Garden. I've picked a mixture of sequels, spin-offs and re-interpretations for adults, children, and everybody in between. If you've never read The Secret Garden, you don't have to worry—a lot of these books stand by themselves and you can always read it after you've done. In fact, you should totally do that. I'll also do that, once I've finished thinking about Colin Firth in the upcoming adaptation…
Where better to start this list than with the classic itself? A beautiful exploration of grief, love and the healing power of nature, The Secret Garden is a joy. It was published in 1911, and there's a reason that it's still being talked about today.
Set in 1939, this sequel imagines a group of evacuated children being sent to the safety of Misselthwaite Manor. Emmie is unhappy at being sent away from home and her beloved cat, until she starts to find out the secrets of the manor…
The Secret Garden illustrated and interactive edition
This is great. I'm always very fond of interactive books, and this is produced to a really high quality. Here's a video of it in action.
There's a handful of biographies about Frances Hodgson Burnett (side note: there should be more), and this is one of my favourites. Thwaite is clearly a fan as much as she is a biographer, and this book has just the right amount of romance to it.
First published in 1965, this is the story of a very special trip to Britain. Bodger and her family wanted to find the sources of the stories that they loved—and they do so in a remarkable fashion. Look out in particular for the bit where they end up having a chat to Arthur Ransome…
Note: There's a dearth of The Secret Garden books by authors of color—if you know of any, shout them out in the comments!