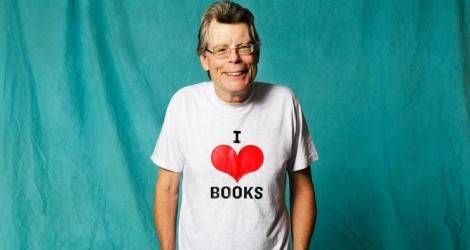 Horror
The Scariest Stephen King Covers
This content contains affiliate links. When you buy through these links, we may earn an affiliate commission.
Stephen King is the author of some of the world's scariest books, so it only makes sense that he'd have some of the scariest covers to go with them. But how do you decide which ones are the scariest Stephen King covers?
It is an undertaking.
King has written over 50 novels, and that's not even counting his short story collections and works of nonfiction. Most of his books have come out in multiple editions with different covers over the decades. And then there's the international releases, which often bring a whole different kind of scary to the mix. The Shining alone has nearly 300 editions on Goodreads.
When I began compiling this list of scariest Stephen King covers, I went through every single edition and cover I could find on Goodreads. When I was done I had over 100 contenders. (14 of them just for It. What can I say? Clowns are terrifying?) To make sense of it I divided them into a few different categories to account for all the different kinds of scary they represent.
I also made a few observations about trends in scariness. The '70s and '80s had much scarier covers than today. They also weren't afraid to throw as many scary things on a cover as possible, whereas more recent covers tend to be minimalistic. More recent books tend to have more consistent covers in international editions, especially in the last decade. Asian editions are almost always my personal favorites, with very few of them actually being scary, but instead going for elegant yet unsettling covers. Eastern European covers are horrifying in ways it's hard to describe in words so I'll just let you see for yourselves.
What I personally classified as "scary" for purposes of this list is the kind of image I really don't want to have show up in a nightmare. This may mean it's less classically frightening and more ominous. I am also a little biased having grown up in the '80s where King covers were impossible to miss and some of them stuck in my brain and still haunt me.
Honorable Mentions

From left to right, we have a Japanese edition of Cycle of the Werewolf, the 1987 US edition of IT from New English Library, a Slovakian edition of Night Shift, a Spanish edition of 'Salem's Lot, and the 1978 paperback edition of The Shining.
This was the only IT cover I saved that doesn't feature a clown but is still pretty scary. And of the many covers of The Shining, which had the most interesting selection, this is the one that gives me the shivers the most. I remember walking by this book as a kid and knowing that there was something terrifying inside.
The foreign editions here all bring something drastically different to the table. It's a good mix of scares, from quiet to in-your-face.
If these five covers are too much for you, I recommend leaving now. It only goes downhill from here.
Simple Yet Unnerving

L to R: Chinese edition of Finders Keepers, 2016 edition of IT, 1979 edition of Night Shift, Swedish edition of The Shining, 1986 edition of Skeleton Crew.
This edition of Finders Keepers gets credit for the most effective usage of the written-in-blood image. The IT cover is very similar to several other recent editions, but there's something about the pointy teeth here that makes it one of my favorites of these 2016 reissues. I cannot explain what it is about this Night Shift cover that makes me desperately not want to look at it ever again.
There are several editions of The Shining that reference the movie rather than the book, at varying levels of success. Worst: those of Jack Nicholson and Shelley Duvall. Best: those like this one that reference the most striking images. (There were several strong contenders for this list featuring the creepy twins.)
I know that my inclusion of this edition of Skeleton Crew will be controversial, there are actually a huge number of editions of Skeleton Crew with creepy-as-hell covers, and this is where my 80's kid won out. I remember seeing this cover and I remember knowing that this monkey was evil and whenever I saw it I looked away as quickly as I could.
Creepy Shit

L to R: Polish edition of The Bazaar of Bad Dreams, Finnish edition of Pet Sematary, Turkish edition of Different Seasons, Portuguese edition of Skeleton Crew, Croatian edition of Skeleton Crew.
Some of the most common themes on the scariest Stephen King covers are people in bed, scary animals, and skulls, all of which are represented here. They really show the variety and diversity of scary the foreign editions bring to the table.
WTF Is This?

L to R: Ukrainian edition of Bazaar of Bad Dreams, Russian edition of Desperation, Turkish edition of Four Past Midnight, Italian edition of Insomnia, Swedish edition of Misery.
I didn't expect amputated fingers to be a theme but here we are. Yet again, the international covers are on their A game and honestly I wish they would take it back a few notches.
I don't think I really need to provide much commentary here.
But honestly, I would be very happy if I never saw that cover of Insomnia again. WTF is that.
Straight Up Scary

L to R: Original edition of Cujo, Swedish edition of IT, Serbian edition of IT, Italian edition of Nightmares & Dreamscapes, Original edition of Pet Sematary.
I feel pretty comfortable with these originals of Cujo and Pet Sematary as the scariest American entries. The Cujo cover gets extra bonus points for being terrifying AND gross AND encompassing the entire plot of the novel quite succinctly.
Scrolling through Pet Sematary covers proved to me that cats are scarier than you think they are, and this one is a very quintessential American King cover: scary letters, scary colors, scary animal.
I stared at a whole bunch of creepy clowns and ended up with these two on opposite ends of the spectrum for IT's scariest entries: one very simple and the other one detailed and grotesque.
That Nightmares & Dreamscapes cover, though. I think I actually said, "Gah!" aloud when I saw it enlarged. That is one creepy creeper, and a bedroom closet is the absolute last place it should be.
The only thing missing from these entries is something under the bed, otherwise I think we have Horror Bingo.
I'm not going to tell you it's a good idea to go out and buy these and put them in your house. I'm not going to tell you nothing bad will happen to you if a bunch of these are on your shelf. I make no promises when it comes to covers this scary.
(Want even more Stephen King?)