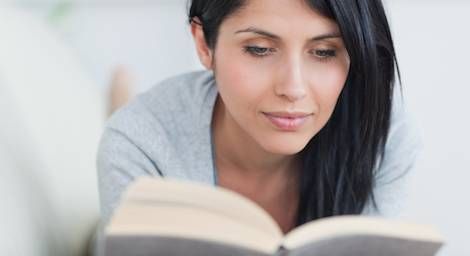 Our Reading Lives
The Popularity of Books About Saying Yes to Life… and Why We Still Say No
This content contains affiliate links. When you buy through these links, we may earn an affiliate commission.
This past week, I started re-reading Yes Man, by Danny Wallace. A comic memoir about a man who decides to say "yes" to everything for the rest of the year, it's a fun read. Plus it always makes me think: Gosh darn it, Steph. You really need to say 'yes' to life more.
Meanwhile, as I've been re-reading, I've said no to:
a mommy and me music class at a local nursing home,
a pumpkin parade party for toddlers,
a Halloween Dance Party at the dance studio where my husband and I used to take salsa lessons,
and a "deep restorative experience" at a yoga studio at which I used to teach.
And I love deep restorative experiences.
Clearly, I learn nothing from the books I read.
Yet I continue to hoover them up like Pixy Stix, and I know I'm not the only one. Just this past year, Shonda Rhimes blew us all away with Year of Yes, a memoir about how "yes" changed her life. Even more recently, Mindy Kaling followed up Is Everyone Hanging Out Without Me? with Why Not Me?, a collection of essays on her ongoing journey to build a happy life. And though it's not as well known, I was completely charmed by Noelle Hancock's My Year with Eleanor, a work of stunt journalism in which the author determined to do one thing every day that scared her.
On the flip side are those books that show us an alternate reality in which we might say no to our boring, humdrum lives (which, by extension, means saying yes to something more exciting). Jon Krakauer's Into the Wild, for example, captured imaginations with its account of a young man who walked away from all of his worldly possessions and walked—ba-DUM-bum—into the wild. Frances Mayes's Under the Tuscan Sun allowed us to imagine that it might actually be possible to run away to Italy, buy a farmhouse, gorge ourselves on pasta, and find love.
And on the fiction side, I just fell madly in love with Gayle Forman's Leave Me, in which an overworked, underappreciated mother with a full-time job has a heart attack. After her return home from the hospital, the narrator gets the sense that her family resents the time she's taking to recuperate. Overwhelmed and angry, she decides to run away.
(Let me just leave this book right… here… on my husband's pillow as a warning…)
What is it we love about inspirational books that challenge us to embrace life, and why is it that—when we turn the last page—we usually just go back to business as usual?
Forman's Leave Me pokes and prods at a possible answer. But when I explore that question for myself, I imagine several possible explanations.
For one, as a work-at-home mom on a freelancer's salary, I don't encounter many opportunities to say yes to anything life-changing or exciting, nor do I have the money or opportunity to peace out on my obligations and eat-pray-love my way straight outta Jersey. In fact, if I spent an entire day saying yes to every request or invitation, Danny Wallace-style, I'd likely just end up with a toddler jacked up on yogurt, and a list of social gatherings I couldn't attend because, again: toddler. I assume many other readers are similarly hamstrung by reality.
For another, as much as I love the idea of living under the Tuscan sun, I am lazy and also comfortable and also set in my ways. My life might be boring, but I'm sorta happy with my boring life. Saying yes to a less boring life sounds exhausting.
And following naturally from my previous point is the fact that, in certain cases, books are read as escapism, and nothing more. They're a way to live vicariously through the experiences—or fictional realities—of others, giving us that sweet contact high before we finish the book and dive back into our day-to-day.
What are your favorite books that let you temporarily imagine a life of yes?