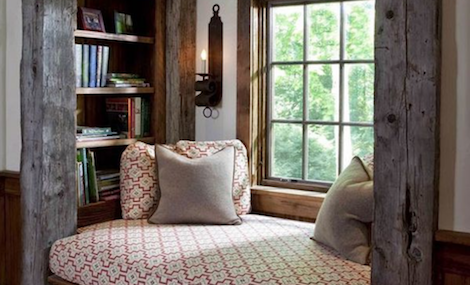 Opinion
A Fortress of Solitude; or, The Perfect Reading Room
I work two jobs, which means I am away from home over twelve hours a day, so I often have to read in noisy locations. I have the attention span of a terrier in a park chasing squirrels—
—so everything is a distraction and reading anything over 400 pages is a month-long project. It's tedious, discouraging, and often takes the fun out of reading.
No one can maintain sanity for long without a little peace and quiet.
I want a library, but not a shared space. I want a space that's my own. A quiet space filled with books. A library so large and so bright and so quiet that I could spend days buried in books. A library free from prying eyes and the needs of others. A safe place where concerns and obligations could melt away, and for once I could get truly lost between the pages. A true hideout.
That's been the dream.
So, what would make the perfect room? The perfect hideout? What do other writers/reader's spaces look like?
Well, I did some research, and these are what I think would be the best ingredients for the perfect reading room:
Comfortable seating
You don't want to read on something that's not comfortable. My tastes in comfort might diverge from other people's but I absolutely hate leather, so no leather seating, even though leather looks handsome next to bookshelves. I like the idea of a La-Z-Boy–type chair. A chair so big you look like you're sitting in a giant's chair. A chair that's so cushioned you feel like you're getting a hug. A chair would be nice, but what would be even nicer is a couch. A reclining chair takes up too much space in a small room, and doesn't allow you to really spread out. A couch would sit against a wall, so you could lay out fully and take long leisurely naps between chapters.
A white noise machine/playlist
Life changing. I battle bouts of insomnia, and white noise has been a game changer. It has also been really helpful to block out distracting noise while reading and writing (you can find white noise playlists on YouTube or Spotify). I really love listening to wind blow through trees and crickets.
Art
Art on the walls might be a distraction, but aesthetics are necessary, especially if you're using your room for writing. It can be inspirational.
Bookshelves
This is a room with a library, so it has to have bookshelves. I personally like built in shelves, but there are some really nice free standing shelves, and full wall units that look really polished.
Also, some more awesome bookshelves for your home…
A small dog, lazy larger dog, or a cat
I'm not completely averse to companionship, I just prefer my companions to have four legs.
Curtains
Sunlight is great while reading, but if you're writing, anything can become a distraction. Curtains that are just thick enough to block out distracting sights can be very helpful for a writer with a short attention span.
The RODARV curtains with tie backs would be perfect for reading and writing.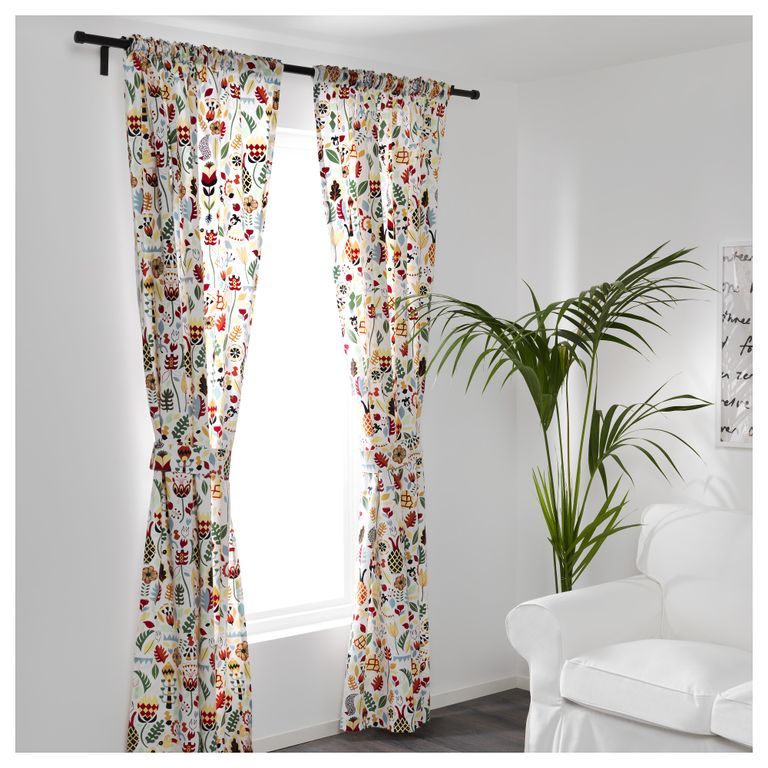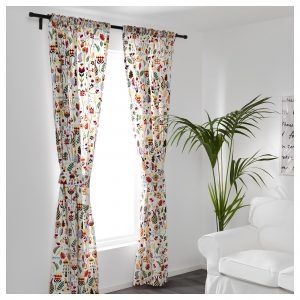 Water
I need water by my side all the time, or I feel panicky. I need cold water, and I don't want to have to get up thirty thousand times to refill my glass, because, again, short attention span: I know I will get distracted and wander away from what I had been doing. Unfortunately, nothing can be done about the amount of times I'll have to get up to go to the bathroom.
Good lighting
If lighting is poor in your room, and you're spending all your time squinting at a page, you'll go blind, or at the very least your eyes will get too tired to continue reading for long. Overhead lighting is good, but it would also be good to have at least two freestanding lights that can be placed on either end of your couch, and maybe another light for your desk. Hell, you might even want lights to light up your bookshelves.
I've seen the HEKTAR lamp in real life and it's awesome! It's big and has LED bulbs and looks vintage.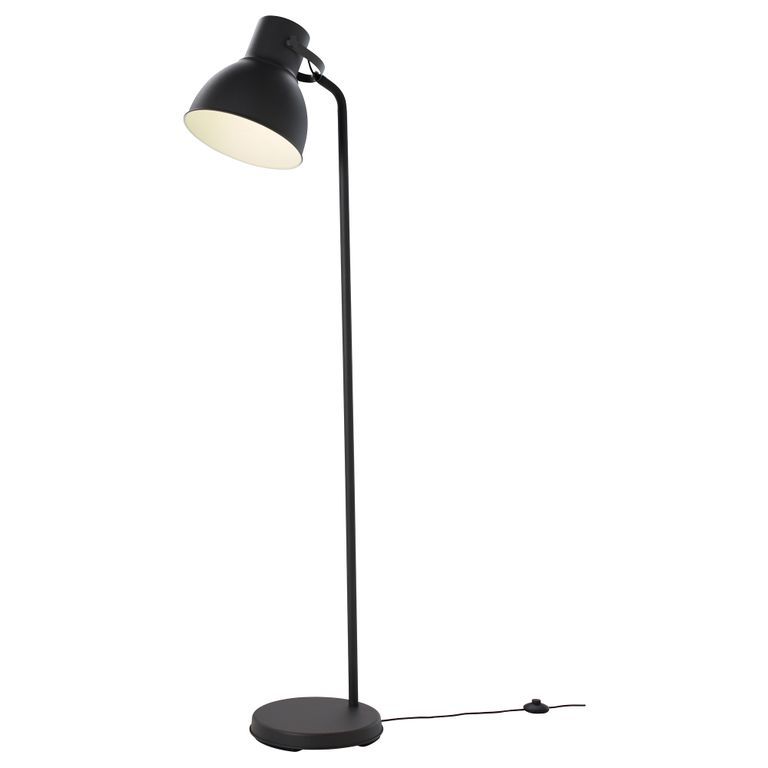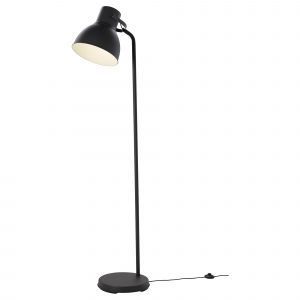 Desk chair
Writing and reading almost inevitably go together. Readers are often writers, and writers are ALWAYS readers, so you need a desk, and if you have a desk, you need a desk chair. Keep in mind, you might be sitting in this chair for hours on end, so it has to be comfortable. Do you like rolling chairs? I don't. They're bad on hardwood floors, they run over your toes, and they take up too much space. It's hard to find a non-rolling office chair, but they're out there. Make sure the chair is not too low or not too high, because where your arms are positioned while writing can really lead to a lot of back and shoulder pain.
Try something like the STRANDMON Wing Chair from IKEA. It has a high back, which would be great for the neck. (Three IKEA picks in a row, I know, but IKEA is large and affordable, so they're generally my go-to for furniture options)
Desk
Of course there must be a desk. I'd love to have a big intimidating desk, but again, space is always a consideration. Also, because of back pain, and what I like to call reader's neck (the pain at the base of your neck from always being bent over a book), it might be nice to have a standing desk, which would eliminate the need for a chair, and free up more space.
Some ideas (Nigella Lawson's library/workspace is my absolute inspiration!):
Writing/reading shed
Maybe it would be better to just have an entire detached space for the specific purpose of writing and reading. A small hut in the woods, where the only noise is the chirp of a bird and the rustle of the leaves.
A space like these:
So that's what I think would make an awesome reading/writing space, or my own fortress of solitude.
What I really want it this: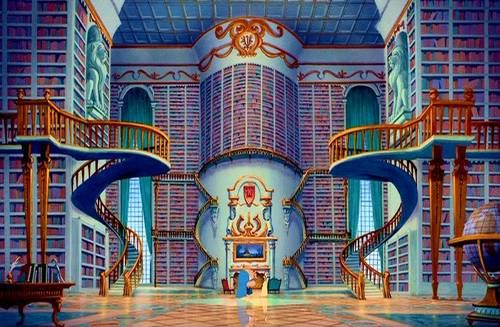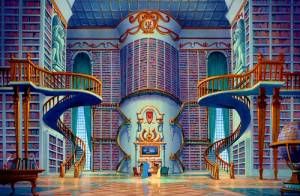 But don't we all?
For MORE awesome home library/reading room ideas, check out: design ideas, library ladders, reading pillows, plus more book fetish stuff here!
Ciao!