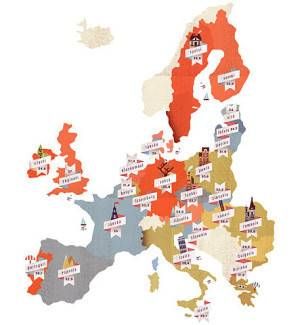 We here at Panels are taking some much needed time off; in the meantime, we're revisiting some favorite old posts from the last 6 months! We'll see you back on July 8 with all new posts for your enjoyment.
This post originally ran on April 28, 2015.
_______________
I have two nieces, and a mission: these girls are going to read comics. Actually, my real mission is for all girls to at least give comics a shot.
The comics I'm listing here all have girls in the lead roles. I'm a big proponent of the idea that all comics are girl comics, but I also think it's important to get to occasionally see yourself reflected in your media.
I also think it's important for boys to read stories about girl characters, so this list is fair game for them, too.
Now, here's a short list of gateway comics for your Nerd-in-Training:
Jeremy Whitley's Princeless is currently on its third volume, with the fourth slated for release later this year. It takes place in a world where sixteen-year-old princesses are locked in tower guarded by dragons. All of them. Because what matters most in a son-in-law/future king it that he be bold and fearsome in battle. The girls are MacGuffins. Princess Adrienne Ashe thinks this is just as awful as you do. So she buddies up to her dragon, rescues herself, and sets off on a mission to save her sisters. She has a sword, stylish (but practical) armor, and the strength of her convictions. She also has a bad temper, a tendency to rush into things, and the worlds' coolest mom. Reading this book, you don't just want Adrienne to succeed – you want the entire Ashe family to find a way to come together.
Honestly, anything by Raina Telgemeier is a win. Her work, both autobiographical and fiction, is consistently relatable and authentic. The specific joy of Smile is the lesson it teaches: it's possible that your friends suck. Little Raina deals with friends who shut her out, make jokes at her expense, and are dismissive when she's hurt by it. That happens to kids. It's easy at that age (or any age, really) to fall for it and believe the you just need to learn to take a joke. There's a lot of gratification in watching someone else realize that they don't have to put up with that. Smile does that without ever feeling preachy or condescending. It's a very honest coming of age story that also manages to be light and funny.
Katie Cook's Gronk is a story about a young girl finding a new family for herself. Also, she's a monster. Gronk leaves the woods because the other monsters pick on her for not being mean and scary enough. She finds a home with human Dale, along with Dale's cat and her massive dog. Gronk is a pile of chaos, who slides out of trouble by being adorable. Dale is ostensibly the grownup, but she's still kind of a mess. Gronk started as a webcomic and tends to keep to a four-panel layout, which can make it easier to navigate for younger readers.
Grace Ellis, Noelle Stevenson, Shannon Watters, and Brooke A. Allen have created the ultimate summer camp comic book. It has friendship bracelets, canoe trips, battles against supernatural creatures, and campfires. The central Lumberjanes are all very different girls and they're fully rounded characters. Ripley is bold and nearly fearless, but she's still clearly a kid. April is smart and competent, but she still doubts herself sometimes. The Lumberjanes all love and value each other, and that's what gets them through tough situations. They take chances, they make mistakes, and the fight dinosaurs. It's energetic, an amazing read, and good for any adventure-loving kid.
Mike Maihack's work is cute, funny, and generally delightful. If you've seen really adorable Batgirl/Supergirl comics about costume changes or Christmas spirit, you may already be familiar with his work. Cleopatra in Space is about Cleopatra…in space. A young version the actual Cleopatra gets transported to the future. Now she has a ray-gun and a space cat, and she's training to fight a despot.It's published by Scholastic, which I mention because I have some deeply nostalgic feelings about the Scholastic book catalog. This is the exact sort of book I have circled in ballpoint pen before discreetly placing it on my mother's desk,
.
Now go forth, and share some great comics with your favorite kids!
__________________________
Do you talk all things comics on Tumblr? Follow us over there for all our comics Tumbling.