This content contains affiliate links. When you buy through these links, we may earn an affiliate commission.
Despite my love affair with lists, I have no official place where I track the books I want to read. Along with random pages in my notebooks and on loose-leaf I have long lost, I list books I want to buy on my phone, which translates to TBR (to be read). Or does it? The more I read the more I want to read. I adored An American Marriage by Tayari Jones, so Silver Sparrow's on my radar now. After To All the Boys I've Loved Before debuted on Netflix, I inhaled the book, and P.S. I Still Love You awaits at the library. This desire and obsession translates to pile-making.
In an effort to take inventory, I toured my seven bookshelves and stacks: The Sad Passions by Veronica Gonzalez Peña on my bookshelf lamp, The Waves by Virginia Woolf under the record player, Breath, Eyes, Memory by Edwidge Danticat on the coffee table, Ghana Must Go by Taiye Selasi next to Blue (my reading chair). Like other Rioters, anxiety bubbled in my chest as I noted the new-to-me titles I shared a roof with. Some I don't see myself reading in the foreseeable future and don't feel a single bad thing about it, like Lolita by Vladimir Nabokov.
Normally, I don't experience buyer's remorse over literature, because my life revolves around books: reading and writing about them, sharing titles, teaching living writers in creative writing classes for kids, so if twinges of guilt arise, it's fleeting. And yet, the 86 unread books birth a smidge of embarrassment for someone who loves efficiency.
Seeing these previously unrecorded books in one spot felt powerful. I understand I'm a person who wants to know why about almost everything. Seriously, so many reference books. I try not to let that hunger affect me. Curiosity is beautiful, and I promised myself to nurture that quality and am grateful for the ability to do so.
Undoubtedly, I'll eventually use this record to donate, gift, and sell wants I have outgrown, but first, I've chosen the books that are so embarrassing to not have read that I'm indulging ASAP. Coming from someone who doesn't shy easily, the shame is real.
Louise Erdrich
One of the most recommended authors to me because of my passion for magical realism, I started with Tales of Burning Love, marking it up like I took it for a college class, starring sections for "place" and underlining beautiful lines like "Fresh air poured in, cooler, stiffened at its edges by that before-rain fragrance of stirred dust." I've begun it twice, and both times I landed on or around page 151. I decided I needed to begin this saga with the first novel.
I started Love Medicine, the 1984 National Book Critics Circle Award, and stopped partway. I don't know what happened. In awe of Erdrich, and her infamous attic office featured in The Paris Review ("pleasantly cluttered with photo­graphs, artifacts, and many more Catholic and Ojibwe totems, including moccasins, shells, bells, dice, bitterroot, a bone breastplate, an abalone shell for burning sage, a turtle stool, a Huichol mask with a scorpion across its mouth and a double-headed eagle on its brow, and a small army of Virgin statuettes"), I'm still collecting her fiction, Tracks and The Beet Queen, waiting for our timing to align.
Beloved
by Toni Morrison
I'm not a monster. But I feel there are no excuses for not reading this yet. Since my bookseller stint between undergraduate and graduate school, I've been moving it with me. Two Decembers ago, I began the Pulitzer Prize winner during a multi-city trip, carrying it from Central Pennsylvania to Pittsburgh to Grand Rapids, Michigan and back to the Burgh again. It brightened five nightstands that I remember. I bookmarked page 63 with a losing two-dollar PA lottery ticket, and dogeared page 11, 42, and 54. Despite my exhaustion haze, I know why I bent that first page. Obsessed with ghost stories, I marveled at Paul D's encounter with the "pool of pulsing red light":
She was right. It was sad. Walking through it, a wave of grief soaked him so thoroughly he wanted to cry. It seemed a long way to the normal light surrounding the table, but he made it—dry-eyed and lucky.
I stopped reading because Beloved deserves more than my blind-from-socializing minutes before bed. I don't have words for how The Bluest Eye, my first Morrison, was everything I needed. Recently, Song of Solomon fueled my obsession with the moon. I love reading Morrison as much as I love listening to her audio books, which she narrates. In "The Radical Vision of Toni Morrison," Rachel Kaadzi Ghansah writes, "It takes a long time to record a book. Many authors use actors. But that's not how Morrison hears her own sentences, so she does these tedious sessions herself." Having listened to God Help the Child, I understand.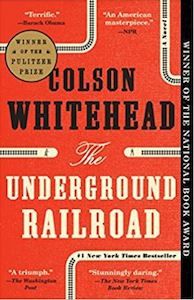 After listening to not even an entire disc of the novel in my car, I returned it immediately. Not because I didn't like it, but because I loved it. Looking at the first page now, I think there are a few reasons my intuition urged me to read it instead. The name Cora is special to me, and I hold grandmothers and the ocean close to my heart. I needed to hold this book in my hands, travel along with its sentences and paragraphs, page after page, and life put it in my path again. After a Saturday run with my love, I spotted it at our coffee shop for a dollar. I was both happy for my luck and sad that someone would let go of this treasure. Don't they say good art makes us feel two things at once? And then, I hadn't even opened the 2017 Pulitzer Prize winner in fiction yet.