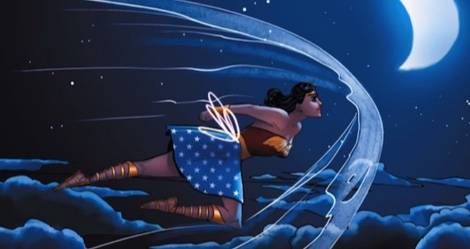 This content contains affiliate links. When you buy through these links, we may earn an affiliate commission.
Right now is a great time to be a Wonder Woman fan. Her first feature film arrives next June, and next month marks the 75th anniversary of her first appearance, so we have been blessed with a veritable cornucopia of amazing comics and graphic novels. But, what is a new reader to do? Where do you start if you want to join in on the fun?
If you've never read a Wonder Woman comic before—or even if you have and are just looking for a fantastic read—there's no better place to start than with the recent digital-first The Legend of Wonder Woman, written and pencilled by Renae De Liz and inked, colored, and lettered by Ray Dillon.
The Legend of Wonder Woman is a back-to-basics retelling of her origin on the mystical island of Themyscira and her early adventures in the world of man. But unlike most recent retellings of her origin, The Legend of Wonder Woman is a period piece, set during World War II and using the Golden Age cast and themes that made Wonder Woman an icon to begin with.
And let there be no doubt: the cast is where The Legend of Wonder Woman really shines. De Liz has embodied Diana and her supporting cast with personality and emotion on a scale rarely seen in superhero comics. I defy you not to fall in love with each and every one of these characters.
Diana herself is full of passion, longing to protect her home and the broader world. But, she abhors violence for its own sake, and makes a point throughout the series to protect all life—even the lives of her enemies—whenever possible. This is not the vengeful sword-in-hand warrior of recent years, but instead the lasso-wielding pacifist of her earliest appearances. In other hands, Diana's idealism might feel cloying or old-fashioned, but De Liz successfully threads the needle, making Diana feel positively mythic.
The real breakout character of the series, though, is Wonder Woman's Golden Age sidekick, Etta Candy. Etta, a singer and student at Holliday College outside of Boston, takes Diana in when she is stranded, and then follows her along to Europe to fight in the war because, hey, a gal's gotta have a pal.
Etta is confident, brave, and utterly hilarious, without being a stereotype. (Etta also has by far the best wardrobe in the series; it's as if De Liz gave her every fabulous 1940s outfit she couldn't justify putting on the more Spartan Diana.) But, Etta is not immune to embarrassment, at one point begging Diana to put her out of her misery. She feels like a living, breathing person, and I wish I could be her friend, too.
It's not all earnest soliloquies and Etta Candy zingers, though; The Legend of Wonder Woman is also packed with action, from the classic contest of champions on Themyscira to the final showdown with a cosmic titan on the island of Svalbard. But, keeping with Diana's pacifist leanings, fighting is never the default. And, refreshingly, De Liz occasionally lets the story go for several chapters without any fights, giving Diana, Etta, and the rest of the cast room to breathe.
De Liz's character-focused retelling of Diana's origin makes it an ideal entry point for readers without a lot of comics or superhero experience. It is a genuinely welcoming series, with no prior knowledge necessary to understand what's going on. (There are a few cameos and easter eggs, including an adorable appearance by a young Alfred Pennyworth, but none of them are essential to understanding the story.) If you have ever thought about reading a Wonder Woman comic, but had no idea where to start, start with The Legend of Wonder Woman.
As a digital-first series, the easiest way to read The Legend of Wonder Woman right now is to pick up the 27 chapters (don't worry, they're just $0.99 each) over at Comixology. You can also track down the nine print issues at your local comic shop. If you have a little bit of patience, you could pre-order the hardcover collection, which is out in December, just in time to make the perfect holiday gift for any Wonder Girls in your life.
Oh, and don't worry when you finish: De Liz and Dillon are already at work on The Legend of Wonder Woman Season Two, which is set to begin early next year.