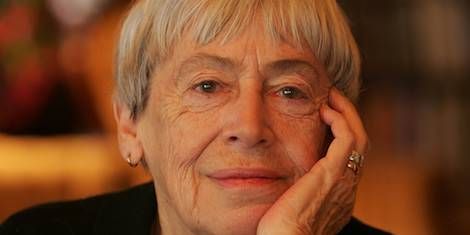 News
The Left Hand of Darkness by Ursula Le Guin in Development for Limited TV Series
This content contains affiliate links. When you buy through these links, we may earn an affiliate commission.
Love Hulu's The Handmaid's Tale? Well, Critical Content believes you might also like to see The Left Hand of Darkness by Ursula Le Guin developed into a limited series. They've purchased rights to the book, with Ursula Le Guin signed on as consulting producer and Forman, Andrew Marcus and Ray Ricord signed on as executive producers.
A lot of thoughts here. First, The Left Hand of Darkness! I love this novel. It was my introduction to Le Guin and blew me away. I've since read it many times. In case you don't know (in which case go and read the book), The Left Hand of Darkness takes place on a planet called Winter. Genly Ai, the main character, is an Earth Envoy. The inhabitant's of Winter can and often do switch genders. Genly must try to adapt to this new world despite an Earth upbringing that supports patriarchal sexuality norms. Like most of Le Guin's work, she approaches themes and characters like an anthropological study, though a deeply human one, especially as the novel progresses.
While super excited to see this turned into a series, I do have some reservations. Despite Le Guin being one of the most amazing writers ever, her book to screen adaptations have a bad track record. Neither Earthsea adaptations were good (and she agrees), despite one of them being made by Studio Ghibli. So I'm a little nervous about adapting such a complicated novel into TV series. Doesn't mean it can't be done — I think it can — but it makes me nervous.
Also, I find the comparison to The Handmaid's Tale a little…odd. Yes, they both question patriarchal norms, but not all books that subvert patriarchy are similar. I mean, that's a given, right? Though it's not a totally left field comparison. I suspect the success of Game of Thrones and Westworld has something to do with the adaptation plans as well, though I'm a little worried by the producers' lack of sci-fi/fantasy cred. Off topic but just so you know, Le Guin and Atwood are friends! You can listen to them debate about speculative fiction here, and I recommend you do so!
And how are they going to go about the casting???
Despite all these reservations, I'm stoked. I would love to see this made into series and Le Guin's signed on, and I trust her.
How do you feel about it?