This is a guest post from Elizabeth Bastos. Her writing has appeared in McSweeney's Internet Tendency, the Big Jewel, and the Food and Think blog of the Smithsonian magazine. Her piece about love and France, appeared in the Book Bench's Dear John 2010 Valentine's letters.
__________________________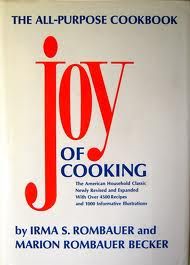 I don't aspire to greatness in the kitchen. I do not ask for much, I ask for food. In my family we are pepper jelly, pancakes, "Book Club Brownies," nothing fancy or with a foam, ever. Sometimes a fillet of salmon on the grill, with a lemon mayo sauce, maybe studded with capers if a person is feeling risky, and, on the side, those little red potatoes still in their skins.
That was, and still is, Big Time Company Food. If there is a whole salmon in my mother's fridge someone has died, or been born, and we're saying goodbye, or welcome, with roasted potatoes. Deviled eggs. Weddings, another occasion for food, are strictly celebrated with crabcakes, and store-bought petit fours, the fondant so thick and sweet it'll melt your heart.
My grandmother's salmon mousse, in the shape of a salmon, with an olive for the eye, was the basic food group of her entertaining. She was Joy of Cooking all the way. Even unto the tomato aspic. She was forever pushing the aspic on me, but I was all like, "gross, Grandma, that's glorified V-8." I was about eleven.
But even then I knew my family's food was white bread. Other people had interesting items, like pierogies, and challah. We had chicken with mustard, the mustard shoved in a glob under the fat of the thigh and baked with in a 350 degree oven. Then it got a little paprika, "for some color," my mom said. Because it sure didn't have any on its own.
For years I was down on The Joy for providing me with bland staples for my Proustian remembrances such as "Baked Macaroni and Cheese." My grandmother made it with Velveeta. I can't separate that satin-look and rubber mouth-feel from the feeling of being well taken care of. They've congealed on my plate. I will follow anyone like a dog who makes me "macs."
Other cookery books fascinated with their notes on choosing the proper whisk. They were glossy and had discourses from the chef, interesting things that He thought you should know about His global search for the perfect za'atar. My edition of The Joy of Cooking was shocking in its relative disregard for spice, and for The World. It had lots of things "cockaigne," whatever that means, and, even at 1132 pages, it was plain.
Plain and heavy. Same description for me as a kid, actually. See? There I am in the corner, in 1980, snacking on pepper jelly and Ritz Bits at the memorial service for my great-grandfather, a German, from whom it's possible I get my taste for braised red cabbage.
But the old Joy, the 1931 first edition, had a section on squirrel. Everyone talks about the squirrel section. It's like talking about an ancestor who was outrageous, who played the banjo and was also, somehow, a pirate, whereas we more modern, more sedate folk stick to our suburban soccer schedules, and our "Creamy Microwave Cheese Sauce."
The Creamy Microwave Cheese Sauce isn't bad, actually. Nothing in the book is bad. All of it is comforting, forgiving. Sometimes what we need is not to sparkle, but to warmly, gently glow with the basics, like Quick Cheese Soup. My Joy is well-worn. I use it like families used to use their Bibles, I record in it important things. Births. What I cooked. Deaths. What I cooked.
My mom dog-earned the page with the "All Butter Cookies" recipe and included this message in the margin. Imperative. "DOUBLE IT IF YOU WANT TO MAKE THE WHOLE ALPHABET."
My son was six when he wrote his first recipe on the back pages of The Joy of Cooking. "My Red Green" he called this mixture of red peppers and zucchini. I like the scrawl of early literacy, its commands. "Mix! Eat! Love! Serve!" he wrote. That's right. Keep it simple.