Libraries
Something to Chew On: Tracking Down the History of the Library Cake
Chances are, if you work in a library or have a bookish lifestyle and spend any time on social media, you've seen it: The Library Cake.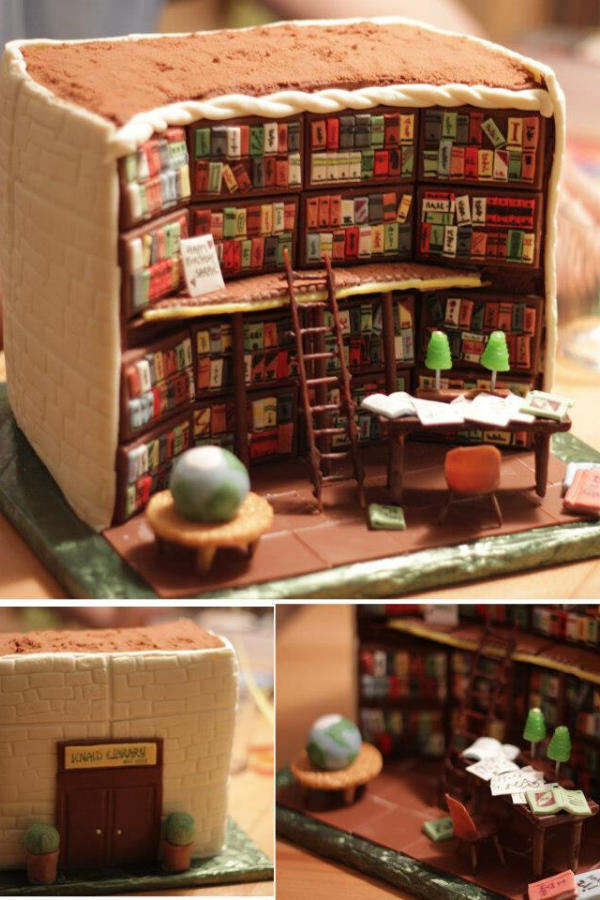 For years, pictures of this elaborately decorated cake have been circulated on Facebook, Pinterest, Reddit, and more, all for good reason: it's AMAZING. With shelves packed to the brim, a table and chairs beset with reading materials and lamps, even miniature potted plants sitting outside the "front door", the intricate edible decorations take baked goods to the next level.
But the Library Cake has turned into a new type of shorthand used on social media groups, particularly those frequented by those working in libraries: an online item that has been shared so many times, it's become exasperating.
The tweet about a man's precocious 6-year-old claiming librarians are magicians thanks to the expansive access Inter-Library Loans allows? Library Cake.
The article about horse-riding librarians who acted as Bookmobiles during the Great Depression? Library Cake.
The photo of a sign pleading with patrons not to let Max the cat into the library, alongside a photo of the adorable, aforementioned Max? LIBRARY. CAKE.
But where did the Library Cake come from? Why was it created?
"This cake was made for my daughter's 21st birthday " wrote the Library Cake's creator, Kathy Knaus, in our communications. "If I remember correctly (this was a few years ago), the reaction was something like, 'Mom, you are completely insane! This is amazing!'".
Knaus, who is originally from Rochester, New York, but has been living in Vienna, Austria, for 30 years, isn't a professional baker. Rather, she uses cake decorating as her creative outlet. She posts photos of her other creations on her Facebook page, including two other versions of the library cake, one of which won the bronze metal at the Vienna Cake Show (Die Kuchenmesse) in 2015. When asked how long it took to make the original library cake, Knaus said that she didn't keep track of the hours. But she noted that most of her cake designs take her much longer than she originally anticipated.
Knaus began to become aware of the Library Cake photo's online popularity through friends of hers in the cake decorating community. At first, she tried to track down and contact all of those sharing her photo to request she be given photo credit, but gave up when the task became too cumbersome. "[T]here were just too many!" she noted. Over the years, as the cake photo spread, she started receiving multiple Facebook messages from those requesting to order a cake from her and asking for tips on how to make their own library cake, but otherwise the viral photo hasn't impacted her life too much.
And how does she feel about the reception of the Library Cake within library circles?
"I got a huge kick out of it when I found out my cake was so well-known in the librarian community that 'library cake' has become shorthand for 'things you have seen so often you're sick to death of them'." Knaus herself is passionate about books and libraries and loves that her creation was able to bring so many people joy.
"I'm always quite humbled by the level of appreciation this cake has received…I'm glad that out of all the different cakes I've made, it was this one that found its way out into the world."