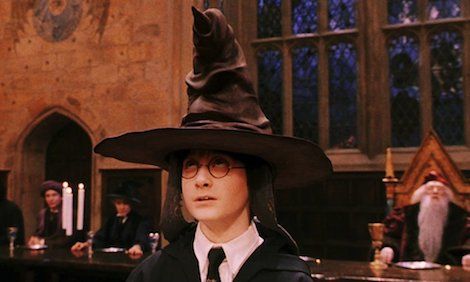 The Hardest Harry Potter Quiz You'll Ever Take: Critical Linking, September 7, 2018
Sponsored by The Fall of Gondolin by J.R.R. Tolkien.
---
September marks the 20th anniversary of the Harry Potter and the Sorcerer's Stone's American arrival, following J. K. Rowling's enchanting debut in the U.K. the previous summer. The book was dutifully translated, lest Americans readers determine that "sellotape" — that is, "Scotch tape" — must be one of those Wizarding neologisms alongside "Muggle" and "Quidditch."
For last year's British anniversary, TIME introduced the union of magic and science in our research-based Sorting Hat quiz, developed in partnership with personality experts at the University of Cambridge. In that same spirit, we now present a trivia contest based on our in-house data analysis of the complete text of the series, which is north of a million words long. Needless to say, the answers and following commentary contain copious spoilers.
I don't know Harry Potter well enough to even try, but if you're a mega fan, you'll want to take this quiz. Also, the piece itself is super interesting even if you don't take the quiz.
____________________
A famed recluse, J.D. Salinger probably would have hated being celebrated in any way, and yet celebration has come for him. In advance of the centennial of Salinger's birth on January 1, 2019, Little, Brown has announced plans to honor the author, including a special series of reissues of his work. As part of that event, the publisher is putting out a new set of Salinger's major works The Catcher in the Rye, Nine Stories, Franny and Zooey, Raise High the Roof Beam, and Carpenters and Seymour: An Introduction. Vulture has an exclusive look at the covers of the new trade paperbacks below – there will also be an unjacketed paperback set. Little, Brown will release these editions in November of this year and they will be available throughout 2019.
Definitely into the look of these.
____________________
Look, I'm not saying that there's anything wrong with a murder mystery that centers on a young, non-living lady. But every once in a while you might want to read a mystery novel that doesn't star a grizzled male detective hunting down the killer of a super hot female corpse. Maybe, maybe even a thriller where the non-male lead makes it all the way to the end without getting killed or horrifically brutalized at all. I know it's a lot to ask, but there are a few books out there that manage to be mysterious and gripping without killing a woman off in the first few pages. So if you're looking for a thrilling read that would bore Edgar Allan Poe to death, these might just be the books for you:
Mysteries that don't start with a dead girl. Adding these all to my TBR.