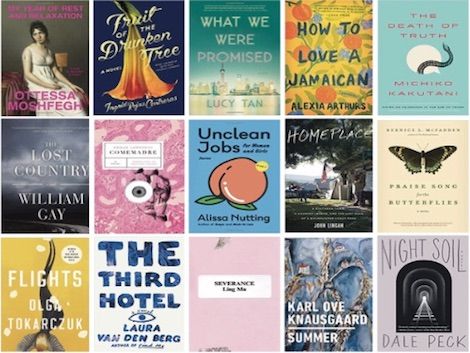 The Great Second-Half 2018 Book Preview: Critical Linking, July 19, 2018
Sponsored by Penguin Random House.

---
Putting together our semi-annual Previews is a blessing and a curse. A blessing to be able to look six months into the future and see the avalanche of vital creative work coming our way; a curse because no one list can hope to be comprehensive, and no one person can hope to read all these damn books. We tried valiantly to keep it under 100, and this year, we just…couldn't. But it's a privilege to fail with such a good list.
So much drooling over amazing-sounding upcoming books. 
____________________
I'm currently trying to learn a lot about economics. I care a lot about this project, and find it sufficiently compelling that I'm willing to spend my limited reading time for it in a way that optimizes for learning over fun. I've evolved a system to help me remember more of what I read. It's proven quite successful, and has won me such plaudits as "Where did you regurgitate all that from?" and "Well someone clearly just read 'Why Nations Fail'". It's obviously completely made up and not the result of years of (or indeed any) scientific verification, but I have found it to be effective. Here's a brief summary.
A really thought-provoking way of reading to remember (with a nice side of "it's okay to read for fun and for not remembering, too). 
Megan Abbott's new thriller, Give Me Your Hand, chronicles a rivalry between two female scientists who were teenage friends. Below, the award-winning author of Dare Me and You Will Know Me recommends novels inspired by true crimes.
Adding more books to my TBR.