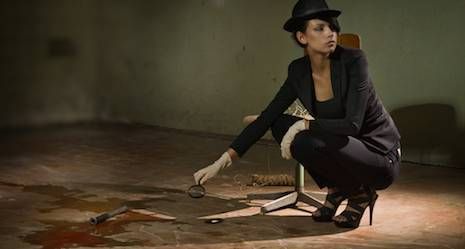 This content contains affiliate links. When you buy through these links, we may earn an affiliate commission.
I love mysteries. My eighteenth birthday party was murder mystery themed, my whole basement transformed into a violent speakeasy. I was Nancy Drew last Halloween. I grew up devouring detective books, not just Nancy, but Cam Jansen, and Trixie Belden, and those Mary-Kate and Ashley Olsen chapter books that all had names like The Cruise Ship Caper. When I got a little older, I graduated from mysterious theft and alleged hauntings to murder mysteries, specifically to the work of Agatha Christie, who, along with Shirley Jackson, I consider a literary kindred spirit.
I recently attended a production of Agatha Christie's And Then There Were None, an experience which reminded me of everything I love about the particularly mid-century mystery. For one thing he production manager made an announcement prior to the show asking those members of the audience who were familiar with the story please not to blab about "whodunit," and I found that very friendly and Midwestern, no matter how little heed the people behind us paid to it.
And though the book kept me up nights after I first read it, going to see the play felt like going to a dinner party. During each mini-intermission everybody turned to their neighbor, exhaled, and exchanged theories (except for me and my fellow Christie fans, who sat around smugly and offered oblique "clues"). Jump scares were followed by appreciative chuckles.
In my opinion, a good murder mystery, even if it's gruesome, should also be fun. It should welcome the reader in, hand them a drink, and invite them to play the game and catch the bad guy. Christie does this. She takes a magic-show approach to the murder mystery: a little misdirection, some smoke and mirrors, and nothing too serious or sad. (Often, the victims are caddish young playboys or evil, domineering matriarchs.) She never tries to trick you, or disturb you, or gross you out. She doesn't want you to feel stupid. The great thing about Christie's books is that they allow you to feel clever. To me, that was always the best thing about being a young girl obsessed with crime: either I was with Nancy, creeping through an old barn with a magnifying glass, or I was with Agatha by the fire, writing it all down.
It seems to me that by and large, the modern mystery is totally different. Detectives these days tend to be grizzled and world-weary, instead of lovably idiosyncratic. The ones I grew up with had ponytails and saddle shoes; now they have suits and guns. Most disappointingly, women aren't the ones solving mysteries anymore; now, most often, they're the ones lying in the chalk outline on the pavement.
I'm the last person who will wax poetic about the "good old days" of literature, especially when there are amazing new mystery books appearing on shelves every day. But now my enjoyment of mystery books tend to be fewer and far between. Of course, this is far from being simply a difference of era. Majorly relevant, of course, is the fact that the Nancy Drews, etc., were directed towards children – but what kind of message does that send when you outgrow them, and realize that fighting bad guys is only for preteens?
All hope is not lost (it never is.) Women writers have historically dominated the mystery genre, even with the mill of mediocre spy novels constantly churning. Gillian Flynn and Tana French are two of our leading modern mystery writers, following in the footsteps of great women like Christie and the various Carolyn Keenes.
Flynn, in particular, used her dark sense of humor to create twisted, atmospheric stories packed with interesting female characters. Gone Girl in particular had that Christie-esque interactive quality – preventing spoilers practically became a cultural initiative. And French, in The Secret Place, situates the novel's crime in the complicated and fascinating world of teenage girlhood. Though the narrator of The Secret Place is a male police detective, he is accompanied by a much tougher female partner, and the true protagonist is Holly Mackey, a fierce and brilliant sixteen year old. Still, we need more. I would love to see the market oversaturated not only with 21st century Nancy Drews, but also Miss Marples. (This means more women writing mysteries, as well. Women authors = women characters, period.)
I'll say it again: a mystery should be fun, and what's fun for me is being able to see myself and my sisters/friends/etc. included in meaningful ways in my most beloved genre. What's fun for me is seeing women be villains and vigilantes and everything in between.