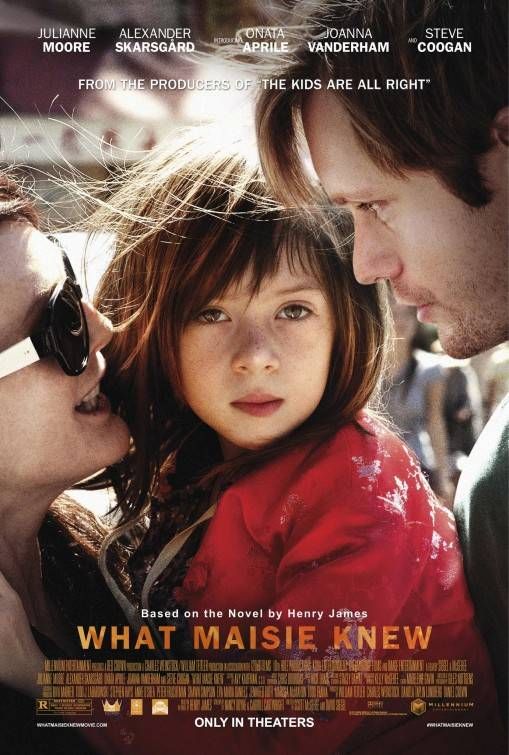 Fiction
The Confidence Index: What Maisie Knew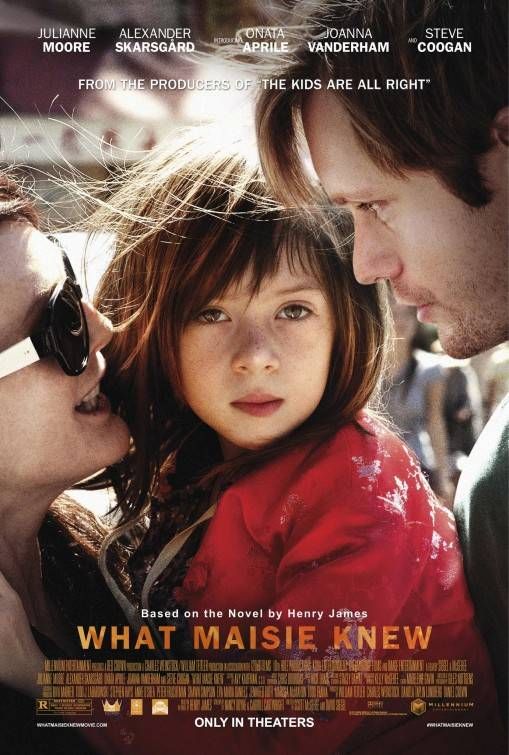 Full disclosure: This Confidence Index will undoubtedly be colored by the fact that I read What Maisie Knew for the first time last year and was dazzled by how laceratingly modern it felt. Also, I would happily watch Julianne Moore read the back of a cereal box. Easy grader here!
This version transplants Henry James's turn-of-the-twentieth-century family drama to contemporary New York. Instead of London's high society and governesses, we have a rock star, an art dealer, a bartender, and a hot nanny orbiting around young Maisie. What Maisie Knew opens May 3.
Source Material
James published What Maisie Knew serially in 1897, then as a book in 1898. He depicts the manipulative Beale and Ida Farange through the eyes of their daughter, Maisie, while she is passed between her divorced parents and ensuing step-parents "like a tennis-ball or a shuttlecock." Custody battles and infidelities ratchet up to Tracy Letts levels. The story's unsettling now; at the time it was published, it was downright shocking. (For perspective: In that decade, less than 1% of American marriages ended in divorce.)
Plenty of other James novels have made it to the screen: Washington Square, The Wings of the Dove, The Portrait of a Lady, The Golden Bowl. (Remember when Kate Beckinsale did costume dramas instead of leathery action flicks?) But there's a stubborn belief that his deeply interior fiction doesn't translate to film. Woe to any director who takes on late-period James, with all those silent musings, meaningful glances, and . . . enough with the sighing over tea, for cripe's sake, do something! The New York Times recently declared that "the more closely a film tries to follow [James], it seems, the farther afield it goes."
Still, I think Maisie has enough of a plot to keep the audience hooked. No subtly heaving bodices and lacy bonnets here. Instead, illicit seductions and mascara-smeared tantrums. How will James's free indirect style—the immersion in Maisie's consciousness—translate to film? I'm willing to bet it can be done well.
Cast
Onata Aprile plays Maisie—one of those New York kids plucked from a casting call. In previews, she seems to have that level gaze that perfectly conveys how Maisie thinks she's "on the road to know Everything." But maybe I'm just susceptible to the poster art.
Is there any doubt that Julianne Moore will kill it as Susanna, the volatile rock star mom? Yeah, didn't think so. She championed the script early on, and she gets to take up with younger bartender Alexander "my blond bangs are always perfectly askew" Skarsgård. Now let's fantasize about Moore teaming up with Frances McDormand in her Laurel Canyon music producer role.
Steve Coogan plays Beale, Maisie's father. Self-centered, a bit of a bully, thinks he's the smartest guy in the room: He has that type down pat. But will he have chemistry with Aprile? If not, it will be hard to stay interested in that character.
Directors and Screenwriters
Co-directors Scott McGehee and David Siegel have now helmed five films but let's face it, not a lot of wide-audience name recognition there. They've drawn great actors in past projects (Juliette Binoche, Tilda Swinton), and have adapted novels (2005's Bee Season). They've been on the festival circuit and the applause is rolling in. But what gives me confidence is their 2001 drama The Deep End, an intense take on family secrets. It's been a decade-plus since I saw it, and I still remember some of their shots.
The writers, Carroll Cartwright and Nancy Doyne, wrote the script 18 years ago, while Carroll was going through his own tough custody patch. He's said that he transcribed things his young daughter said at the time, so the script could have an extra ring of authenticity. (That daughter's an adult now. God only knows what it will be like for her to see this film.)
Wild Card
Having a sixish-year-old in nearly every scene. Will she come across as too-cute? Believable? Is she more or less irritating than the little girl on Modern Family? Word on the street is good, though.
Confidence Index: 8 (out of 10)