Fiction
THE CHAI FACTOR Spills the Tea on Culture Clashes and Current Events
This content contains affiliate links. When you buy through these links, we may earn an affiliate commission.
I'm grateful for the many Muslim-authored and protagonist novels I can choose from these days, but I was especially excited to read The Chai Factor by Farah Heron.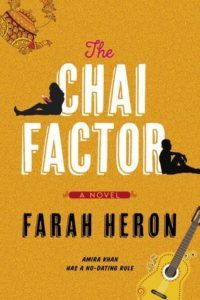 I relate to YA Muslim characters' struggles with Islamophobia and finding a suitable Muslim mate, but as a 35-year-old I feel awkward reading about 18–25 year olds. That's why I was relieved that The Chai Factor's protagonist Amira Khan is in her 30s.
The main plot point of The Chai Factor is Amira finishing grad school. In fact, the book starts out mentioning her master's thesis, not her meet cute or marriage woes. And let's face it, that's the life goals order for many of us diasporic Muslim brown girls. At least it was for me. I barely glanced at the guys during my two Masters programs, and now that I'm done I'm staring openly for someone single. Like Amira, I'm in my 30s, single, and living at home (fun!).
Redhead musician Duncan (aka garden gnome), Amira's love interest, is enjoyable with his open-minded, honest, and determined personality. But it's Amira's academic, professional, and cultural endeavors that held my attention throughout the book.
I applaud Heron for addressing cultural clashes in the Muslim community, specifically the struggles of Indian Muslims. I personally have witnessed this prejudice: Muslims will generalize that someone is "Indian," when they should specify that they are Hindu. There is an unspoken, and unwarranted hierarchy of "Muslimness" based on nationality, and I'm glad to see it addressed in a Muslim-authored book.
Heron is especially brave for addressing white allies' white privilege. (Spoiler) Amira calls out white allies that ignore or condone racists. She draws a line in the sand, like Eminem did in "The Storm," and calls on allies to fully support POC on her terms. Recently, I also had to draw a couple of lines in the sand. I realized that even if I have a lot in common with someone and they act supportive in many ways, they could still discriminate. In one case, a liberal ally publicly supported Hijabi, but said that a guy was better off with another girl than with me, because they were both white. Another red flag was that they were friendly to born Muslims but ignored a white Muslim convert. Um, that is racist. In another case, conservative acquaintances still quietly voted Republican, had parents who watched Fox news, and relatives who ignored or stared at me at social gatherings. They are not friends or supporters of refugees and Muslims, no matter how polite they are to them or how many vigils they go to. It's important to speak up about allies' questionable actions, and not passively accept their misguided attempts. Amira's eloquent testimony fueled my decision.
Further, thanks to black Muslim activists like MuslimARC's Margari Aziza, I'm reminded that POC don't need white people's direction or permission to escape oppression. White people should be culturally sensitive learners, rather than try to lead the initiatives. For example, it is not helpful for a white man to write a book about a Hijabi and ignore one actually written by a Hijabi acquaintance. We don't need to hear your story about hijab, you need to hear my #ownvoices account.
This is the time for Muslims to welcome one another into our shared struggle, not to reference a Sunday School checklist of how worthy their opinions are based on their religious practices. That is why nowadays Muslims are more willing to join a tepid interfaith group than a strong Muslim one.
The Chai Factor's Muslim characters are progressive, but don't let that deter you from absorbing its valid points. Amira admits she's not religious, but respects those that are, which I think is sweet. In the end, only Allah knows what is in our hearts and can judge.