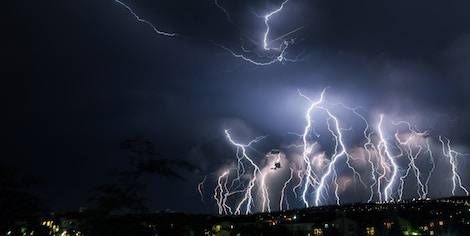 Children's
The Calm Before: 9 Picture Books That Celebrate Stormy Weather
This content contains affiliate links. When you buy through these links, we may earn an affiliate commission.
I'm a person afraid of many things, but I have never been afraid of storms. I attribute this to growing up with a father who absolutely loved them. We lived on a tree farm at the top of a hill, and memories of sitting on the front porch watching a big storm play out are some of my favorites. To this day, my father's love of storms is one of the defining attributes my children have about the man who died before they were born.
Storms play a huge role in childhood, whether it's seeing magic in the display or experiencing anxiety at the disruption. I haven't met many kids who have no opinion either way This might explain the wealth of beautiful picture books about storms- waiting for them, being brave in the face of them, understanding them, and surviving them. The books below are perfect for a stormy summer story time. Descriptions are from Goodreads.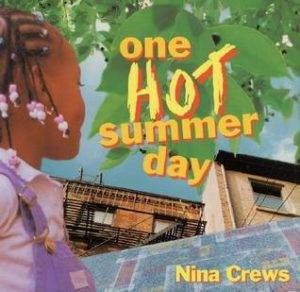 One Hot Summer Day by Nina Crews "An effervescent city child dances through a hot summer day until a thunderstorm brings welcome relief. Executed in collages made from color photographs, imaginatively redefined in unexpected juxtaposition….A wonderful concept book, grounded in ordinary events yet touched with magic, that will strike a familiar chord with preschool audiences while enlarging their perceptions. An auspicious debut!"–Horn Book.
Stormy Night by Salina Yoon When thunder shakes his house and rain pounds the windows, Bear is frightened. But comforting his Mama, Papa, and Floppy helps make the storm seem not so scary. Before Bear knows it, the storm has passed, because even storms need their sleep . . . and so do bears.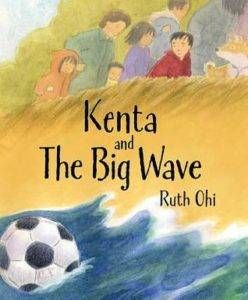 Kenta and the Big Wave by Ruth Ohi The tsunami has swept everything away—including Kenta's most prized possession, his soccer ball. When tragedy strikes Kenta's small village in Japan, he does all he can to hang on to the things that matter to him most. But amidst the chaos of an emergency evacuation brought on by the tsunami, Kenta and his family must quickly leave their home, taking with them only the barest necessities. Climbing to safer ground, Kenta watches helplessly as his prized soccer ball goes bouncing down a hill and gets swept away by the waves, never to be seen again… that is until it washes up on a beach on the other side of the world, into the hands of a child who takes it upon himself to return the ball to its rightful owner.
In this evocative picture book, Ruth Ohi's glowing art transports the reader to Japan with gentle images that offer reassurance amidst the background of an environmental catastrophe. Inspired by true stories of personal items being washed ashore thousands of miles away after the tsunami of 2011, Kenta and the Big Wave is about the strength of the human spirit and the power of Mother Nature. Including an afterword explaining tsunamis to young readers.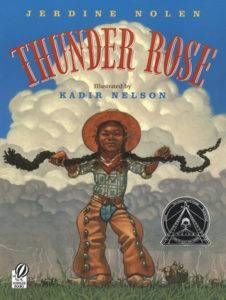 Thunder Rose by Jerdine Nolen and Kadir Nelson Thunder Rose vows to grow up to be more than just big and strong, thank you very kindly–and boy, does she ever! But when a whirling storm on a riotous rampage threatens, has Rose finally met her match?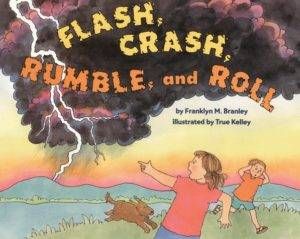 Flash Crash, Rumble, and Roll by Franklyn Mansfield Branley and True Kelley Did you know that lightning bolts can be over a mile long? Or that they may come from clouds that are ten miles high? Storms can be scary, but not if you know what causes them. Before the next thunderstorm, grab this book by veteran science team Franklyn Branley and True Kelley and learn what causes the flash, crash, rumble, and roll of thunderstorms!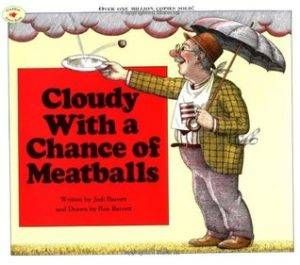 Cloudy with a Chance of Meatballs by Judi Barrett and Ron Barrett The beloved, bestselling tale of edible weather is brought to life! If food dropped like rain from the sky, wouldn't it be marvelous! Or would it? It could, after all, be messy. And you'd have no choice. What if you didn't like what fell? Or what if too much came? Have you ever thought of what it might be like to be squashed flat by a pancake?
Thunder Cake by Patricia Polacco Grandma consoles her frightened granddaughter by telling her that the dark clouds of the impending storm are nothing more than the ingredients for a Thunder Cake. Reprint. AB. SLJ.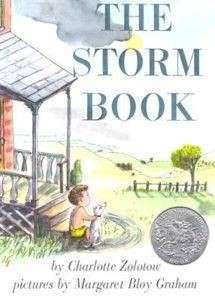 The Storm Book by Charlotte Zolotow and Margaret Bloy Graham
It is a day in the country,
and everthing is hot and still.
Then the hazy sky begins to shift.
Something is astir, something soundless.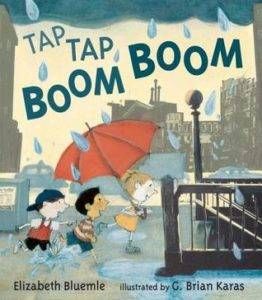 Tap Tap Boom Boom by Elizabeth Bluemle and G. Brian Karas The clouds are gathering above a city street and soon — tap, tap, boom, boom! As a thunderstorm rolls in, people of all stripes race down to the subway to get away from the crackling rain and wind. With quirky wordplay and infectious rhymes, Elizabeth Bluemle crystallizes an unexpected moment of community, while G. Brian Karas's warm illustrations show the smiles to be had when a storm brings strangers together as friends.