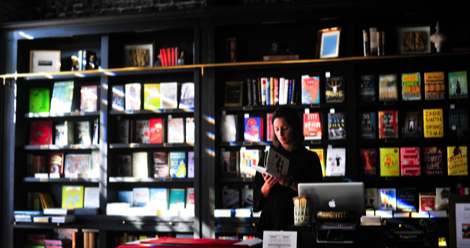 This content contains affiliate links. When you buy through these links, we may earn an affiliate commission.
Like many other proud, nerdy, fantastically awesome, and bookish adults I know, I did not enjoy my high school years. I was so many kinds of other: a nerdy, quiet, queer kid who hated parties and spent most of her time alone scribbling in notebooks. And though I had a much better adolescence than many—thanks to a liberal high school, superb friends, and a truly amazing family—I still felt alone and lost much of the time.
There were only a few places where that sense of not-belonging eased and vanished. One of those places was Upper Story Books. In the quiet, book-lined rooms of that second-floor bookstore, I was not other; I was not weird, I was not "the poet" or "the lonely writer" or "the girl with all the crazy buttons." I was just me. I just belonged. Upper Story was there when I had nowhere else to go. It got me through many lonely, angsty afternoons.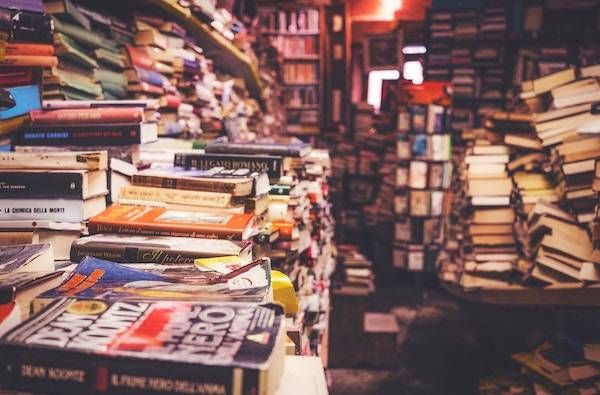 I remember Upper Story in such vivid detail. It was on the main drag in the center of town, above a bakery. The bakery gave out free chunks of bread to anyone who asked, even though, every day, they were swarmed with teenagers who never bought so much as a muffin. After school, I'd walk to the bakery, get my free slice, and then wander up the long staircase to Upper Story. There were always stacks of paper and piles of books on the stairs, and the walls were lined with flyers, event posters, help-wanted adds. The staircase opened up into a big room, with windows looking out over the street, a cluttered counter, and tables and shelves piled high with books.
The store itself wound backward, warren-like, into the building. I can't remember how many rooms there were—probably just three or four—but at the time, it felt like hundreds. The rooms were quiet and dark, lined with floor-to-ceiling bookcases. Stools and chairs were scattered cozily in nooks and corners. It was heaven.
I spent hours there. Sometimes I'd curl up in a chair and write. Sometimes I'd just browse. Sometimes I brought a book to read and sometimes I'd pick a book off the shelves and start reading right there. Sometimes I went with friends; often I went alone. I remember one long conversation I had with the bookseller about writing—they inspired me to keep at it. I remember sitting cross-legged on the floor in front of the LGBTQ section, running my hands along the spines of the books, feeling my heart beating. I felt seen and safe and quiet there, in a way I never felt anywhere within the walls of my high school.
It wasn't just a beautiful refuge, though—it was also where I went to buy books without being afraid of what anyone would think. Buying books there felt sacred. I stumbled across hidden treasures; I bought books that spoke to me like they'd been written for me alone. I still have many of the books I bought there, many of which are among my most cherished books. My well-worn hardcover copy of The Poetry of Robert Frost. E.E. Cummings' 100 Selected Poems, so dog-eared and tatter that the cover has long since detached. Paul Monette's classic AIDS memoir, Borrowed Time, which was the first book by a queer person I ever owned. Cotton Candy on a Rainy Day by Nikki Giovani. The Dream of a Common Language and Diving Into the Wreck by Adrienne Rich. These books have become a part of me, and it was Upper Story that gave me the space and courage to find them.
Upper Story closed soon after I graduated. While I mourn the loss of this bookstore in particular, and the decline of independent bookstores in general, I am deeply grateful for Upper Story's presence in my life. I wish I could thank all those patient booksellers in person—for letting me hang around their store for hours, holed up in the back room, scribbling in my journal, awed and comforted by the quiet. I wish I could thank them for not turning me away, and for giving me a place to be myself, in all my nerdy, introverted Whitman-quoting glory.
I know it's hard for an independent bookstore to make a go of it these days, but I dearly hope there are still a few stores out there like Upper Story—dusty, meandering, beloved. I hope there are still some booksellers out there who are as kind and patient as the folks who ran Upper Story were, never turning away awkward teenagers who sometimes spend hours in the dusty back room, who sometimes sit down on the old carpet, surrounded by books, and cry, who feel, as I often did, that this nondescript bookstore is one of the few places where they truly belong.