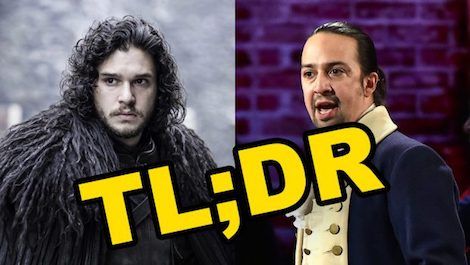 The Books We Most Often Try To Read But Secretly Give Up On: Critical Linking, September 30, 2018
Sponsored by I'll Be There For You: The One About Friends by Kelsey Miller.

---
So what books are people refusing to admit they have given up on?
Top of the table is A Game Of Thrones, the first of George RR Martin's books. Clearly after getting into Game of Thrones on TV, loads of people must have thought to try reading the novels… but then later realised that reading actual words on the page isn't really for them. Perhaps the dragons and the bums aren't quite as exciting when they're only described rather than visualised?
Second, is Ron Chernow's biography of Alexander Hamilton that spawned the musical Hamilton.
This kind of data analysis is my favorite kind.
____________________
The career trajectory of Kareem Abdul Jabbar has been one to marvel at, from basketball legend to established writer with insightful bylines in numerous publications to author.
Now, the renaissance man is turning his eye toward a different arena: the writer's room. Veronica Mars creator Rob Thomas announced the team of writers he has assembled for the show's revival and Abdul-Jabbar is among them. The show is returning, this time on Hulu for a limited return run.
The weirdest headline ever and yet also one that's so compelling. 
____________________
An early-morning fire completely destroyed the Joice (Iowa) Public Library on September 21. Investigators are uncertain how the fire started, but the building itself was undergoing renovations, including getting a new roof.
And there are ways to help donate, too.