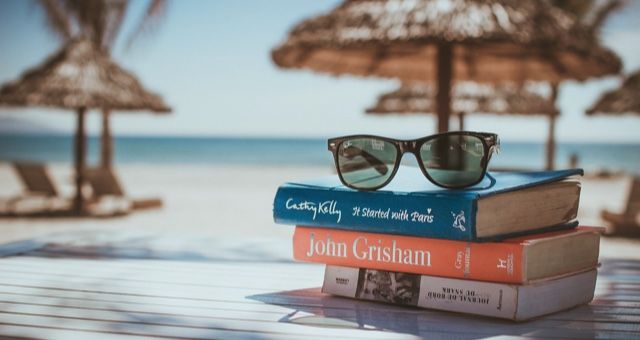 Lists
The Books We Can't Wait To Read This Summer
This content contains affiliate links. When you buy through these links, we may earn an affiliate commission.
Typically, I do a lot of reading in the summer – my favourite thing is to lie on a beach with a good novel, taking the occasional dip in the ocean when I get too hot. This year, I don't think I'm going to get the long California holiday I usually like to take, but summer still makes me feel, somehow, like it's the time to get ahead of my Goodreads goal and get some pages under my belt.
A few of my books have been sitting on my coffee table waiting for chunks of time to present themselves, and I plan to make that happen – even if I have to play beach noises from my iPhone to make me feel like I'm lying on the sand! Among those books are Trust Exercise by Susan Choi, The Editor by Steven Rowley, On The Come Up by Angie Thomas, The Gifted School by Bruce Hollinger, The Last Book Party by Karen Dukess, and an ARC of Jami Attenberg's forthcoming All This Could Be Yours. I asked my fellow Rioters what they're looking forward to reading this summer, and here's what they said:
I met the author of this YA fantasy at BookCon this year, and with the sequel, Below the Moon, coming out in October, I can't wait to read it! It's also a perfect pick for the cruise I'm getting ready to go on, as it's set on a cruise ship. Teenager Ella is grappling with a brain tumor diagnosis and yearning for her missing father. To get through the difficult time, she goes on a cruise with her mother and grandfather to the Spanish Canary Islands. But soon, they find themselves on a trip to a much different destination: an island on a different realm, where a strange creature promises a cure for Ella.
I've been buzzing to read this ever since the blurb popped up on my Goodreads dash. A meddlesome, matchmaking ghost, quarrelsome ex-boyfriends, a haunted house, forced proximity, and a few days admiring Mara's gorgeous Insta and I'm sold. I've accidentally filled my summer with long train rides and this book is at the top of my TBR escapism list.
I adored Half-Blood Blues, Esi Edugyan's novel about American jazz musicians in 1940s Paris and Berlin. Edugyan has a talent for building atmospheric tension, and I have high hopes of the story of George Washington Black as he escapes the Barbados plantation he was born onto and goes adventuring. Despite being out since 2018, I've only started seeing Washington Black in the Dutch bookshops over the last few weeks, and I can't wait to grab a copy.
I preordered this book and it's been sitting on my shelf waiting for me since it came out in March. Elliott is a Haudenosaunee writer whose essays (and Twitter account!) are brilliant. A Mind Spread Out on the Ground is her first essay collection, examining the legacy of colonialism in North America through the lens of Elliott's personal experiences as a Tuscarora woman. I've been waiting for uninterrupted time to read this book — it was the first thing I put on my packing list for a cottage trip in July.
Beirut Noir edited by Iman Humaydan
I've been on a real noir kick this summer, and one of my main issues with the genre is that the staples are mostly white men. Don't get me wrong, some of my favorite dads are white men, and there are absolutely other exceptions, but when I saw there was a collection of noir stories set in my motherland—well, I can't wait to sit in the sun and read them! I love being included and represented. ESPECIALLY when it's in a genre in which I've felt under-represented!
I've been thinking a lot about identity recently, after the birth of my son two months ago. He's already Canadian, because he was born in Montreal, and my wife and I are a multi-faith Egyptian-Syrian couple. One aspect of Middle Eastern identity that rarely rarely gets written about is that of Arab Jews, many of whom fled the region amid the Arab-Israeli wars, leaving behind stories, memories, and ancestral homes. Hayoun is a debut author, and in the book he recounts the stories of his family that span Egypt, Tunisia, Palestine, and Los Angeles. I preordered it and it was released just last month, and can't wait to get into it. In these times of division, I'm trying to find the silver lining that unites us. The utopias of the past, at least in the Middle East, were not times of mythical societal purity. They were more diverse than ever.
The Hiding Game by Naomi Wood
I don't find it fair to compare authors with one another, but when The Hiding Game was described to me, it immediately sent my mind back to the world of Donna Tartt's The Secret History, which I read recently and blew me away.
The story of The Hiding Game takes place in Germany in 1922, at Bauhaus art school, and it is filled with secrets and dangerous love affairs, in a time where political tensions are escalating.
The book is Wood's third novel, and it is set to be released in July. I've already got it in preorder, alongside Mrs. Hemingway, the author's second novel, and I can't wait to get my hands on them!
I love folklore and mythology in a thinking-of-naming-my-kids-Circe-and-Ariadne kind of way, but I've long lamented how little Latinx folklore has made its way onto my bookshelves. Enter Silvia Moreno Garcia's latest, the story of a young girl with big dreams in a small Mexican town who unwittingly unleashes the Mayan god of death. He makes her an offer she can't refuse, and so begins an epic, cross-country journey set in Jazz Age Mexico. This one is out on July 23. Preorder it now!