This is a guest post by Caroline Leavitt. She is the New York Times and USA Today bestselling author of Pictures of You, which was a Costco Pennie's Pick , a San Francisco Chronicle Lit Pick, and on the Best Books of 2011 Lists from the San Francisco Chronicle, the Providence Journal, Bookmarks Magazine and Kirkus Reviews. Her 10th novel, Is This Tomorrow, is a May Indie Next Pick and is available now. She is a book critic for the Boston Globe, People and the San Francisco Chronicle and she teaches writing online for Stanford and UCLA. She can be reached at www.carolineleavitt.com. Follow her on Twitter @leavittnovelist.
_________________________
Picture this. There I was, unhappily married and hopelessly young in the early 80s, struggling to become a writer and failing at it, living in Pittsburgh, a city I hated. I didn't know anyone other than my husband, who was a law student and then a lawyer, and almost never home, and even when he was, he was missing-in-action. He lay on the couch for hours, depressed. He didn't want to go to the movies or the museums or to even take a walk, and when I tried to coax him, he told me to go by myself, that he'd be here when I got back. But of course, he never was.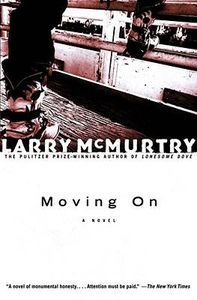 I knew I wasn't happy. But I didn't know what to do about it, so I went to two movies a day and spent a lot of time in bookstores, losing myself in reading. One day, I was in a used bookstore, browsing the shelves. I was a fast reader and I wanted a big, beefy book that would keep me out of my sad reality for more than a day or so, and there it was: Moving On. Seven hundred and ninety-four pages and heavy enough to bench press. And even better, it was by Larry McMurtry.
I bought the book and took it with me to Schenley Park and sat down to read and instantly, I knew that McMurtry had written this particular book just for me, because otherwise, why would his heroine, Patsy Carpenter, be so similar? Patsy might be living in the 1960s in the swampy heat of Houston, but like me, she was unhappily married to a husband who didn't want that much to do with her. Like me, she cried. A lot. And like me, she was struggling to find a way out of a messy life she no longer wanted. When the novel starts, Patsy's husband Jim, who changes careers the way he changes shirts, has given up on being a writer to try to be a photographer (still, later, he'll be a grad student.) They travel from Texas to Arizona to Utah to Idaho to Montana, through a world of rodeo, drugs, affairs, everything as moody as a country and western song. Everyone's adrift. Everyone's yearning for love and sexual heat and finding it with the wrong person. No one was happy, which I found deeply comforting, and the more their hearts shattered, the less alone I felt. At the end of the novel, Patsy manages to give up on a life she never should have built in the first place. I closed the book and it felt like it was humming in my hands. If Patsy Carpenter could leave, maybe I could, too.
But I didn't leave that fall, or spring, and when the next summer came around, and I was still in Pittsburgh, and unhappier than ever, I bought a fresh copy of Moving On, a paperback this time, which was more portable. In my second year of reading, Patsy seemed to be speaking even more directly to me. I felt her breath at the back of my neck. Move on. Do it.
But I couldn't. Not even when I caught my husband sneaking out of our new downstair neighbor's apartment, and she closed the door in her nightgown. Not even when my husband began vanishing for days at a time. Maybe he'll change, I kept telling myself, but I kept reading Moving On, clutching the book like a talisman, as if it might give me strength.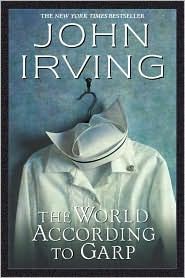 In the end, Moving On wasn't the book that freed me. I was in my third summer of misery, and in the bookstore again, and this time I picked up a used copy of John Irving's The World According to Garp. As soon as I began to read, I felt a tonal shift, a different sensibility. No one was sobbing so much anymore–including me–and though terrible, outrageously tragic things were going on–the characters in Garp were pushing recklessly forward, almost as if they were daring the universe to stop them. I carried that book with me everywhere and when I finished reading it, I read it again, and when I was done, I realized Irving had knocked me off course. I was finally looking at my life differently, as if I were seeing it from a rear view window, watching it grow smaller and smaller until it vanished, a place I need never revisit. Two months later, I moved to Manhattan. I didn't have a job. I no longer had a husband. But John Irving gave me a sense that no matter what happened–I would be all right.
And you know, after a while, I was.
_________________________
Sign up for our newsletter to have the best of Book Riot delivered straight to your inbox every two weeks. No spam. We promise.
To keep up with Book Riot on a daily basis, follow us on Twitter or like us on Facebook. So much bookish goodness–all day, every day.