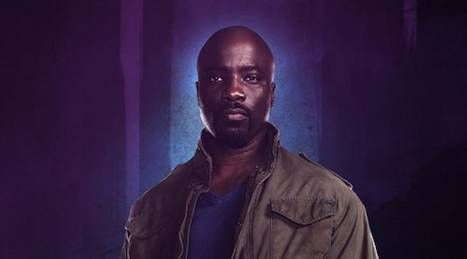 This content contains affiliate links. When you buy through these links, we may earn an affiliate commission.
"I ain't guilty, but I ain't innocent either."
Call me a book nerd, but those are the words of a man who reads a lot. The first two episodes of Marvel's Luke Cage established Power Man as one of our own: a reader.
In the first episode, we see Luke reminiscing over a pile of books including Invisible Man by Ralph Ellison, which seems to be his favorite book throughout the series. Also in the pile was the 1970 paperback of Black Folktales by Julius Lester, the 1972 paperback of Attica, Outliers by Malcom Gladwell, and another book I couldn't get a good look at no matter how many times I paused and rewound.
Episode 2 opens with Luke reading Walter Mosley's Little Green in Pop's barber shop, which spurs an impromptu book club discussion. Pop prefers Donald Goines' Kenyatta to Easy Rawlins. The conversation also name drops George Pelecanos, Richard Price, Dennis Lehane, Chester Himes, and (of course) Ernest Tidyman's Shaft.
After the first two episodes, the book talk slows down significantly, which is understandable because it's hard to find reading time when you're taking down well-dressed crime bosses and being boiled in acid. Also, I feel like the above was to make sure Luke Cage was solidly-established as the "well-read ex con" Pop explicitly labels him as.
In Episode 4, Luke's prison buddy Squabbles is reading a book in a spoilery scene, but I couldn't catch enough of the cover to identify it. Then in Episode 5 there is a scene where Koko, one of Cottonmouth's lackeys, introduces a book he's reading about "politics and the social conditions that created hip-hop." It's no surprise that Cottonmouth, the Harlem crime boss legacy, doesn't take too well to the concept of benign neglect. After a bit of research and at least five rewinds, I identified the book as Can't Stop Won't Stop by Jeff Chang.
Diamondback, one of Luke's (many) adversaries repeatedly mentions both the Bible and Robert Greene's The 48 Laws of Power. In fact, the Bible gets quite a few mentions in this show.
Luke Cage then grows quiet on the book front until one of the final scenes of the first season, where a US Marshal is reading The Heat's On by Chester Himes. Luke, of course, comments on it and the Marshal asks if he's ever read Michael Connelly's Harry Bosch series.
Hopefully this Luke Cage reading list will hold us over until next season, where I fully expect just as much representation for novels, if not more. Who's up for a Luke Cage book club?
Also, can I go on a brief tangent about how much I love that the Marvel Netflix shows always open with a flutter of comic book pages? It's like they're reminding everyone that what you're about to see came from a paper medium first. It gives me that same warm and fuzzy I get when I see "based on the novel by…" in a movie's opening credits.
If I missed any books, please leave them in the comments. I know I was pretty absorbed in the show so it's definitely possible some slipped by without me noticing them.