Kickstart This
Help The Book Smugglers Level Up: Back Their Kickstarter!
This content contains affiliate links. When you buy through these links, we may earn an affiliate commission.
The Book Smugglers blog has been bookmarked on my Internet browser since the brief, dark period in time when I still used Internet Explorer (so, a lot of years ago) for their super-smart and funny book coverage. Like most book blogs that have been around for nearly a decade, they've evolved and grown—and in a really cool direction! In 2014 they launched Book Smugglers Publishing to discover and publish diverse speculative fiction, and their work has been marvelous.
Since then, they've published four seasons of really excellent themed content, in addition to serialized fiction and novellas. Their excellent stories are available on their blog (for free!) and as inexpensive e-books, and they've even released limited edition (gorgeous) print copies of two of their novellas. One of the things I admire and love about their publishing mission is that they really do value diverse voices and work, and they have zero pretension when it comes to young adult and middle grade work. They understand that good speculative writing is just good speculative writing, not matter the target audience. Oh, and they commission artwork from cool artists for all of their stories!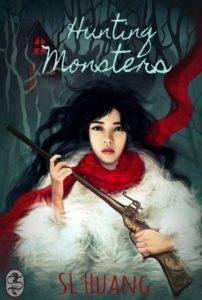 As The Book Smugglers gear up for their ten-year anniversary, they're hoping to make their publishing platform bigger and better than ever—and they need our help! Their Kickstarter is looking to raise some dough so that they can increase pay to their authors (yay for paying writers and creators!), hire production support, commission more cool art, re-design their website, and pay for content on that site. If you're unfamiliar with The Book Smugglers, hop on over to their site and read a few of their stories. (I recommend "Hunting Monsters" by S.L. Huang, the very first story they published, but prepare yourself for a very deep Internet rabbit hole, friends!) The Book Smugglers are doing great work, and the Kickstarter incentives are pretty great, too! (Writers, you could get a short story, novella, or novel critique!)
Go show them some love!
What are some of your favorite stories published by The Book Smugglers?