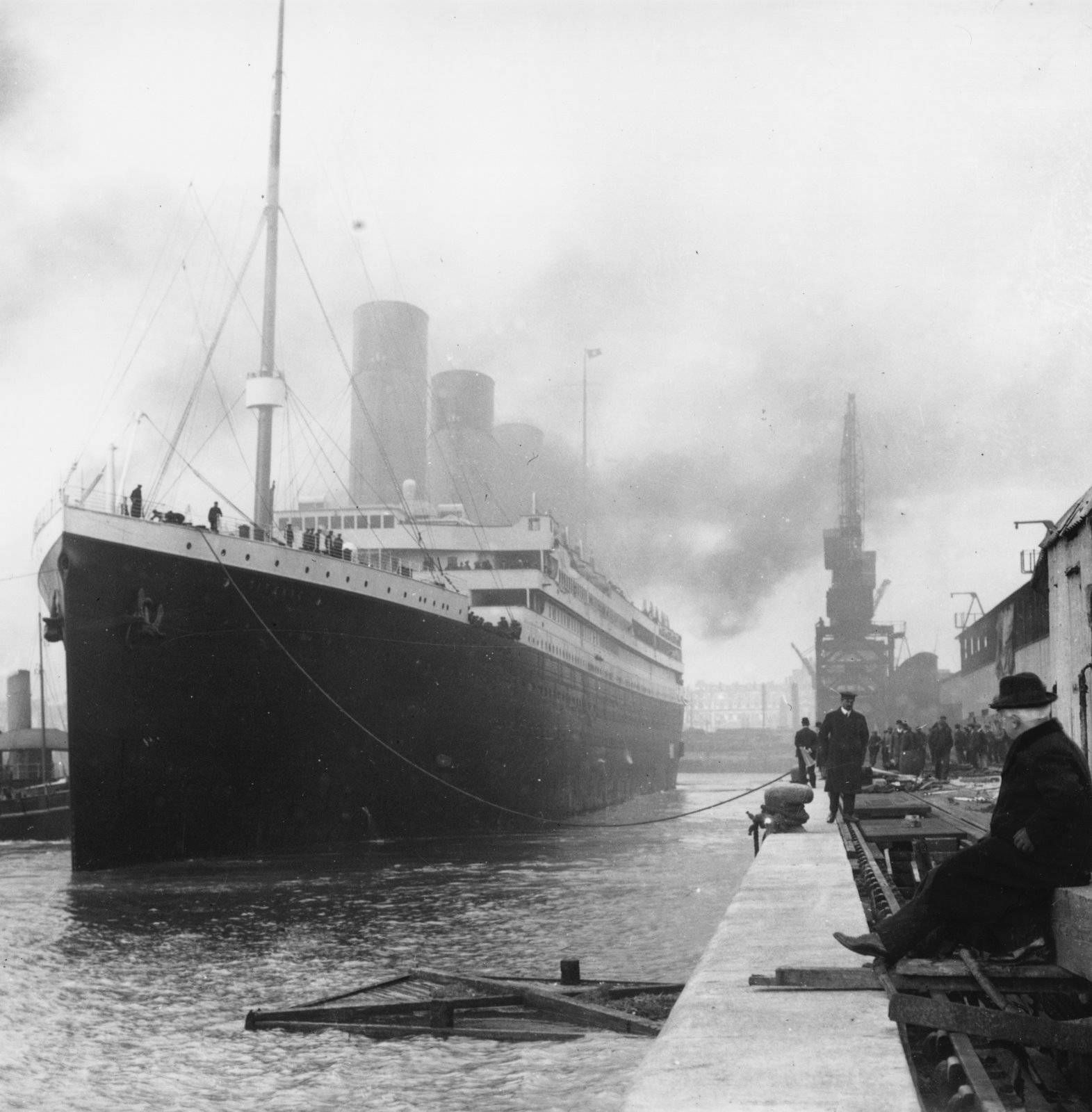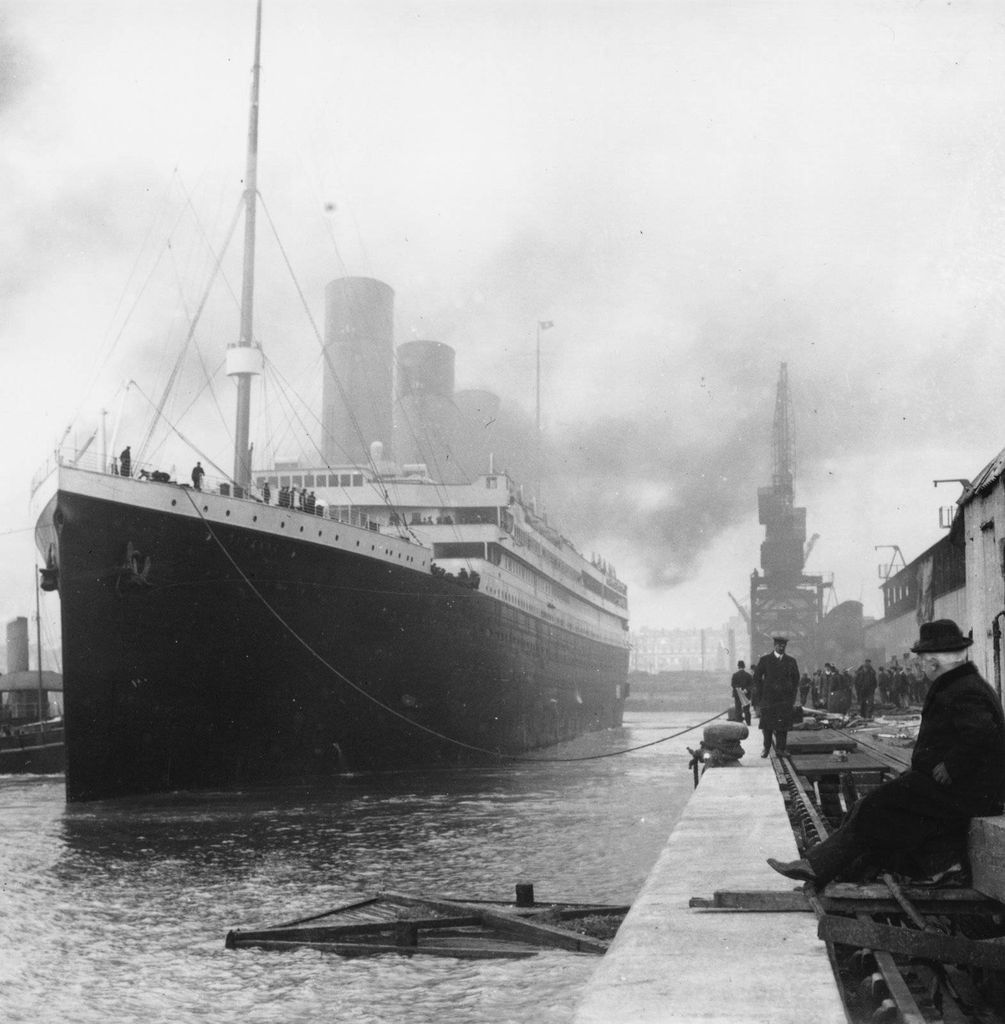 Fiction
THE BOOK RIOT 50: #16 What Books Were People Reading on THE TITANIC?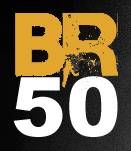 To celebrate Book Riot's first birthday on Monday, we're running our best 50 posts from our first year this week. Click here for the running list. This post originally ran April, 11 2012.
____________________________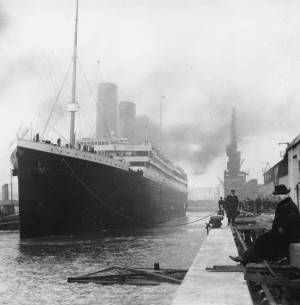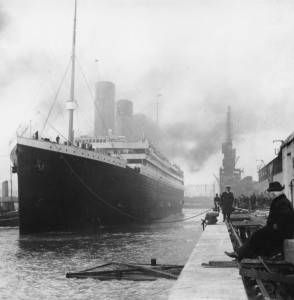 As the RMS Titanic was sinking beneath surface of the North Atlantic Ocean on April 15, 1912 and survivors were thrashing about in the iceberg-clotted waters, what books might they have turned to with which to fashion a homemade life preserver or, in the case of some sturdy Theodore Dreiser novels, an entire raft?
It's hard to determine exactly what books were on board the Titanic during that ill-fated cruise, but Walter Lord tells us in his classic A Night to Remember that at the time the luxury liner struck the iceberg, Spencer V. Silverthorne sat in a leather armchair in the First Class smoking room on A Deck and "browsed through a new best-seller, The Virginian." So, if things got really desperate for Mr. Silverthorne, he could have used Owen Wister's now-classic western to help him keep his head above the waves. And, while Kate and Leo were doing a steamy tango in the back seat of an Edsel, we know that passenger "Lawrence Beesley stuffed the pockets of his Norfolk jacket with the books he had been reading in bed." Smart man! Unless those books were Samuel Butler's The Way of All Flesh or Edith Wharton's The House of Mirth, in which case he would have been dragged straight down to the bottom.
I turned to the bestseller lists of the early 1900s to determine which books were filled with the most hot air (inflatable! life-saving!) and which were heavy-laden with turgid prose (sink like a stone). Of course, this is an after-the-fact hindsight list and does no good for the 1,514 poor souls who went down that Night to Remember, but it might be something to bear in mind the next time you take a Mediterranean cruise and your captain decides to sneak a few tipples from his flask. Always carry something lightweight in your luggage because, in the end, those 50 shades of James Patterson might be your last best hope to keep you afloat.
____________________________
Rebecca of Sunnybrook Farm by Kate Douglas Wiggin: Goody-two-shoes girl moves to the country to save her aunts' farm from foreclosure by, among other things, selling bars of soap. Rebecca's sunshine-y optimism is enough to keep an entire fleet of Titanics above the waves for several hours. Heck, even crusty old Mark Twain called the book "beautiful and warm and satisfying." (Float)
The Ambassadors by Henry James: Americans in Paris; bafflingly complex prose on the page; don't jump into the water with this one! Say what you will about James' style, but it's hard to deny the fact his sentences are heavyweight in this novel about a fiftysomething "man of the world" who goes to Paris to rescue the son of his benefactress, whom they believe has fallen into the clutches of a Parisian seductress. Key passage: "Europe was best described, to his mind, as an elaborate engine for dissociating the confined American from that indispensable knowledge, and was accordingly only rendered bearable by these occasional stations of relief, traps for the arrest of wandering western airs." (Sink)
Howards End by E. M. Forster: In this heavy-paged novel about Edwardian life in England, Howards End—a house in the Hertfordshire countryside—becomes the symbol of the conflict within British society. Class warfare on the order of Downton Abbey. Key passage: "We are not concerned with the very poor. They are unthinkable and only to be approached by the statistician or the poet. This story deals with gentlefolk, or with those who are obliged to pretend they are gentlefolk." (Sink)
When a Man Marries by Mary Roberts Rinehart: A frothy mystery-romance in which a group of characters from Central Casting suddenly find themselves sequestered in a large house under quarantine because the butler has just been stricken with smallpox. Crimes ensue, including jewelry theft. (Float)
The Net by Rex Beach: In this popular novel, a young and wealthy Southerner in the 1880s goes to Sicily for his best friend's wedding to a beautiful Countess and promptly falls in love with the bride. Ruh-roh! Trouble with Sicilian crime lords soon follows. High melodrama with over-the-top heroes and villains. Also: given the title of this novel, it might be possible to weave the pages together and bring up a haul of fish, to the applause of your fellow lifeboat passengers. (Float)
Sister Carrie by Theodore Dreiser: At the time, this scandalous novel was hot enough to melt icebergs. A young country girl moves to the big city and fulfills the American Dream by sleeping her way to the top. A classic of American naturalism, the book has been praised for having "a brooding but compassionate view of humanity." Key passage: "When a girl leaves her home at eighteen, she does one of two things. Either she falls into saving hands and becomes better, or she rapidly assumes the cosmopolitan standard of virtue and becomes worse." (Caution: may initially Float, but will eventually Sink)
Origins and Development of Psychoanalysis by Sigmund Freud: C'mon, people, do I really have to spell it out for you? (Sink)
Call of the Wild by Jack London: A charming tale about a dog who's sold into slavery, finds work pulling a sled, is beaten and starved by a series of cruel masters, and eventually finds his inner wolf. Bonus points if this edition also contains London's short story "How to Build a Fire"—most helpful in the frigid North Atlantic iceberg-scape. (Float)
Lord Jim by Joseph Conrad: The plot of Conrad's novel may stab a little too close to the heart for Titanic passengers' comfort. I mean, who wants to be out there bobbing like a human ice cube and read about Jim, a young, good-looking, and naive water-clerk on a cargo ship which collides with "an obstacle" and begins to sink? And that's just the beginning of the story. Maybe Titanic survivors could take comfort and inspiration by what follows: acting on impulse, Jim jumps overboard and lands in a lifeboat, which happens to be bearing the unscrupulous captain and crew who have, apparently, abandoned ship before the women and children. But—surprise! Surprise!—the ship manages to stay afloat. The vessel limps into port and since the officers have strategically vanished, Jim is left to stand trial for abandoning the ship and its 800 passengers. At its core, Lord Jim is a deep morality tale about honor and cowardice, guilt and redemption. (Sink)
The Jungle by Upton Sinclair: A family of twelve emigrates from Lithuania to the United States, settling in Chicago. Due partly to illiteracy in English, they make a series of bad decisions that cause them to spiral deep into debt and fall prey to con men. One by one, all of them—the women, the young children, and the sick patriarch—are forced to find jobs in order to contribute to the meager family income. As the novel progresses, the jobs and means the family uses to stay alive slowly and inevitably lead to their physical and moral decay. Melodrama aside, Sinclair's novel is also a bleak look at the meatpacking industry and reveals, among other things, the secret ingredient in Chicago dogs (hint: Sawdust!). (Sink)
The Wonderful Wizard of Oz by L. Frank Baum: A lightweight story about courage, heart, brains and the narcotic pleasures of poppies. Bonus! May contain instructions for how to build a hot air balloon. (Float)