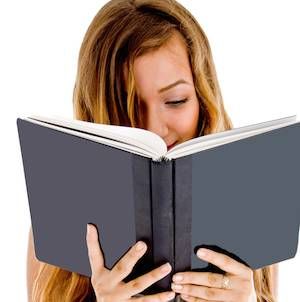 This content contains affiliate links. When you buy through these links, we may earn an affiliate commission.
This is a guest post from Sarah Davis. Sarah is a library science graduate student, reading group leader, and freelance writer and editor. Currently located in the Philadelphia area, Sarah blogs about all things reading at her blog, Broke By Books. Follow her on Twitter @Sarahdavidov.
____________________
In August of 2014 my life changed forever, and I have never looked back. The models of stability I had cultivated so carefully shattered around me. I lived a chaotic few weeks not knowing if I would be admitted to grad school. I left my full time job for a part time internship that was dependent upon my acceptance to my library science graduate program. Everything could have turned out for the worse—I hovered on the precipice between failure and success, trusting in fate, following my long-held dreams.
Oh yeah, and I read Laura Kinsale's Flowers from the Storm and never looked at linguistics, illness, communication, religion, and, yes, love the same way again. It ruined me. It collided with my world at the right time and smashed my perspective on my surroundings. It gave me hope that I could love and be loved, that my madness could be understood.
I had never heard of Flowers from the Storm until I read about it in the Complete Idiot's Guide: The Ultimate Reading List. The authors gushed at the historical romance novel's unconventional storyline and oddly compelling premise: an arrogant duke and mathematician, Christian, loses his power of speech and language after a tragic stroke and becomes dependent upon his naive and innocent Quaker assistant, Maddy, for companionship, advocacy of legal and ethical rights, and eventually passionate love and mutual sexual pleasure.
The novel captivated me for the context in which it existed in my life as much as the story.
I read Flowers from the Storm in the midst of a chaotic final week of my old job as new staff training consumed nearly every working hour and beyond in night and weekend overtime. I came home each night exhausted, the cat looking over my shoulder from its perch on the couch as I read Kinsale's book until my eyes closed unwillingly, and still the novel haunted me, infiltrating my dreams. I purchased the ebook version and read it in my browser at work during lunch and stolen, quiet moments in those final days at my job, my jaw hanging open, my mind cloudy as I thought: this could have been me.
I have always been interested in stories of medicine, illness, and messy, unconventional love, and oh how Flowers from the Storm delivers. This novel packs it all in: wrongful imprisonment in a lunatic asylum, sexual awakening from someone who never thought it was proper and someone who never knew love was possible, and questions of what it means to communicate when you cannot understand the words spoken by a person you're passionately drawn to—and entirely reliant on.
I have a chronic mental illness and likely would have been locked up in a lunatic asylum in another time, too. Who would have understood my unmedicated madness: my mania, my depression, and the times when these symptoms combined into a mixed episode? Flowers from the Storm offered me an alarming and disturbing look at how the mentally ill were treated, yet it also offered me hope that perhaps someday someone could love me and see past the illness into the sanity and sincerity within my heart. Passion and love, I began to think, were possible for me.
A year later it's tempting to want to revisit Kinsale's novel, but I have resolved not to, at least not now, and perhaps never. The thematic material is upsetting, and the novel came to me at a time when I needed it the most. I love it not only for the story, but also because it offered me refuge and hope in a time I needed it the most. During a period of uncertainty and doubt it confirmed the power of literature to impact your emotions and move you to the point of tears and the heights of joy. It solidified my belief that literature can change your life, and it confirmed my desire to make books and the fiction of feeling my career. Novels like this–the ones that jolt your jaded heart and take your breath away–these are reasons to live.