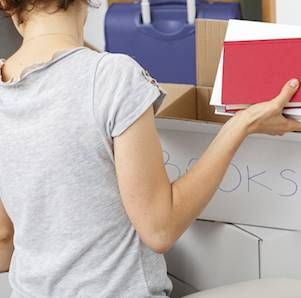 How To
The Book Hoarder's Guide to Moving Across the Country
So you've got a lot of books and want to move them from one home to another. I've been there—quite recently, in fact. About five months ago I moved from Jersey City to Seattle (the furthest west anyone in my family of east coasters has gone). First of all, good luck. Moving is not easy—it's taxing on an emotional, physical, and mental level. I hope these tips, culled from personal experience, can help make this monumental task just a bit easier.
Pre-Packing
Cull your books. Depending on how long you've lived in your current apartment, I'm guessing your book collection might look like this:
via GIPHY or this: via GIPHY Go through every single book and ask yourself: is this important enough to move X number of miles? In my case, a book had to fit one of three criteria for the answer to be yes: will I read it again? have I not yet read it but plan to read it? do I consider this an essential part of my collection? I got rid of about 20% of my books.
Return any books that aren't yours. Got library books hiding in your shelves? Borrowed books from friends that you've been meaning to give back? Don't take those with you across the country—though holding a book hostage is an excellent way to force people into visiting you (just kidding… I definitely didn't do that).
Donate or sell the books you're getting rid of. If you can sell them, that's a bit of extra cash that can make a difference on the financial strain of moving. If you don't have time/patience/place to sell, donating books can help others, make you feel good, and potentially be a tax write-off.
via GIPHY
Measure the amount of shelf space your books take up. If you're getting new shelves it's super helpful to know exactly how much space you'll be filling.
If you've got a lot of time, consider making an inventory of your books. If you lose a box (god forbid) it's nice to know what you've lost. (Bonus: I've written a handy guide to cataloging your books, and why you might want to.)
Packing Your Books
First, decide what NOT to pack. Depending on how long your books will be packed, you'll obviously need some reading material to get through the difficult days/weeks without your entire collection. My suggestion, go with something light or comforting—I brought some adulting books, a very thick nonfiction book, and a hard sci-fi series I'd been meaning to read with me and they all remain unread; what I did end up reading was The Girl Who Circumnavigated Fairyland in a Ship of Her Own Making… for the third time—its heroine, September, is an ideal traveling companion.
Don't buy new boxes and/or packing material. As a bookseller, I was lucky enough to have a pretty much unlimited supply of gently used boxes and packing material. I honestly don't know how people who don't work at a bookstore can move. I do know that we often had people call us looking for boxes, and were always happy to set some aside—so don't be afraid to ask your local stores the same question. Another man's trash, right?
Try to pack like with like. It will make the unpacking and re-shelving process much easier. That said, you want to keep your box count as low as possible and honestly I ended up completely dismissing this tip and packed by size.
Pack well. I've packed thousands of books into hundreds of boxes, and I'll admit I'm quite proud of my ability to pack a lot of books safely. I recommend four stacks—two by two—with the spines up against the box's edge and plenty of packing material filling the empty spaces—hey you can use pages from those New Yorkers you're totally never going to read.
Ask your friends for help. I was lucky enough to receive help from two amazing friends and co-workers. Together we packed up 30 boxes worth of books in, oh maybe three hours. And then we danced because a huge part of my packing process was DONE.via GIPHYMake sure to repay your friends handsomely with wine/beer/pizza/ice cream.
Mark your boxes and keep a spreadsheet. I numbered every single box, then created a spreadsheet which indicated the contents of said box and which room they should end up in. Writing numbers on the boxes was faster than writing "fiction" or "graphica" on every side, and as we unpacked them I referenced the spreadsheet to figure out what to unpack first.
Moving In
Have a game plan. I don't know about you, but I like to keep my books well organized—they are organized into nine sections, not to mention various subsections (I mean, I'll mention them if you want me to, hell I could write an entire post about organizing my books). So I needed to have a plan of where each section would go before we even opened the first box.
Organize while you unpack. Unpacking thirty boxes of books and then shelving them seemed a hefty task, so my partner and I stacked up books by category as we went and, in the case of fiction, piled them straight onto shelves in alphabetic-ish order. Then, once everything was unpacked, we could easily and quickly alphabetize and shelve everything.


Figure out where the nearest bookstore is. In my opinion, there's no better way to get to know a city than through its bookstores. I highly recommend finding a nearby indie and making friends with its collection, sections, and booksellers. Ask for recommendations—we booksellers may be an awkward lot who are more comfortable sitting in a corner with a book than talking, but if you ask us for a recommendation well we light up like a Christmas tree. Booksellers often know the area and can recommend good restaurants and coffee shops too. Don't forget to reward yourself for the excellent unpacking job with a new book.
Get a library card. Bookstores are wonderful, but you don't necessarily want to own every book you want to read. I was lucky enough to move to a city with an amazing library system, and I've since taken full advantage of their interlibrary loans and digital audiobook collection.
via GIPHY
Take a breath, read a book. Again, moving is not easy. Whether you moved alone or with a friend/partner, to a brand new city or one you already know. You won't feel settled for a while, and that's okay. You might feel depressed or lonely, and that's okay. But you've got a couple hundred friends right there on your shelf—take advantage of them.
via GIPHY
I hope you find this helpful; I wish you the best of luck on this difficult but worthwhile journey. And I'd love to hear tips from others who've moved a large collection a long way away!