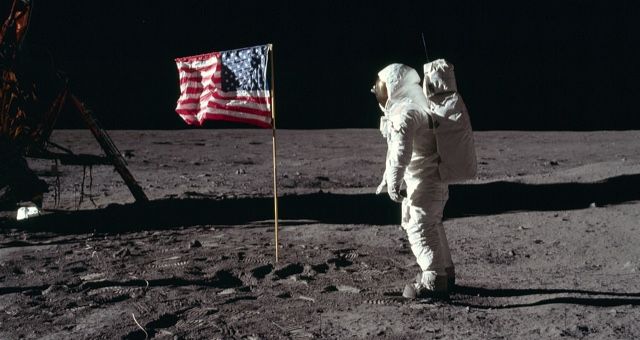 Critical Linking
The Book Buzz Aldrin Literally Took to the Moon: Critical Linking, July 23, 2019
Critical Linking, a daily roundup of the most interesting bookish links from around the web is sponsored by Libro.FM
---
"Astronaut Buzz Aldrin packed a tiny copy of The Autobiography of Robert Hutchings Goddard, Father of the Space Age for his lunar voyage in 1969.
The book's publisher had asked him to leave the book on the moon; Aldrin wasn't able to honor that request, but he did what we think was even better: He signed it, adding "Flown to the moon on board Apollo 11," and donated the copy to Goddard's widow.
Eventually, it made its way to Clark University, where Goddard — considered the father of modern rocketry — taught."
This may be the coolest book news I've heard. Also, glad we didn't litter on the moon.
---
"George Takei is best known for his role as Sulu in the 1960s cult-classic TV show Star Trek, but the actor has found even more fame later in life thanks to his prolific social media presence and activist work. In his new graphic novel, They Called Us Enemy (Top Shelf Productions), Takei details his childhood years spent in internment camps for Japanese Americans during World War II. Takei spoke with American Libraries at the American Library Association's 2019 Annual Conference and Exhibition in Washington, D.C., about his book and the profound and lasting danger of not learning from history."
If you read something today, this is a great pick.
---
"So, these days some libraries across the country are trying the approach used in Long Branch, N.J., to support librarians tasked with social work for which they weren't formally trained: bring in a social worker who was formally trained for situations such as these. The San Francisco Public Library is credited with being the first to do so, with Leah Esguerra back in 2009."
A great read about how some libraries are offering the help of a social worker to patrons.