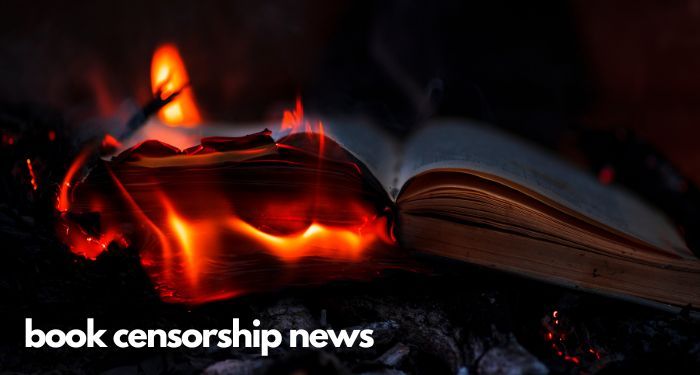 Censorship
The Book Banners' Recruitment Agenda: Book Censorship News, February 3, 2023
This content contains affiliate links. When you buy through these links, we may earn an affiliate commission.
There are only so many ways to state that book censorship is not coming to an end any time soon. That until there is significant money and action on the part of those dedicated to the First Amendment rights of all, until anyone in the government does anything meaningful, we're all subject to the rule of right wing Christian nationalist bigots.
Here's a look at the recruitment website for "Community Patriots of Manatee County," meant to call in members to go raid the schools and public libraries of books they don't like. They lay out their goals very clearly. The agenda is not hidden.
Some screenshots from a website of "parents" who are recruiting local censors. This is Manatee County, Florida. pic.twitter.com/r2Q2NiAS60

— Buttered Jorts (fka kelly jensen) 🐱🐰 (@veronikellymars) January 31, 2023
One of the pieces that should be most disturbing from their call to action is this:

That "parents" and "kids" are under scare quotes makes clear neither one need to be real. More, they are using children to push their agenda. Is that not what they're claiming they are trying to stop from happening?
Manatee County, as you might remember from earlier this month, made entire classroom libraries inaccessible. Then, rather than point the finger where it needed to be pointed, the teachers were blamed. In this case, advocates for students got the classroom libraries reopened, but this is nowhere near the end of the battle in Manatee. It's a tiny victory — classroom libraries aren't inaccessible, which is literally the bare minimum — as there are untold numbers of "parents" sending their "kids" into the library to create a fake outrage over "inappropriate" books that "indoctrinate" young people. Dozens of books remain under review in the county.
Not enough? This week, Flagler County's Moms For Liberty chapter shared a new list of books they want their members searching for. These titles come from Laverna in the Library, which is RatedBooks.org. Confused yet? Ratedbooks.org is an arm of Utah Parents United and No Left Turn in Education, so the fact that Moms for Liberty shared it should start to make you think about how all of these groups and their separate websites of "parental" book reviews are one in the same.
Many of these titles have already been subject to challenges, but expect these to see more bans in the coming months. Flagler's Moms for Liberty group is one of the most active. Wondering what the links all are? They're the downloadable reports from RatedBooks.org that cherry pick the passages from the text deemed "inappropriate." Because who cares about the legal precedent of the Miller Test?
Yes, nearly every book on there is queer and/or about or by people of color.
All of that is to say: You need to act. This will not be ending through wishful thinking nor shedding tears or anger on the internet. If you still don't know what to "do," let me note that we have years and years of tips, tools, techniques, and templates for you to use. It's everything short of writing the name of your school board members into the template, signing with your name, and emailing and/or showing up to the meeting.
Want all of that information in one place? Got you there, too: you can now buy How To Fight Book Bans and Censorship for $3, giving you all of the tools, tips, and information in a handy ebook.
Book Censorship News: February 3, 2023