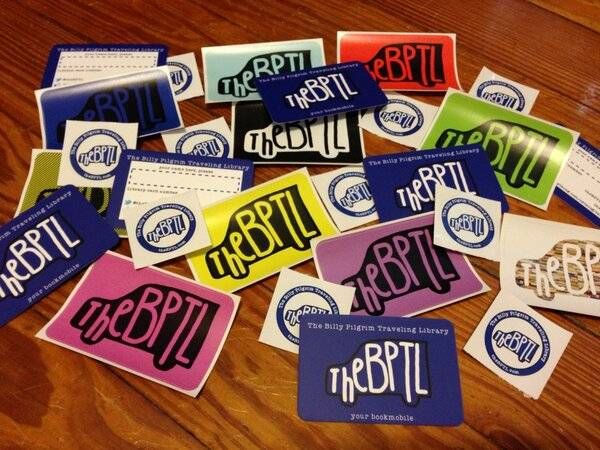 News
The Billy Pilgrim Traveling Library Hits the Road
Today is the grand opening of The Billy Pilgrim Traveling Library, a book mobile based in Houston, Texas. It will be joining the fleet of other trucks – food trucks and mobile boutiques – that navigate the city streets. On this first night, it will be a part of the Food Truck meet-up at the Montrose HEB. I'll be there, bags of books to donate in hand. I hope to see some your smiling faces there, too. Will it be worth it? Yes, but you don't have to take my word for it. Take a look at what the founders had to say about the BPTL.
Could you introduce yourselves, and tell us how you came together for this project?
We are Chris Grawl and Kelly Allen. We met each other a bit over three years ago in grad school at UT's School of Information, immediately clicked, and three years later we've got two cats and a bookmobile.

Conceptually speaking, the Billy Pilgrim Traveling Library is my (Chris') brainchild. Fresh out of grad school, Kelly got a four month gig as a cruise ship librarian, and I moved back to my hometown (Houston) from Austin to look for full-time work. Amid this, I proposed an idea to a couple of my buddies about a fusion library/bookstore set up in a commercial property/strip center, from which we would rent out, trade, and sell our books, music, and movies. I found full-time work shortly thereafter and the idea just sort of sat there.
Kelly returned from abroad and we moved to Montrose, where we very quickly acclimated ourselves to Houston's incredible food truck culture. This, coupled with an observed need in the library world for unaffiliated bookmobile services, caused the library/bookstore idea to evolve into a mobile enterprise, where we would work out of a bookmobile that would function both as a house for our traveling collection as well as a rentable empty space. I (Chris) wrote an essay about this a while back. You can read it here.
What made you name the Bookmobile after Vonnegut's protagonist from Slaughterhouse 5? Does the book hold special meaning for you?
Naming our bookmobile after a Vonnegut character (namely, after Billy Pilgrim) speaks to both the character of our traveling collection as well as to our individual characters. We also like the sort of play on words with being a traveling library and Billy Pilgrim traveling through, or coming "unstuck in time," as well as the notion that books, movies, and music do unstick us in time.
Slaughterhouse-Five does hold a special meaning for us, but only insofar as Cat's Cradle and God Bless You, Mr. Rosewater and Breakfast of Champions and A Man Without a Country et al hold special meaning for us. Kurt Vonnegut has long been an important influence in both of our lives, and it's something of an honor for us to be able to memorialize him in this way.
How will the library work?
The BPTL intends to serve two purposes: one, as a traveling library that works on a rent-barter-donate system and provides a variety of traditional and emerging library services; and two, as a bookmobile-for-hire which lends its space out to all mutually interested parties for mutually agreeable means.
The traveling library component will function much like Netflix. There is an annual membership fee ranging from $5 to $20, depending on the member's chosen plan. A $5 annual membership fee allows you one item out at a time; $20 allows you five out at a time. There are no due dates or late fees. We encourage our collection to be used as a library – as something that belongs to everyone – but there is nothing in place to stop you from keeping the item(s) you've checked out forever, and there are no repercussions for doing so. You may also try to barter for some of our items. Throw something our way – cash, books, records, a sandwich – and see what of ours that gets you.
In addition to our physical collection, we hope to offer services such as reference (including Reader's Advisory) and research, wi-fi, a reservation system, a mixtape trade, and book clubs. We'll also have tax receipts for in-kind item donations, voter registration cards, and applications for membership at other local libraries. Many of these are works in progress, but we ultimately hope to be able to provide all of these services.
The bookmobile-for-hire component effectively renders the bookmobile into a physical and information resource that can be utilized by organizations lacking adequate outreach and marketing services, including but not limited to public libraries, museums, schools, and local businesses. Here, we will empty our shelves and make our space, our time, and our professionalism available to all mutually interested parties for whatever (mutually agreeable) purposes they see fit. We will be debuting this component next month in Odessa, TX to help celebrate the Ector County Library's 75th anniversary.
You ran an Indiegogo campaign to help with the funding for the mobile library. It had limited success. What did you learn from the Indiegogo experience? How were you able to come up with the rest of the funding?
The Indiegogo campaign was humbling in a couple of ways. Namely: (1) in the amount of work we had to put into it just to get the (limited) results we achieved, and (2) in the number of complete strangers, many outside of Greater Houston and thus with limited access to our services, who contributed to our cause. In the last 24 hours of our campaign, we raised some $700, $500 of which was contributed by one complete stranger.
The rest of the funding towards the acquisition and subsequent preparation and housing of the bookmobile and its collection has been paid completely out of our own pockets. A decent amount of our rainy day savings have gone into this project, but it's something that we believe in, and it's something that we know will prove rewarding, even if we don't make any money off of it, even in the long run.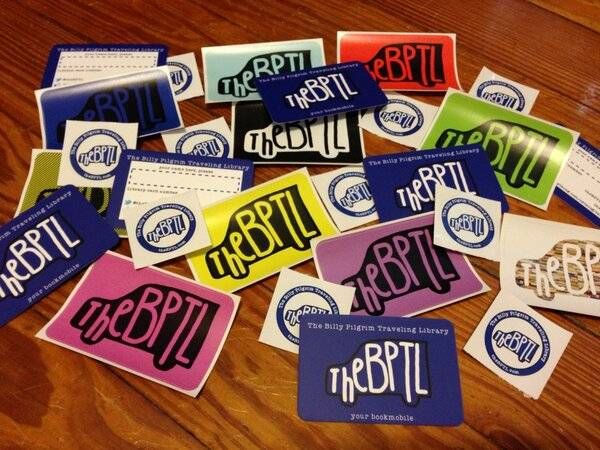 Other than funding, what is the biggest obstacle that you dealt with so far? What challenges will you have to deal with as you move ahead?
I would say that the biggest obstacle we've faced was simply getting our bookmobile to Houston. We found the truck through Craigslist, or rather a Craigslist aggregator that doesn't limit it by location. The truck we found just happened to be in Gallipolis, Ohio, which is across the river from West Virginia. We took the week of Thanksgiving to fly to Ohio, pick up the bookmobile, and drive it back – neither of us having had experience driving any vehicle that large in our lives. But somehow, we made that 1,100 mile drive back to Houston without any incident. There has never in this entire process been any sign that this isn't what we should be doing, and that has been extremely encouraging.
The real obstacle has been the greater process – getting temp tags, booking flights, rental cars & hotels, orienting ourselves with an 1,100 mile drive, getting the truck inspected, titled, and registered, finding a place to make our debut, and working on truck and library card design, then finding the right people to collaborate with to get the work done (not to mention the collection development, nonprofit processing, and inventorying that's been going on all the while). There's just a whole lot (months!) of setup that has had to go into it for us to get to where we are now, and there's still a lot of work to be done before we're able to provide all of the services we'd like to provide (i.e. wifi, tax exemptions).
When and where will the library be available? What sort of schedule are you hoping to keep?
At the moment, we both have full-time jobs supplemental to the work we're putting into this project, which unfortunately limits the schedule we can (potentially) keep to weekends, with a heavy emphasis on Fridays and Sundays. I do believe it will be to both our as well as the community's benefit to be open on Sundays, since all of the other public libraries in Houston and Harris County are closed then. So yeah, for now we'll focus on finding spots (and hopefully some regular spots) on Fridays and Sundays, then maybe look for some evening spots, and from there try to transition into a daily schedule.

Where can Houston readers find you in the near future? What can they do to support the BPTL?

For now, we only have one set gig in Houston. To be perfectly honest, we've been focusing on the prep phase up to this point and have only reached out to a couple of places to see if they'd like to collaborate with us. And only one of those places has bitten so far: this Friday, February 15th from 5:30 pm to 9 pm, we'll be debuting at the HEB Montrose Market Friday Food Truck meetup. We intend to park at HEB as often as their truck rotation allows.
As we develop our schedule, we'll primarily target other cultured, tried and true truck-friendly locales, including museums like MFAH and the Menil Collection, and coffee shops like Antidote, Boomtown, Inversion, Dirk's, and Bungalow Java. We're also looking for places to park outside of the loop. One place I'd really like to work with is The Shack in Cypress, and really we're open to collaborations with all mutually interested parties.
As for what folks can do to support us, the first thing they can do is come out to HEB on Friday and become members of the BPTL. Membership is $5-$20 annually, depending on the plan you choose. Patronage is one, if not the fundamental form of support for our project.
Another thing they could do is donate – books, cds, dvds, vhs cassettes, audiocassettes, vinyl, dollars, or time. We are an entirely grassroots organization, and our collection will be built around our own personal collections and what is given by others. We have a mantra of RENT-BARTER-DONATE. Participating in any of those three activities is really all the support we could ask for. (But word-of-mouth is also great!)

_________________________
Chris and Kelly are also looking for some help with the truck's design:
We are still working on our truck's design. We're weighing several different options, including chalkboard paint and literary graffiti. We've got one graffiti artist that will be stopping by our Grand Opening to check out the truck and do some design brainstorming with us. We'd like to invite other interested artists to stop by as well.
If you'd like to learn more about the Billy Pilgrim Traveling Library, visit their website, follow them on Twitter, or like them on Facebook.