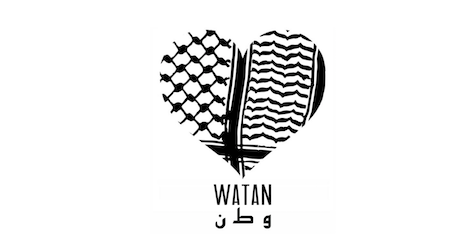 It's not often that you find a studio focused on bookish art from beyond the usual Anglo-European works.


Even less often do you find arty book swag that incorporates the words and images of Palestinian writers like Fadwa Tuqan, Edward Said, Suheir Hammad, Mahmoud Darwish (and even more Darwish), Ghassan Kanafani, Emile Habibi, and May Ziade.
But you can find it at Watan, a Chicago-based community space and arts studio launched by Jumana al-Qawasmi in January, 2015. The project started as an online shop, but has expanded its focus to a wide exploration of "Palestinian intellectual, cultural, and historical heritage."
The studio's official launch event is December 17, just in time to Christmas shop like the people in Bethlehem.
Why Bookish Art?
Many of Al-Qawasmi's original products were jewelry and other small items. Why has she moved more toward literary-inspired prints?
"Literature," Al-Qawasmi said, "is so at the core of Palestinian life, whether because of the emphasis on academics for a rootless people, substitution of literature for the land, or more. I mean, 7ikayaat (storytelling, usually by older ladies) is just something we grow up with, so maybe that's why it just ended up that way for me."
The project began as an exploration of Palestinian history and culture. And as Al-Qawasmi explored, she wanted to share. "Watan, for me, is a way to teach others what I'm learning as well — in a sort of an easily digestible way in a hypervisual and overloaded world."
She plans to continue learning about and featuring new writers. For others just beginning a journey with Palestinian literature, the Watan site also has an attached "Palestinian Women's Library." Among the Palestinian women celebrated is the poet Fadwa Tuqan.
You can read Tuqan's "Longing Inspired by the Law of Gravity," translated by Tania Tamari Nasir and Christopher Millis, and then visit Watan to see Tuqan-inspired art.