Fiction
The Best of Elizabeth Peters / Barbara Michaels
Last week, Barbara Mertz, better known as author Elizabeth Peters/Barbara Michaels, died after a decade-plus battle with cancer. At the age of 85, Mertz had written so many books she claimed she'd stopped keeping track of them and, as her author bio often stated, her novels were so popular the library kept them "under lock and key."
Mertz had been a huge part of my reading life since childhood. I read my first book by her when I was eight—but even before that, one of my earliest memories growing up is staring at my mom's bookshelf filled Peters/Michaels novels and wondering what stories they contained. She was the first author I wrote a fan letter to, and she wrote the first book that I absolutely loved. I know for a fact that I wouldn't be the same person I am today if not for Mertz's books. It was through her books that I came to understand the power of words and the magic ability of a storyteller to transport a reader to another time and place.
Over the last few days, I've come across some truly moving tributes to the woman who will always be my favorite author. Yet I can't think of any more appropriate tribute than to talk about her books and why I love them. Whether you're reading her novels for the first time—and you definitely should!—or thinking of rereading your favorites, this is my guide to the best of the best:
As Elizabeth Peters
The majority of Peters' books are series with female amateur detectives.
Amelia Peabody
This is by far Peters' most popular series, with 19 books in all. It follows the adventures of Egyptologist Amelia Peabody and her grumpy hubs, Emerson, and spans nearly forty years (from 1884 to 1922). The series was a hit from the start, but escalated into OMG-WHEN-IS-THE-NEXT-BOOK-COMING-OUT-I-NEED-IT! level of fandom when Amelia and Emerson's son, Ramses, became involved in romantic contretemps.
Incidentally, there's a readalong of the Amelia Peabody series happening this summer at Buried In Books. You can still sign up!
Jacqueline Kirby
Amelia may be Peters' most popular heroine, but Jacqueline Kirby's my favorite. A sharp-tongued librarian, Jake knows EVERYTHING (see profession: librarian) and is always the smartest and most sarcastic person in the room. One of my favorite books in the series is The Murders of Richard III, which 1. is a hilarious portrait of Ricardians (people who believe Richard III was actually a pretty great guy); 2. pays proper tribute to the classic mystery The Daughter of Time by Josephine Tey; and 3. has not only a female detective, but a female detective with a male Watson! How often do you see that in mysteries? Later in the series, Jake decides to write romance novels, which affords her a chance to make fun of Romance Writers of America when she goes to their conference in Die for Love.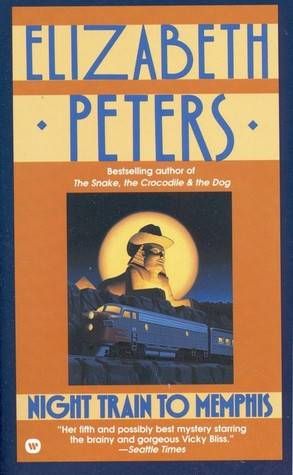 Vicky Bliss
Vicky Bliss is an art historian who is constantly running across incidents of art crime. I'm not saying I became an art historian because of Vicky Bliss, but her books certainly didn't deter me. Even though Vicky's a medieval German scholar, she investigates everything from lost Trojan gold to fake Egyptian art. The series really picks up in Street of the Five Moons, when Vicky runs up against Sir John Smythe, a dashing gentleman art thief, then decides what the hell—might as well sleep with him. An art historian and art thief, could there be a more deliciously ironic literary pairing???
The first Vicky Bliss book I read isn't the best in the series, but it is my favorite: In Night Train to Memphis, Vicky hears from Interpol that John is planning to steal the bust of Nefertiti from the Cairo Museum. It just so happens she's been worried about him because he hasn't contacted her in ages and has mortal enemies. So she swoops down to Egypt to save his ass, only to find out… well, I don't want to spoil it for you. But Peters has me from the word go in this novel every single time I read it, and I've read it so many times I stopped keeping count.
As Barbara Michaels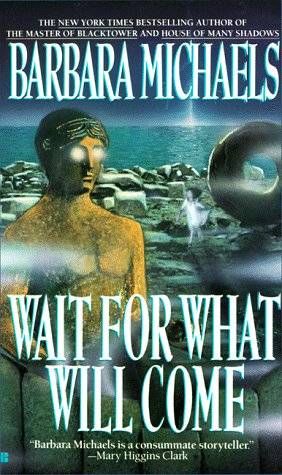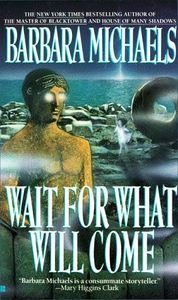 Michaels' novels are more along the lines of Gothic romantic suspense, and rarely feature the same characters. It's difficult for me to recommend only a few Michaels books, because about half of them (and there are a ton) are my FAVORITE EVER. These novels are definitely formulaic, but Michaels owns this formula, and every story is supported with in-depth research. The one I've reread the most is Wait for What Will Come, but I also want to include my mom's favorite, Ammie, Come Home.
Wait for What Will Come
Carla Tregellas is an American who inherits a crumbling mansion in Cornwall from some unknown distant relative. She plans to get rid of it, but first she decides to visit. Soon she finds out the women in her family are cursed to die in the sea every 200 years, and guess what? Yup, it's about that time. But what Carla really has to worry about are the all the handsome young bachelors who just happen to be wandering around a town the size of a postage stamp. If you're looking for summer escapist reading, you can't get much more perfect than this book: Cornwall, strange goings on, standing stones, lots of potential for romance, and a creepy old house.
Ammie, Come Home
Ruth is trying to entertain her young niece, Sara, during a visit. So she does what any sensible aunt would do: hosts a séance. Unforch, the séance calls up a malevolent spirit who takes over Sara's body. A classic, very creepy ghost story, Ammie, Come Home is also the only Michaels/Peters novel to ever be turned into a movie. Mertz hated the film so much she refused to sell the movie rights to her novels ever again, and supposedly bought every copy of this movie she could lay her hands on just to erase from the public consciousness. I've heard it's actually not too bad, though.
Do you have a favorite Elizabeth Peters/Barbara Michaels novel? Share it with us in the comments!
_________________________
Sign up for our newsletter to have the best of Book Riot delivered straight to your inbox every two weeks. No spam. We promise.
To keep up with Book Riot on a daily basis, follow us on Twitter, like us on Facebook, , and subscribe to the Book Riot podcast in iTunes or via RSS. So much bookish goodness–all day, every day.