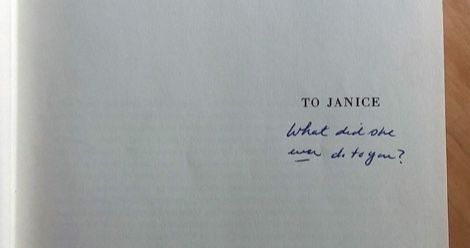 The Best Notes Readers Found in Used Books: Critical Linking, July 24
Sponsored by Flatiron Books, publishers of The Family Tabor by Cherise Wolas.
---
We reached out to members of the Atlas Obscura community and asked them to tell us about the most remarkable examples of writing in the margins that they'd ever found. As ever, they didn't disappoint. You sent us pictures of scathing hand-written criticism, a book that held a short record of family deaths, and a particularly creepy-looking example of a secret "government code." Great stuff.
Atlas Obscura rounded up some of the best notes their readers found in used books. I love this stuff.
---
Lin-Manuel Miranda jumped up to a podium shortly after landing in Puerto Rico on Sunday to announce he has helped create a multimillion-dollar fund to boost the arts in the U.S. territory as it struggles to recover from Hurricane Maria.
Always doing the good work, that Lin-Manuel.
---
OK let's review, Hugo nominees were
-told they weren't on programming because they're not exciting to attendees
-misgendered in bios & correspondence
-had their bios *changed* to reveal non-public info & photos taken from private FB
-were scolded for going public
Anything else?

— Amal El-Mohtar (@tithenai) July 23, 2018