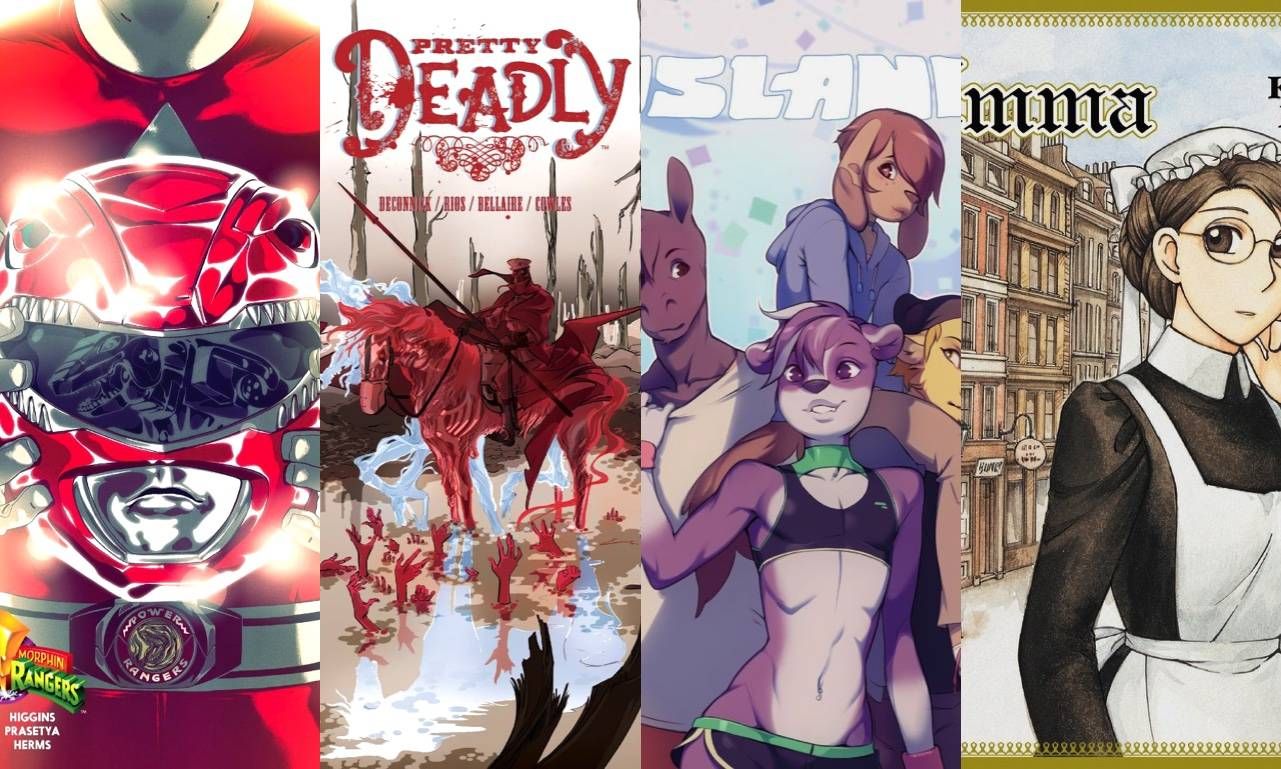 Monstress #1 by Marjorie Liu and Sana Takeda (Andi Miller)
This gigantic first issue (72 pages) was a great introduction to the weird and wonderful universe Liu and Takeda have created. Maika is a young girl at the center of a magical war, and she has to learn to control her own power, lest she destroy the people closest to her. Gorgeous artwork really rounds out the world building here, and I'm excited to get into the second issue.
Giant Days, Vol. 1 by John Allison, Lissa Treiman, and Whitney Cogar (Ali Colluccio)
I'm very late to the Giant Days party. I feel like the person who shows up two hours late and then calls all her friends to come over because This Party, you guys. I guess "This Comic, you guys" is probably more appropriate. ANYWAY. I'm a sucker for slice-of-life comics and I'm a sucker for stories of friendship between women. So Giant Days is very much in my wheelhouse.
Power Rangers #0 by Kyle Higgins, Hendry Prasetya, Matt Herms, Ed Dukeshire, more (Paul Montgomery)
Set just after green ranger Tommy's initial conversion to the side of the righteous, Boom! Studios' new ongoing is feel-good nostalgia at its thoughtful best. Though backup stories revel in 90s camp, the main story dials it back just enough for earnest, exciting super sentai intrigue and full-scale mecha-on-kaiju mayhem. I loved the conceit of Tommy's constant grappling with a phantom Rita Repulsa, a comical, Fight Club style manifestation of his moral struggle.
Welcome Back #4 by Christopher Sebela, Claire Roe, Carlos Zamudio, Juan Manuel Tumburus, and Shawn Aldridge (Katie Schenkel)
Before BOOM! expanded it into an ongoing series, Welcome Back #4 (which came out at the very end of December) was supposed to be the last issue of the miniseries. Tessa and Mali, enemies over multiple timelines, once again meet face to face and have to deal with their extremely complex feelings towards each other while vulturous soldiers on both sides of their war wait to see which of the women will die first. In itself, #4 is a brilliant ending to a compelling story – but now it's simply the end of the book's first arc. I can't wait to see what happens next.
Hercules #3 by Dan Abnett, Luke Ross and Guru-eFX (Mart Gray)
Constant carousing has made Hercules something of a joke among the heroic community – and he knows it. But he's determined not simply to change his image, but to change his behaviour and live up to that image. He'll be the hero he was in classical times, answering calls for help from the people of New York… but with a very big gun. No, he's not gone all Punisher, he'll simply use the most effective weapons available. This surprises the savage centaurs he faces in the third issue of his new series, as he investigates mass panic among the 'mythical' creatures of the Marvel Universe. Helping him is dual-gender oracle Tiresias, while former Avenger flatmate Gilgamesh gets his lately lacklustre ass off Herak's couch long enough to investigate a call for help. It's another hugely entertaining issue from writer Dan Abnett and artist Luke Ross, replete with smart, witty dialogue and expressive, expansive visuals, beautifully coloured by Guru-eFX. Now, if only Hercules would lose the horrific man bun…
Injection #6 by Warren Ellis, Declan Shalvey, and Jordie Bellaire (Hélène)
After a pause at the end of its first chapter, Injection is back, and does it feel good to be back in this weird, broken and fantastic universe. Issue 6 is almost self contained and focuses on a character we had only briefly met until now. It makes it a perfect jumping on point and also an easy way to get back into the book after its hiatus. Very rare are the books that manage to balance fantasy and sci-fi in a way that feels so grounded and real.
Pretty Deadly #6 by Kelly Sue DeConnick, Emma Rios, Jordie Bellaire, Clayton Cowles (Jenn Northington)
Pretty Deadly is back! Pretty Deadly is back!! It's not like I have been waiting or anything, nope, heh. From the frontier West to the trenches of World War I, Sissy (now become Death) is dispatching and gathering her Reapers, trying to restore order to the underworld. If you've read the first five issues (available in trade), you already know that Emma Rios's incredible artistic talent, Kelly Sue DeConnick's storytelling chops, and Jordie Bellaire's colors are a potent combination. If you haven't experienced Pretty Deadly before, this is a great place to jump on. This team has learned a lot since Issue 1, without losing any of their originality or chemistry, and I cannot wait to see where this second arc takes us.
The Wicked + The Divine, Vol. 1 by Kieron Gillen, Jamie McKelvie (Emily Wenstrom)
Every 90 years, twelve gods are reincarnated on Earth into the bodies of beautiful teen humans. They live a wild cult-like celebrity of the immortal for two years, and then they die. The Gods are here, and seventeen-year-old Laura is quickly drawn into a murderous mystery. It's a blast to see manifestations of mythical gods, and the premise incredibly original. Most of all, this story's young protagonist is an intriguing combination of ballsy and lost.
Nowhere Men #7 by Eric Stephenson, Dave Taylor, Jordie Bellaire, and Fonografiks (Hilary Lawlor)
In their first new issue in more than TWO YEARS, the team behind Nowhere Men reopens all of the mysteries left behind in the first arc. What really happened to Thomas Walker, and where/what is he now? Does everyone affected by the virus have… "powers?" Can anything good come of this, like Dade Ellis wants everyone to believe? I'm so excited that this series is finally back. I want to live in this universe where scientists are rockstars, and their rockstar caprices can affect the stability of the world. Seems like a pretty cool universe.
Southern Cross #6 by Becky Cloonan, Andy Belanger, Lee Loughridge, and Serge LaPointe (Melody Schreiber)
Okay, so this installment of Southern Cross was actually published last month–I've been a little behind! But I'm happy, as always, to catch up on this series. Belanger's art is so surreal, Loughridge's colors are trippy and perfect, and oh yeah Cloonan's story sucks me in every time. Where is it going? Who knows! But I'm down for the intergalactic ride.
Island #6 by F Choo, Onta, Gael Bertrand, Katie Skelly, and Sarah Horrocks (Jake Shapiro)
I guess I can't pick Prophet: Earth War since I already wrote a big thing about it last week, so I'll go with Island, which continues to be the most important thing happening in comics to me. Folks might be turned off by the furry cover for this one, but even if Onta's style isn't your thing, this issue's got the next chapter of Gael Bertrand's jaw-dropping wordless fantasy comic "A Land Called Tarot" (continued from Island #4), plus some gorgeous spreads by F Choo (@choodraws on Tumblr) and a horror comic analysis by Sarah Horrocks, who's quickly becoming one of my favorite artists/critics working today.
Chew, Vol. 1 by John Layman and Rob Guillory (Kristina Pino)
I never knew I'd be so into a comic as gruesome such as Chew, but here I am. I'm late to the Tony Chu party, but that may not be a bad thing, considering there's plenty more for me to read at my own pace. If you haven't heard much about it, the brief explanation is Tony Chu has the psychic ability to sense the memories/past/knowledge of anything he eats. Of course, that leads to his employment with a government agency and sometimes having to be a cannibal for the greater good of the people. Mostly it's him being a little bit of a fish out of water in a world where chicken is banned and government conspiracies around the supposed "bird flu" that led to it are now directly disrupting his life. It's a fast-paced read, and I'm going to tell you from experience: maybe don't eat while reading this one. Just sayin'.
Grayson #12 by Tim Seeley, Tom King, and Mikel Janin (Ardo Omer)
I've been catching up on Grayson – a fantastic series at DC Comics that has Dick Grayson presumed dead and working as a spy for Spyral (sound familiar?) – recently and issue #12 made me incredibly emotional. Dick ditches the spy life and returns home to Gotham but unfortunately, he's given an ultimatum to return to Spyral or Batman gets outed. With the 24 hours he's given, he meets up with the Batfam to say his goodbyes and on the page, text bubbles appear with quotes of the things that each family member has said to him (or what he said to them) from actual past issues. The reader nostalgia is doubled up when Mikel draws moments from the past as a backdrop which just results in a crying Ardo in the fetal position too consumed with feelings. If you haven't been reading Grayson, you should!
Emma, Vol. 1 – Kaoru Mori (Swapna)
Do you have something you just know you'll love the second you hear about it, and you end up saving it for a time you're feeling down or are having trouble finding a book that interests you? That happened to me with Emma. This manga, featuring a maid in Victorian times who catches the eye of a wealthy merchant's son, was something I knew I'd enjoy. I've been having some reading slump issues lately, so I picked up the gorgeous hardcover of this (aesthetics matter!) and was immediately transported. I'm just glad I waited so long to read it, because I have more volumes to read immediately.