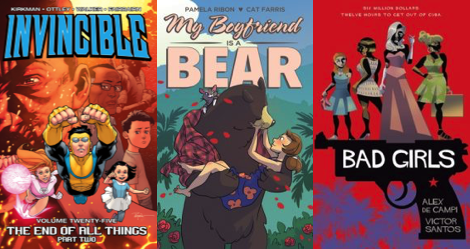 This content contains affiliate links. When you buy through these links, we may earn an affiliate commission.
Today's Free Comic Book Day coverage is sponsored by All Summer Long by Hope Larson, published by First Second.

Thirteen-year-old Bina has a long summer ahead of her. She and her best friend, Austin, usually do everything together, but he's off to soccer camp for a month, and he's been acting kind of weird lately anyway. So it's up to Bina to see how much fun she can have on her own. At first it's a lot of guitar playing, boredom, and bad TV, but things look up when she finds an unlikely companion in Austin's older sister, who enjoys music just as much as Bina. But then Austin comes home from camp, and he's acting even weirder than when he left. How Bina and Austin rise above their growing pains and reestablish their friendship and respect for their differences makes for a touching and funny coming-of-age story.
---
We asked our contributors to share the best comic book, graphic novel, or webcomic that they read last month. Read on to see what the Rioters had on their nightstands the past four weeks, and maybe one of these will find its way to your bedside in the coming weeks. Enjoy, and tell us about the highlight of your March 2018 reading in the comments.
Bad Girls
by Alex de Campi and Victor Santos (Simon and Schuster, July 17)
The art, tension, and story were great. But even more than that, the story manages to play out over a very specific night in Cuban history when Batista fled Cuba and the country fell to Communist Fidel Castro. We're taken to a New Year's Eve party ringing in 1959 in Cuba at a hotel that is filled with American tourists and Cuban performers. The contrast between the Americans being there just to party as the Cuban people are caught in the political chaos makes a great backdrop for a group of women to steal mob money to plan an escape from their personal lives. And the artwork—specifically the coloring where a color is chosen to be the main focus for a page—reminded me of Paper Girls, which I love. The very end leaving Castro as a positive wasn't my favorite but the comic as a whole was a great read with a 12 hour countdown that packed in a lot.
—Jamie Canaves

Infidel #2
by Pornsak Pichetshote, Aaron Campbell, Jose Villarrubia, and Jeff Powell
I gave the first issue of this series some love last month, but Pichetshote and his team have only upped the ante. This time around, readers begin to understand a bit more about the true nature of the brilliantly multi-layered horror that Pichetshote has created. And the art? It continues to blow me away. And then there is the very last panel. "Holy shit," I gasped out loud when I read it. And again: "Holy shit holy shit holy shit." I'm rooting for the protagonist so damn hard, but I can't see things ending well for her.
—Steph Auteri
Invincible has finally come to the end of its 15 year run. It's rare that a creative team gets to end a comic on their own terms, but Kirkman and Ottley have done so. Wrapping up nearly every dangling plot thread (while leaving others tantalizingly hanging) from the long history of the series. This volume has everything fans have come to expect from the series—epic battles, hard moral decisions, plus you get a glimpse into what could have been if the series had continued. And it made me cry (damn you Kirkman, no matter what horribleness you threw at me, I'd managed to avoid it for 15 years!). It's an emotional, soul-satisfying rollercoaster of superheroics and a fitting end to the greatest comic series ever.
—Anthony Karcz
I read this series awhile ago and it filled me with such joy! I'm rereading it now as the world has been tough to deal with lately, so spending time with Rosie, Jen, April and the other badass lady types has been a great escape read.
—Danielle Bourgon
Badass women, mysterious back stories, magical creatures, and cats. Monstress has it all, and more. The comic tells the story of Maika Halfwolf, a teenager on a journey to avenge her dead mother while resisting a demon that is attempting to take over her body and mind. Beyond Maika's story, Liu has created a unique world—an alternate, matriarchal Asia—with incredible richness and complexity. Her characters are multidimensional, and she doesn't shy away from difficult themes like racism and slavery. As if that weren't enough, the artwork in this comic is beyond incredible. Takeda, who is heavily influenced by Japanese artists, has a dynamic and intricate style that deeply immerses the reader. You could go through this comic over and over again and continue to discover new details in the illustrations every time. I'm so excited to get to the second volume of this stunning piece of work. (And did I mention the cats?!)
—Patricia Thang
March: Book Three
by John Lewis, Andrew Aydin, and Nate Powell
I've been reading Lewis's trilogy about the civil rights movement slowly over the past year, mostly because I don't want it to end. The last and final installment was my favorite book of all. What I kept coming back to how perfectly the graphic form suits this particular story. It was often very hard to read, because it felt like being bombarded on all fronts—through art and words. The art added so much urgency, power, and emotion to this already incredible memoir. Even if you've studied the civil rights movement extensively, or if you lived through it and were a part of it—this book, I think, has something to tell everyone. It's exemplifies what I love so much about graphic storytelling: when done well, it creates a new kind of language.
—Laura Sackton
I loved this comic. Seriously. Bear with me here. A fantastical premise frames a very bearlievable relationship. Sorry. I'll stop now. It's a romcom comic about relationships and pursuing whomever you love—even if it's a bear. Funny, a little ridiculous, and almost unbearably sweet (sorrynotsorry). The characters are relatable and the illustrations will make you paws and enjoy the scenery.
—Emma Nichols
Lucy Knisley illustrated her own food-centered memoir, and the results are delicious. Each chapter contains a vignette connecting events of her youth around a food theme, followed by an illustrated recipe. One of my favorite stories was about when she visited Rome with her foodie dad after her parents' divorce and stubbornly snuck out to eat McDonald's for breakfast. I made the recipe for carbonara that followed, and it was mighty tasty.
—Emily Polson
Star Wars: Han Solo
by Marjorie Liu, Mark Brooks, Olivier Coipel, Dexter Vines, Sonia Oback, Joe Caramagna, Kamome Shirahama, and Matt Milla
I've been starting to work my way through some of the Star Wars comics recently, and this is definitely one of my favorites so far (along with Star Wars: Princess Leia, which you should also read). It's Han Solo at his finest, insisting he's only in it for money and glory, but actually starting to realize he may care about some things (and people) more than that. Some excellent banter and sexual tension with Leia, Chewie being the best co-pilot around, and an insane spaceship race as cover for an important rebel mission. Just good stuff all around.
—Rachel Brittain