Children's
The Best Children's Books for Teaching Your Kid About S-E-X
This content contains affiliate links. When you buy through these links, we may earn an affiliate commission.
I have learned how to be a functioning human being by reading books. That's just how I roll. It's how I learned the best way to clean my toothbrush. It's how I learned how to succeed as a freelance writer. It's how I learned how to keep a newborn alive.
Now, as I try to learn how best to handle the inevitability of my 2-year-old daughter unearthing my vibrator or walking in on my husband and I having sex, I'm wondering if I can train my daughter to learn things the same way.
The jury is still out on how effective this will be. After all, I've left Potty and Where's the Poop? in strategic places around the house and, yet, the Diaper Genie still stands in a corner of the nursery, spreading the slight scent of poop throughout the second floor of our house.
But I have high hopes. All I require is time… and a pile of children's sex ed books so large that Em's grandparents will start to question my fitness as a mother.
Here are nine I have on my radar:
Amazing You! Getting Smart About Your Private Parts. Emily already knows where her vulva is because she is a toddler genius who will someday rule the earth. But this book by Gail Saltz will reinforce the messages I'm already trying to impart.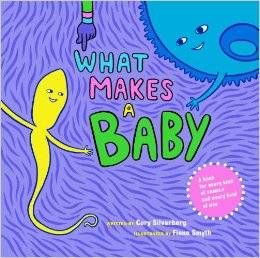 What Makes a Baby. Someday, it'll happen. She'll ask me, "Mommy? Where did I come from?" At which point I'll hand her Cory Silverberg's book about reproduction because he is smarter than I am and teaches children about sex for a living.
Sex Is a Funny Word: A Book About Bodies, Feelings, and YOU. Silverberg's followup to What Makes a Baby, Sex Is a Funny Word is a comic book for children ages 8-10 that covers bodies, gender, and sexuality.
It's Not the Stork! A Book About Girls, Boys, Babies, Bodies, Families and Friends. Robie H. Harris is another author known for her kid-friendly line of sex ed books. This particular book, like Silverberg's first, tackles where babies come from.
Who Has What? All About Girls' Bodies and Boys' Bodies. This is another one about bodies, this one following a girl and a boy on their trip to the beach. Does one need multiple books about naming one's body parts? Let's just say that I've heard good things about Harris, so why not have ALL THE BOOKS THAT EXIST ON THIS TOPIC?
My Body Belongs to Me: A Book About Body Safety. While kids can start learning the proper names for their body parts as soon as you pop them out, it's really between the ages of 2 and 5 that they can begin understanding the concepts of privacy and boundaries. And for that, there is Jill Starishevsky's book, written to help young children understand that their private parts are for them alone.
It's Perfectly Normal: Changing Bodies, Growing Up, Sex, and Sexual Health. Another Robie H. Harris original, this one is for slightly older kids, and contains information about puberty, gender identity, and more.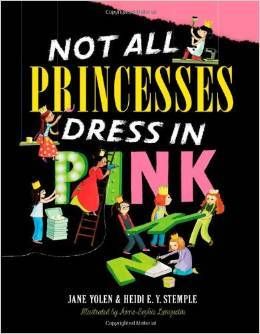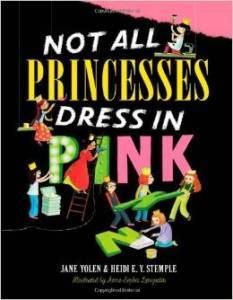 Not All Princesses Dress in Pink. In hearing the phrase "sexuality education," many parents and school administrators only hear the word "sex." This book from Jane Yolen and Heidi E. Y. Stemple tackles gender norms, another concept kids can start learning about during their toddler years, and combats all of the stereotypes they may internalize from simply observing the world around them. A bonus, classic, backlist bump? Robert Munsch's The Paper Bag Princess.
I Am Jazz. Speaking of gender, while there aren't a lot of books for transgender youth, Jessica Herthel and Jazz Jennings's 2014 book has quickly become a classic, despite its oh-so-recent pub date. Based on the real-life experiences of Jennings, this is a book about a girl who was born in a boy's body.
I am unreasonably excited to begin introducing these books to my daughter. The only thing that dampens my enthusiasm is the seeming lack of authors of color within this genre. At a time when children are using very visual tools in order to learn about their bodies, it's imperative that they be given images in which they can actually see themselves.
If anyone knows of any brilliant books that I'm missing, and that you have loved and shared with your own children, let me know in the comments!