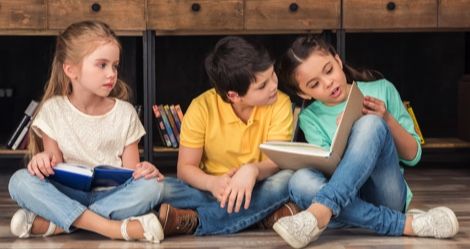 Children's
The Best Children's Books For Every Age
This content contains affiliate links. When you buy through these links, we may earn an affiliate commission.
If you think it's difficult to go book shopping for yourself (unlimited to-read list, limited bank account), it's doubly difficult to go book shopping for a child. A lot of factors go into the process. Beyond wondering what genres or authors the kid likes, you also have to deem whether a book is age-appropriate. While you don't want to pick something too risqué, you also don't want to pick something too easy and boring. Luckily for you, I categorized the best children's books by age for the perfect literary gift.
Yes, I know infants at this age can't read. But they can—and should—still be read to. According to NPR, reading to babies can give them "a head start on language skills and literacy."
Goodnight, Moon is the perfect book for early reading. It exposes kids to a multitude of objects, and it's a great way to end the day. I also think it's sweet that rabbits are the main characters, which allows universal relatability. Kids should experience Goodnight, Moon beyond their first year, but it's never too early to start!
Also read: One Fish, Two Fish, Red Fish, Blue Fish
Don't let the word "eucalyptus" fool you! That's probably the most difficult word in the book. The story has fun, bright colors and a There Was An Old Lady Who Swallowed a Fly type of plot line. Your two-year-old niece, godson, or child will love hearing this book's adorable and educational wordplay.
The protagonist is also a POC. It's essential that children become exposed to diverse reading at a young age. By doing so, we can help eradicate the idea that white is the default. A wide range of protagonists can also help kids see "other" races as less "otherly," which reduces fear and prejudice.
For other diverse picture books, check out Lola Gets a Cat and Bee-Bim Bop!
By this age, children are actually starting to develop literacy. You should buy them stories that they would potentially want to read on their own. Along with all the books listed above, you should get books with interactive elements. Kids like to touch and experience the world, so they'll love any book that lets them use their fingers.
Do Cows Meow? is a great tactile experience as well as an entertaining introduction to animal noises. Each page has an animal with a flap for a mouth. At the end of each rhyme, you flip the mouth up to reveal what that animal says. It's simple and repetitive enough that your three-year-old could get through a few words, and they'll also have so much fun lifting all the flaps.
If they want even more mouths to flip, check out the sequel Do Crocs Kiss?
Also try: The Very Hungry Caterpillar and How Many Bugs in a Box?
The Giving Tree is notorious for its unexpected, bittersweet ending. A four-year-old child might need some extra help reading it, but they could probably struggle through most of the material.
It's also a great introduction to other Shel Silverstein works. Before you know it, they'll be reading Where the Sidewalk Ends.
Also try: Green Eggs and Ham
Age 5: Junie B. Jones series by Barbara Park
By age 5, your child should have Junie B. Jones on their bookshelf. Children at this age are usually in kindergarten, and Junie B. Jones is any kindergartner's most relatable literary character. Through the ups and downs of school, Junie has your child's back.
Junie B. Jones is a little advanced for five-year-olds, so their parents will probably have to read this book to them, but that might be for the best. Barbara Park's book series caused a little controversy among parents and educators over Junie's incorrect grammar. Because Junie uses the word "runned" instead of "ran," some adults have taken Junie B. Jones away from children out of fear that they will adopt similar habits.
To me, as long as parents point out Junie's incorrect grammar whenever they can, her wording can actually be educational. She shows what not to do. Plus, it's a great way to show development. Later in the series, a teacher shows Junie how to use grammar correctly, and she develops a stronger literacy.
In other words: don't let the kindergarten-style vocabulary throw you off. Turn her mistakes into teaching moments, and let your child make their first fictional best friend.
Also try: If You Give a Mouse a Cookie, The Monkey and the Turtle
Age 6: Magic Tree House series by Mary Pope Osborne
As your child delves into Junie B. Jones and other kindergarten reading material, they start exploring the world of chapter books. Most of these early chapter book series have very structural plot lines and educational themes.
Along with Junie B. Jones, the Magic Tree House stories are a great introduction to this type of reading. Each book is filled with historical knowledge. Since Mary Pope Osborne's first Magic Tree House release in 1992, generations of children have followed Jack and Annie across time to explore great moments of the past.
I first learned about Louis Armstrong and haikus from Magic Tree House books. Ask your child what they learned after they read. You'll be surprised!
Also try: My Weird School series, Frog and Toad series
Speaking of books with structural plot lines: mystery books. From Nancy Drew to Jigsaw Jones, a plethora of series have cemented mystery's place in children's literature.
My personal favorite was Encyclopedia Brown, because the books always gave you a chance to solve the case yourself. Each story had solutions in the back of the book, so once you've made your guess, you could flip to the answers page to see if you were right.
Also try: A–Z Mysteries series, Cam Jansen series
Age 8: Matilda (or any other book by Roald Dahl)
While there's nothing wrong with repetitive storylines, at some point, children start to move away from structured series like Encyclopedia Brown and Magic Tree House. As they make their way into adulthood, they open up to continuous—rather than cyclical—plot lines.
The best children's books by age 8 begin to edge into fantasy. Kids have been attending classes for a while now, and they're due for an "I hate school" phase. They start to long for an escape, which fantasy easily provides.
Roald Dahl's books in particular capture this sentiment. He paints the burdens of everyday life, and then he provides a magical way for children to leave that dreary reality. From Matilda's supernatural powers to James's otherworldly peach, magic whisks these kid protagonists away on an adventure. For a few hours, fellow readers can feel as though they have escaped reality themselves.
Also try: Spiderwick Chronicles, The Jumbies, Sideways Stories From Wayside School
Age 9: Bud, not Buddy by Christopher Paul Curtis
Bud, Not Buddy is essential childhood literature, but adults must always accompany the reading discussions. A nine-year-old might feel offended at the thought of guided reading, but they should at least discuss the story with a teacher or parent after each chapter.
The book is beautiful, but it's very heavy. It primarily deals with death, loss, and racism. The author took care to add moments of light and hope, but a child could accidentally skip over them. In order to process the weighty themes, make sure to focus their attention on the goodness rather than the darkness.
In elementary and middle school, diary-style series also become popular. For lighter literary companions, you can also buy Dear Dumb Diary and Diary of a Wimpy Kid.
It's time. If they haven't read it before, they certainly should now. After all, they need a year to prepare for their letter from Hogwarts, right?
Kids can certainly start reading Harry Potter before this age. However, in lower grades, they might not be ready to swallow the extensive information in Harry Potter and the Order of the Phoenix or the darkness (as well as some vulgar language) in The Half-Blood Prince and The Deathly Hallows.
They still might not be ready, but by this point, Harry Potter is a pretty necessary pop culture phenomenon. With Harry Potter World, Pottermore, and new (arguably unnecessary) Fantastic Beasts movies, the series is still as relevant as ever.
It's time for your kid to check out The Sorcerer's Stone and see if they're a die-hard Potterhead. You can worry about the last few books if they get there.
Percy Jackson is also extremely popular at this age, too. For more fun, throw in The Hobbit and Narnia. See which series wins your child's heart.
This is probably my favorite book series in the entire world. I received it as a gift from my grandmother and avoided it like the plague for weeks; with its long name and beige cover, I didn't think it would be very interesting. I was completely wrong.
The Mysterious Benedict Society is puzzles and mystery brought to a linear plot line. While kids can definitely read The Mysterious Benedict Society before this age, I find that it's more fun to solve the puzzles alongside the main characters. Around this time, most readers can discover the answers themselves.
Other mystery children's novels like The Mysterious Benedict Society include From the Mixed-Up Files of Mrs. Basil E. Frankweiler and The Name of This Book is Secret. These are also some of my favorite novels in the entire world. Gift them all if you want to be hailed as best book-giver ever!
A Wrinkle in Time can be a hard book to swallow, but according to Madeleine L'Engle, children are more than capable of handling it. Before its release, her publishers had warned her "…this book is not going to sell. It's much too difficult for children." She wrote in a foreword, "The problem wasn't that it was too difficult for children. It was too difficult for adults."
I don't know how it is with other kids, but I had a time-traveling phase in middle school. Along with A Wrinkle in Time, I devoured Rebecca Stead's When You Reach Me, discovered Ray Bradbury's A Sound of Thunder, and revisited Harry Potter and the Prisoner of Azkaban. (I also found The Time-Traveler's Wife, but that's better suited for high school.)
So don't hesitate to get a time-related novel as a gift! And if you want to go the extra mile, also get them the A Wrinkle in Time DVD.
Also try: When You Reach Me, A Sound of Thunder and Other Stories, A Single Shard
Age 13: Legend by Marie Lu
Around middle school, dystopia is big. Along with the obvious (Divergent, The Maze Runner, The Hunger Games), my favorite set-in-a-near-future series was Marie Lu's Legend.
I have some thoughts about the ending, but overall, I loved it—especially with its incorporation of test scores. As I neared high school, it was interesting to see grades depicted in a corrupt, elitist way. Years later, as I entered AP tests, I would be reminded of this series.
It's heavy material, but most eighth graders are ready for it. My reading curriculum for eighth grade included Elie Wiesel's Night, Harper Lee's To Kill a Mockingbird, and Sandra Cisneros's The House on Mango Street. Clearly, the education system has determined this age as a prominent learning period for the topics of prejudice and race. Why not give eighth graders a book that fits with the modern times?
Also try: Will Grayson, Will Grayson
This list isn't perfect. Some classics were left out, and some kids have different reading curves. If you need to, delve into books a grade lower or a grade higher to find the perfect children's book gift. And if they already have all the books on this list, check out this master list of children's book series.
Now go out and find that perfect present!