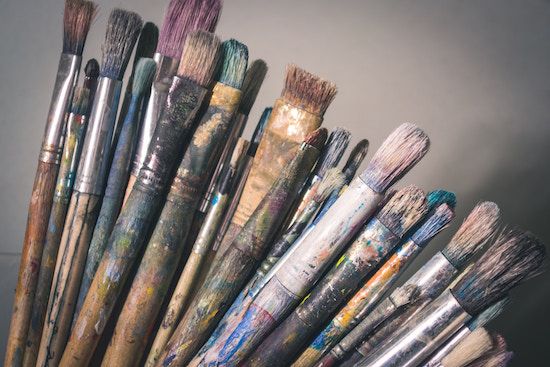 This content contains affiliate links. When you buy through these links, we may earn an affiliate commission.
We're giving away $500 to spend at the bookstore of your choice! Click here, or on the image below to enter:

---
I love thinking about YA book cover and book title trends, and here's one that's been inescapable the last handful of years: "The Art of [fill-in-the-blank]." Surely, this is clever the first or second time, but by the seventh or eighth, I find myself not knowing which book is which.
Let's take a look at The Art Of The YA Book Title Trend. This isn't comprehensive, but it's pretty close—and as you might notice, it's primarily books by white authors, as the pool of books to be included is limited solely by title.
Welcome to The Art Of Naming YA Book Titles.
Two boys. Two secrets.
David Piper has always been an outsider. His parents think he's gay. The school bully thinks he's a freak. Only his two best friends know the real truth—David wants to be a girl.
On the first day at his new school Leo Denton has one goal—to be invisible. Attracting the attention of the most beautiful girl in year eleven is definitely not part of that plan.
When Leo stands up for David in a fight, an unlikely friendship forms. But things are about to get messy. Because at Eden Park School secrets have a funny habit of not staying secret for long.
Seventeen-year-old Mattie is hiding her obsession with Harry Houdini and Dorothy Dietrich from everyone, including her best friend Stella. When Stella takes off to boarding school for the summer, all of Mattie's anxieties bubble to the surface, leaving her feeling adrift. To distract herself, she seeks out Miyu, the reclusive daughter of a world-renowned escape artist whose life and career were snuffed out by a tragic plane crash.
With Miyu's help, Mattie secretly transforms herself into a burgeoning escapologist and performance artist. Away from the curious eyes of her peers, she thrives in her new world of lock picking, straitjackets, and aquarium escapes. But when Will, a popular varsity athlete from her high school, discovers her act at an underground venue, she fears that her double life is about to be exposed. But instead of outing her, Will tells Mattie something he's never told anyone before and the two of them find out that not all secrets can remain secret forever.
After a school video she produced goes viral, sixteen-year-old Sloane Kendrick is given a chance at a film school scholarship. She has less than two weeks to produce a second video, and she's determined to do it. Unfortunately, she must work with Isaac Alexander, an irresponsible charmer with whom she shares an uneasy history.
On the heels of this opportunity comes a horrifying discovery: a bald spot on her head. No bigger than a quarter, the patch shouldn't be there. Neither should the bald spots that follow. Horror gives way to devastation when Sloane is diagnosed with alopecia areata. The auto-immune disease has no cause, no cure, and no definitive outcome. The spots might grow over tomorrow or Sloane might become completely bald. No one knows.
Determined to produce her video, hide her condition, and resist Isaac's easy charm, Sloane finds herself turning into the kind of person she has always mocked: someone obsessed with her looks. And just when she thinks things can't get any worse, Sloane is forced to make the most difficult decision of her life.
"When every piece falls into place, it's like a dance, a delicate but powerful balancing act. The art of holding on and letting go at the same time."
Competitive climber Cara Jenkins feels most at home high off the ground, clinging to a rock wall by her fingertips. She's enjoyed a roaming life with her mountaineering parents, making the natural world her jungle gym, the writings of Annie Dillard and Henry David Thoreau her textbooks. But when tragedy strikes on an Ecuadoran mountaintop, Cara's nomadic lifestyle comes to an abrupt halt.
Starting over at her grandparents' home in suburban Detroit, Cara embarks on a year of discovery, uncovering unknown strengths, friendships, and first love. Cara's journey illustrates the transformative power of nature, love and loss, and discovering that home can be far from where you started.
Soccer star Lainey Mitchell is gearing up to spend an epic summer with her amazing boyfriend, Jason, when he suddenly breaks up with her—no reasons, no warning, and in public no less! Lainey is more than crushed, but with help from her friend Bianca, she resolves to do whatever it takes to get Jason back.
And that's when the girls stumble across a copy of The Art of War. With just one glance, they're sure they can use the book to lure Jason back into Lainey's arms. So Lainey channels her inner warlord, recruiting spies to gather intel and persuading her coworker Micah to pose as her new boyfriend to make Jason jealous. After a few "dates", it looks like her plan is going to work! But now her relationship with Micah is starting to feel like more than just a game.
What's a girl to do when what she wants is totally different from what she needs? How do you figure out the person you're meant to be with if you're still figuring out the person you're meant to be?
When 17-year-old Harley's boyfriend drives drunk, an accident leaves her sister Audrey with amnesia. Audrey has no memory of what she did with Harley's boyfriend or of how they betrayed her. But Harley can't forget it.
While Harley tries to forgive her sister, she reconnects with Rafael, an old friend who's fresh out of rehab and full of advice. With his help, Harley starts to understand addiction as she works through her feelings and tries to let go of what happened. But when Rafael disappoints her too, Harley learns when to accept the things she can't change…and when to fight for what she wants.
Since her twin brother, Eddie, drowned five years ago, sixteen-year-old Elsie Main has tried to remember what really happened that fateful day on the beach. One minute Eddie was there, and the next he was gone. Seventeen-year-old Tay McKenzie is a cute and mysterious boy that Elsie meets in her favorite boathouse hangout. When Tay introduces Elsie to the world of freediving, she vows to find the answers she seeks at the bottom of the sea.
A Fire Destroys . . .
A Treasure Appears . . .
A Crime Unfolds . . .
When Saba Khan's apartment burns in a mysterious fire, possibly a hate crime, her Chicago high school rallies around her. Her family moves rent-free into a luxury apartment, Saba's Facebook page explodes, and she starts (secretly) dating a popular boy. Then a quirky piece of art donated to a school fund-raising effort for the Khans is revealed to be an unknown work by a famous artist, worth hundreds of thousands of dollars, and Saba's life turns upside down again. Should Saba's family have all that money? Or should it go to the students who found the art? Or to the school? And just what caused that fire? Greed, jealousy, and suspicion create an increasingly tangled web as students and teachers alike debate who should get the money and begin to point fingers and make accusations. The true story of the fire that sets events in motion and what happens afterward gradually comes together in an innovative narrative made up of journal entries, interviews, articles, letters, text messages, and other documents.
Matt hasn't eaten in days.
His stomach stabs and twists inside, pleading for a meal. But Matt won't give in. The hunger clears his mind, keeps him sharp—and he needs to be as sharp as possible if he's going to find out just how Tariq and his band of high school bullies drove his sister, Maya, away.
Matt's hardworking mom keeps the kitchen crammed with food, but Matt can resist the siren call of casseroles and cookies because he has discovered something: the less he eats the more he seems to have…powers. The ability to see things he shouldn't be able to see. The knack of tuning in to thoughts right out of people's heads. Maybe even the authority to bend time and space.
So what is lunch, really, compared to the secrets of the universe?
Matt decides to infiltrate Tariq's life, then use his powers to uncover what happened to Maya. All he needs to do is keep the hunger and longing at bay. No problem. But Matt doesn't realize there are many kinds of hunger…and he isn't in control of all of them.
He can grant her wishes, but only she can save his life.
Margo McKenna has a plan for just about everything, from landing the lead in her high school play to getting into a good college. So when she finds herself in possession of a genie's ring and the chance to make three wishes, she doesn't know what to do. Why should she put her life into someone else's hands?
But Oliver is more than just a genie—he's also a sophomore at Margo's high school, and he's on the run from a murderer. As he and Margo grow closer, she discovers that it will take more than three wishes to save him.
A whole lot more.
Want more "3 On A YA Theme" posts? Gotcha covered.