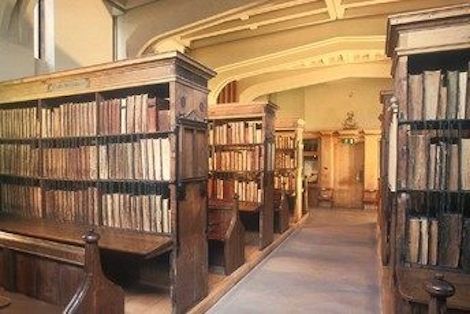 The Ancient Library Where Books Are Kept Under Lock and Key: Critical Linking, July 12, 2018
Sponsored by PC and Kristin Cast's LOST, published by Blackstone Publishing.
---
The largest surviving chained library in the world is at Hereford Cathedral in the UK, where all the books are still kept under lock and key in their original chains. It has been rebuilt in its original arrangement, exactly as it had been from 1611 to 1841.
This is fascinating. Watch the entire video, too. 
____________________
PBS Masterpiece and British broadcaster ITV have teamed up to bring Jane Austen's unfinished final novel Sanditon to television.
____________________
Over the centuries, new and exciting writing has been created by Nigerians and in Africa. Just ask the abolitionist Olaudah Equiano or the pan-African thinker Edward Blyden. That you just arrived at the party doesn't mean the party just started. If you look closely, just before you throw yourself into the dance, you'll see how everyone else on the dance floor is sweating heavily. So here are some of my personal favourites on the African literature playlist.
BRB, adding a ton of African literature to my TBR. 
____________________
From early May to late June, the Trump Administration separated children from their parents after crossing the U.S.-Mexico border. Thousands of children remain apart from their families in shelters across the country. Reunification efforts promise to be complicated—the administration appears not to know exactly how many kids are still separated from their parents, and current estimates run as high as 3,000.
Now, a D.C.-area writer has started a book drive called 2,000 Libros, its name based off original estimates about how many children were still detained, though creator Elizabeth Ballou says she knows the current numbers are higher. The project is meant to provide bilingual and Spanish-language books to minors still in government custody across the country.
You can donate through the Amazon and Politics and Prose wish lists linked in the article.